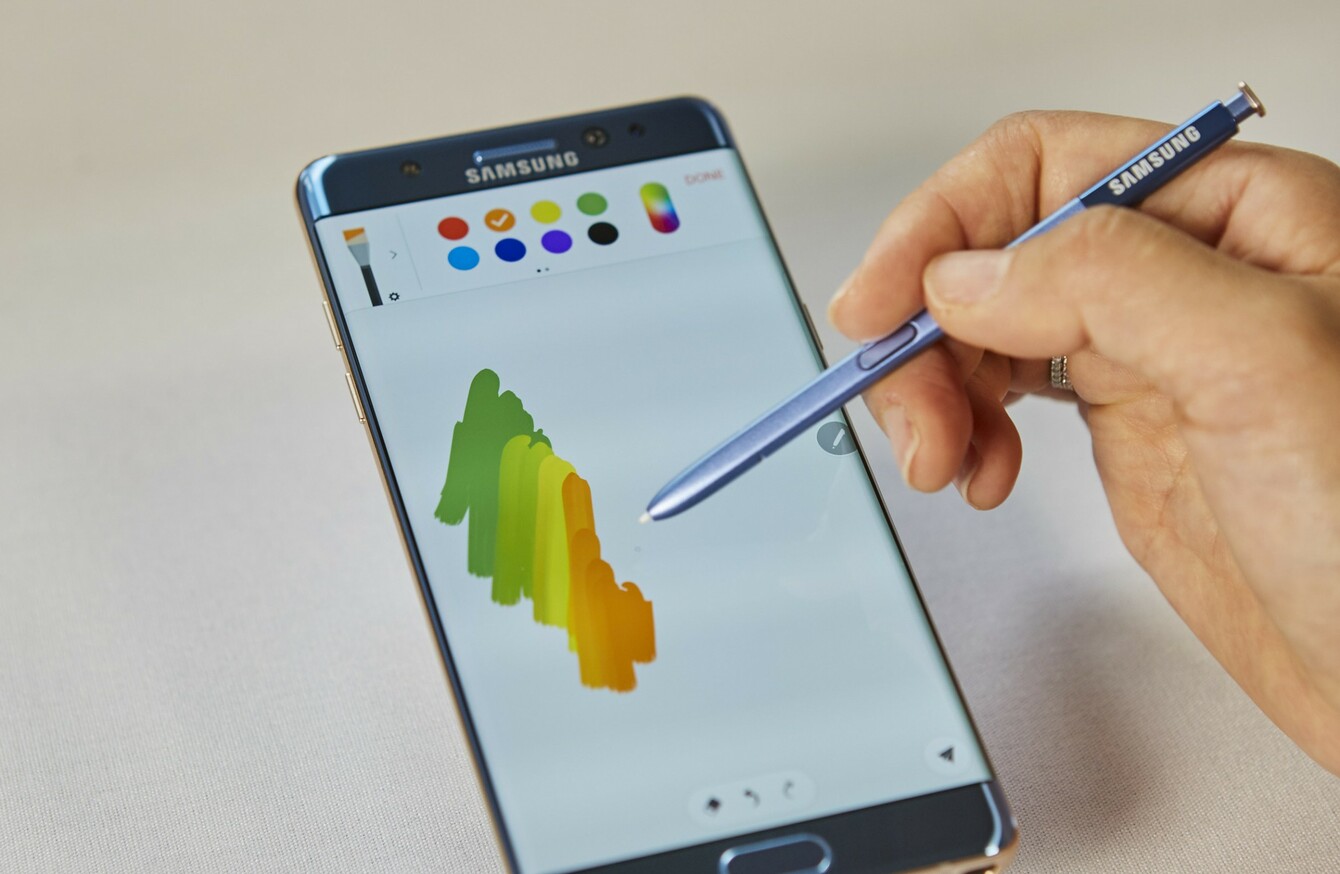 Image: Samsung
Image: Samsung
AS FAR AS smartphones are concerned, Samsung is having a resurgence. Thanks to the S7 and S7 Edge, it had its strongest profits in two years, setting it up nicely for the rest of the year.
While the S range dominates the first half of the year, it normally relies on the Note range, its bigger phablet devices, to continue the momentum.
While the Note 5 didn't appear over here last year – instead we got the S7 Edge+ which was exactly how it sounds – the Note 7 will be arriving here on 16 August.
We had the opportunity to try it out for a bit and here are the things that stood out for us.
If you think it's a bigger S7, you're not far off
That might be an obvious thing to say – the Note range were always larger S phones but with a stylus and some extra software choices – but if you're judging it by appearances alone, it's clear Samsung is sticking to the design choices that made the S7 a success.
That's by no means a bad thing. It's rather nice to hold and compact thanks to its curved screen and in a side-by-side comparison with the 5.5-inch iPhone 6s Plus, it's just that little bit smaller and sleeker.
The same qualities as the S7 and Edge still apply here. The camera still boots up quickly and looks as sharp, the interface (TouchWiz) remains simplified, the side menu brought with the Edge makes an appearance here and it starts with 64GB and SD storage of up to 256GB.
It's not just bigger, it also appears to be a refinement of what the S7 did earlier this year and if you're looking for clues about what the next S phone will feature, this is a good place to start.
Iris scanning isn't the best unlocking method, but it's a useful one
If you didn't realise already, one of the big topics among smartphone companies is security. Keeping your data away from prying eyes isn't just an essential feature, it's also good business and it's no surprise that Samsung is pushing it too.
So included with it is the introduction of secure folders (basically a protected section for private photos, notes and other files) and iris scanning for unlocking your phone or hidden files.
Microsoft has been pushing iris scanning with Windows Hello and if Samsung's version is of a similar standard, then it's a welcome addition.
Even if it's not entirely practical – it's probably faster to just use your fingerprint to unlock, especially if you wear glasses – the extra options for securing your account are still welcome, especially for secure folders.
The other major security feature is the ability to create secure accounts. So for example, if you have a work and personal account for Gmail, you can keep the personal one on the normal home screen while the work account is hidden in Secure Folder.
The S-Pen is more robust but could be dogged by familiar problems
Given that the entire Note range is based around it, the S-Pen always felt like it paved the way for nice extras instead of essential features.
It's probably a lot to expect from a small stylus, but you could easily get by without actually using it. We were told by Samsung that two-thirds of Note owners use the pen once a week so while it has its uses, it's not quite an essential feature.
There are some small changes made to it that make it more robust like simplifying its app range so it's just one main Notes app instead of five for drawing, writing and painting.
#Open journalism No news is bad news Support The Journal

Your contributions will help us continue to deliver the stories that are important to you

Support us now
Other features include the ability to highlight and translate text, even if it's on pictures, and the addition of a GIFing tool so you can capture video. The translation option is a nice addition, and it will be interesting to see just how well it works with other pictures.
From the moments we had playing around with it, it does feel more tactile but for obvious reasons, it does feel like an extra rather than an essential feature. Prolonged use will tell us if such a feeling persists but for now, it's a nice idea if not an essential one.
Also, both the S-Pen and the phone are water resistant. Both have an IP68 rating which means they will survive a drop in water if you're unlucky.
HDR on a phone is a thing now
Samsung's AMOLED screens are some of the best out there, prioritising vibrant colours over more realistic hues, but the 5.7-inch screen brings some extra features with it.
Alongside a new Gear VR designed for its size, Samsung says it's able to stream HDR (High Dynamic Range) video, which it says delivers brighter colours and deeper black. In layman's terms, it keeps the details in the darkest and brightest areas of a picture that aren't clear with standard screens.
Streaming such content will likely require a good WiFi connection (or generous data plan), but the option will likely be a welcome one for power users.