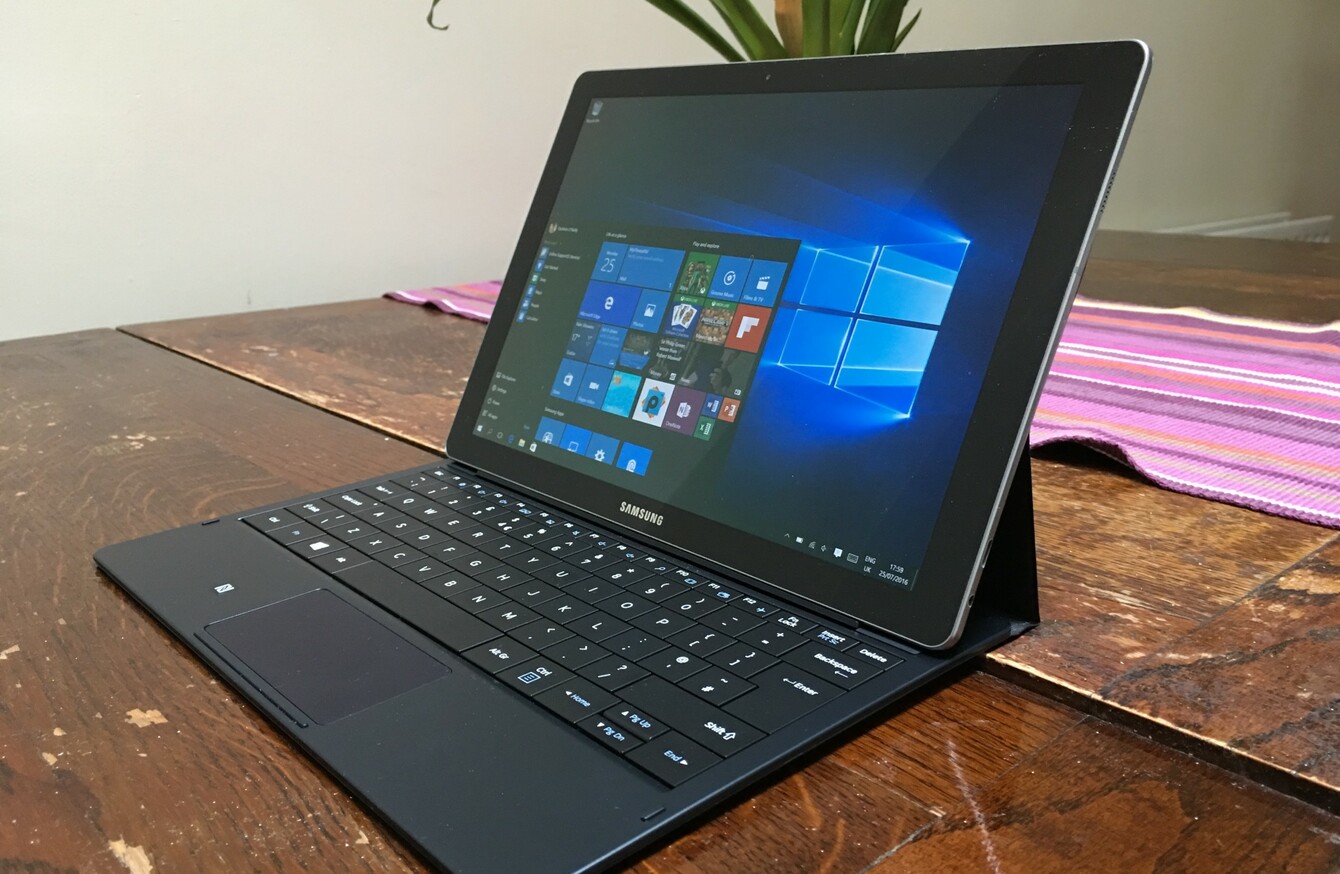 Score: 7.5/10
Verdict: One of the best Windows 10 tablets out there but as a laptop, there are better options out there.
WE'RE WELL AND truly at the stage now where tablets are trying their best to double up as laptops, repositioning themselves as productivity devices instead of just entertainment.
Already, the market has the likes of Microsoft and Apple with the Surface range and the iPad Pro, and now Samsung is testing the waters again with the TabPro S. Much like its rivals, Samsung is pushing this as the laptop for professionals on the go, but a familiar aim brings up familiar problems.
Minimalist approach
In the last year or two, Samsung has really improved in how it designs its devices with the Galaxy S7 being the prime example. This is just as easy on the eye – it almost feels like a 12-inch version of the S7 – and it's just as light and easy to carry around with you.
As far as set up is concerned, you're provided with the type cover, a USB Type-C port and a plug. Keeping things simple is a welcome approach, but the lack of ports is an immediate issue.
Alongside the headphone jack, there is only one USB Type-C port – there is no SD, HDMI or regular USB ports – so unless you're willing to buy a docking station, you've no real options for wired connections.
Included with the tablet is the type cover, which is a welcome move considering how many tablets require you to buy one separately, yet it's anything but perfect. While the keys are large and feel solid to type on, the type cover does feel a little flimsy.
This isn't a problem when you're typing on a desk, but when you're trying to balance it on your lap, it can rock around if you're not careful. Also, the touchpad is a little too small for our liking but we had no problems with its responsiveness.
Does whatever a laptop does?
Samsung promises battery life of about 10 hours, and to be honest, the reality is pretty close to it. It usually lasted roughly eight to nine hours which combined with fast-charging – which means it takes roughly two hours to charge up from zero to 100% – it won't die in a hurry.
The screen is a particular highlight. Samsung's Super AMOLED screens are some of the best out there and a crisp 12-inch display only makes this more apparent.
The richer colours found on the S7 appear here, and it's great for admiring photos or watching movies, but if you're trying to edit a photo – where colour balance is very important – that's where the drawback might occur.
The things that will make this appeal to you will only work if you're already dedicated to the Samsung ecosystem. Features like pairing with the Galaxy S6 and S7 smartphones, being able to mirror the screen and use it to unlock the TabPro S are handy, but that requires you to be invested in Samsung's products already.
Even without Samsung products, the TabPro S does come with some options specific to Samsung and thankfully they're kept to a minimum. This is pure Windows 10 with a smidge of Samsung's influence.
There can be a bit of confusion with it as it's a second settings menu with display options, sometimes overruling Windows 10′s own settings, but this wasn't a major hinderance.
A potential hinderance is it doesn't operate in portrait mode, something to consider if you're keen on using your tablet for reading, but to be honest, we rarely used it this way so it probably not an issue for most.
The biggest issue, however, is the performance doesn't match up to the higher-end laptops you can get at the same price range.
The TabPro S is powered by a dual-core Intel Core M3 and 4GB of RAM, great for everyday tasks, but not so much for heavy duty programs.
If you're paying for this, you're prioritising lightness and convenience and while that will be enough for those working with the likes of Word and Excel, it doesn't have enough to properly run heavier applications and programs. That's a pity considering just how perfect its screen is for the likes of video editing.
#Open journalism No news is bad news Support The Journal

Your contributions will help us continue to deliver the stories that are important to you

Support us now
Should I buy one?
While the TabPro S bills itself as a laptop, this is very much a tablet by any other name.
The drawback for most people will be the price. It starts at €1,169 which is a significant amount to pay for a device that may require extras like the stylus and extra ports.
If portability is a major issue for you, and you're married to Samsung's ecosystem then yes, the TabPro S is certainly one worth considering for your professional needs. Despite its flaws, it's sleek, easy to carry around and great for basic laptop tasks.
But if you don't fall into those categories, then the same argument you could make against the Surface Pro and any other hybrid device remains. They're great tablets, but don't quite do enough to truly replace your laptop.
Pros
- Incredibly light and easy to carry around.
- Fantastic screen and design.
- Bloatware kept to a minimum.
Cons
- Quite expensive for limited performance.
- Type cover doesn't match the feel of a regular keyboard.
- You have to pay extra for ports
The Samsung TabPro S starts at €1,169.