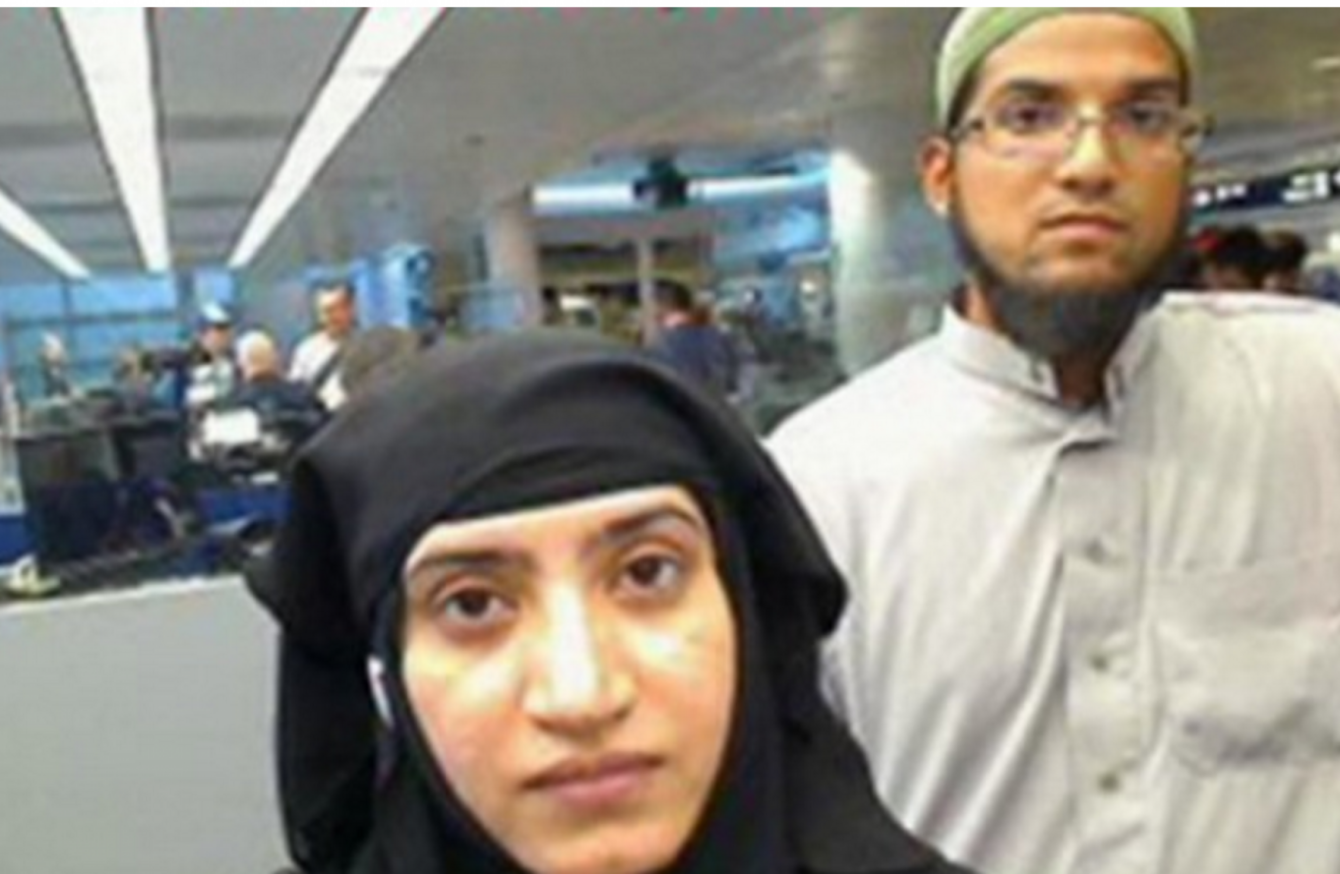 THE HUSBAND AND wife who killed 14 people in an attack on a year-end holiday party in San Bernardino, California were radicalised before they started dating online, FBI Director James Comey said today.
The Federal Bureau of Investigation's terror probe has determined that US-born Syed Farook and Tashfeen Malik, a Pakistani national, were inspired by foreign terror groups and discussed "jihad and martyrdom" as early as 2013, Comey said.
The investigation "indicates that they were actually radicalised before they started courting or dating each other online," Comey told the Senate Judiciary Committee during a hearing.
"And online, as early as the end of 2013, they were talking to each other about jihad and martyrdom before they became engaged and then married and lived together in the United States.
"We also believe they were inspired by foreign terror organisations," Comey said.
The Islamic State group hailed the perpetrators and called them soldiers of the caliphate.
The FBI, Comey added, is "working very hard to understand whether there was anybody else involved with assisting them, with supporting them, with equipping them. And we're working very, very hard to understand, did they have other plans."
The assailants are accused of killing 14 people and wounding another 21 at a holiday party at a non-profit social services centre in San Bernardino.
Farook and Malik traveled to the United States in July 2014, Farook with his US passport and Malik with her fiancee visa inside her Pakistani passport, the FBI has said.
Malik is believed to have pledged allegiance to the IS group in a Facebook post made under another name, around the time of the attack, according to media reports.
Authorities said the couple had amassed a massive arsenal of weapons in their California home including thousands of rounds of ammunition, 12 pipe bombs, and bomb-making material.
#Open journalism No news is bad news Support The Journal

Your contributions will help us continue to deliver the stories that are important to you

Support us now
Comey's revelations were part of a broader testimony about FBI oversight and what he called "a staggering array of threats that face our country — in terrorism, in counter-intelligence and in criminal matters."
He said the FBI was focused intently on the threat of homegrown violent extremism, "the radicalisation in place" of people who become inspired, influenced and/or directed by a terrorist group or extremists.
"To find those that are radicalised and being inspired by these terrorist groups is a very, very hard thing," Comey said.
Senator Lindsey Graham, a Republican 2016 presidential candidate, asked Comey if there was evidence that the union between Farook and Malik was a marriage arranged by extremist operatives.
"It would be a very, very important thing to know" and authorities were looking into that possibility, Comey said.
Graham said it would be "a game-changer" if terrorist operatives "could actually arrange a marriage of two like-minded individuals (and) use the fiancee visa system to get into the country."