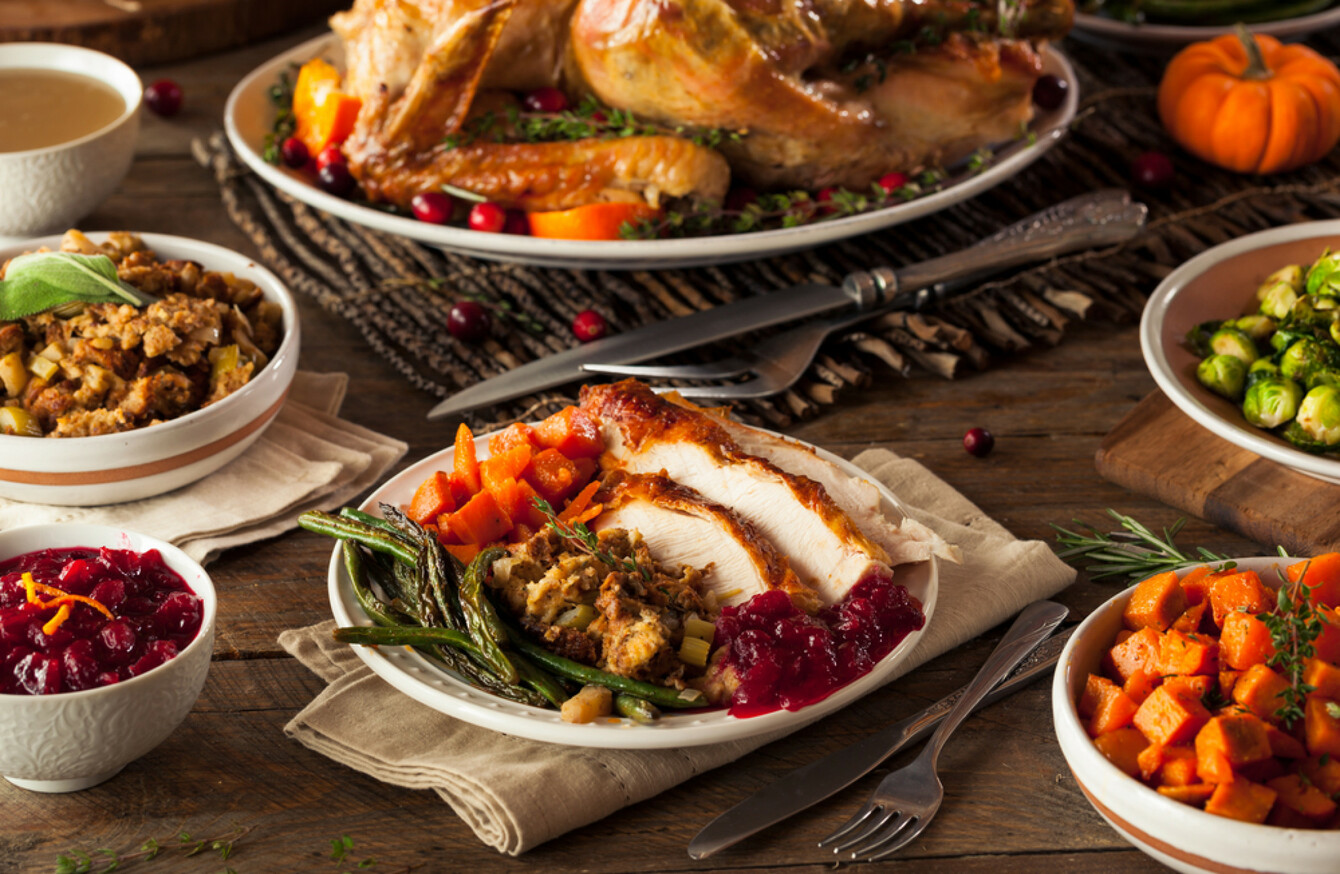 Welcome to a new series: Santa's Lidl Helper. Every week in the runup to the big day, an expert will be answering your Christmas food questions.
This week, food writer and cook Caitríona Redmond tackles tricky menu problems, including how to cope with different dietary requirements… and what about those tricky roasties?
IF YOU WERE to spend your Christmas Day cooking individual dinners for each different dietary requirement, I can only imagine the stress you'd be under.
I'm a big believer in cooking the one meal for the whole family. I've some suggestions here to adapt your menu so that everybody enjoys the same dishes and you only have to cook once.
Remember, the important part of Christmas is the chance for you to join together with family and friends so don't get too hung up on what you're cooking. If you're stuck there's always crackers, cheese, and a good chat by the fireside.
1. We've got a vegan coming for the big day – but the rest of my family are committed turkey eaters. I don't want to make them something sad, so how can I make sure they feel included?
As your guest eats a plant-based diet, the best way to make them feel included is to make your traditional dishes compatible so that everybody can enjoy them together. I'd leave out the milk and butter from the mash and use a tablespoon or two of warm vegetable stock instead which will still give you that creamy texture.
Cook your roasties in sunflower oil as opposed to duck or goose fat, then glaze the carrots and parsnips with maple syrup rather than honey. For dessert, what about some beautiful winter berries warmed through with a little whiskey, served with sorbet or vegan ice cream? That's the perfect dessert for any Christmas party in my opinion!
Nut roast is a great protein alternative if you don't eat meat. I would definitely buy a small nut roast and have it on the side for your guest. You never know, some of the rest of your family might decide to join them.
2. Nobody in my family really likes Christmas pudding – but it's nice to have something you wouldn't eat the rest of the year. Are there any dessert alternatives that will still create a sense of occasion?
I have the same problem in our family; not everybody is a fan of desserts with dried fruits in them. However, I really love the appearance of a Christmas pudding. I get around this by making a standard chocolate biscuit cake mixture by melting butter with sugar and golden syrup. Once this is melted I stir in crushed biscuits and chocolate sweets before pressing it into a pudding basin.
If I'm making this well in advance I actually put the pudding basin into the freezer until the day I intend to serve it.
When I'm ready to serve the 'pudding', I remove it from the bowl, then pour melted dark chocolate on top first, let it set for an hour, and then pour some melted white chocolate on top. It looks like a classic Christmas pudding but is really a chocolate biscuit cake inside which the whole family loves. You could also do this with Rice Krispies and melted chocolate!
3. Help! My daughter's boyfriend is joining us for Christmas and he's on a gluten-free diet. What can I give him and what should I watch out for?
The good news is that most of the food for the main meal we traditionally eat at Christmas is naturally gluten-free. You'll want to be careful to cook the stuffing in a separate tray away from the turkey and watch out for wheat in the cooking process – such as the flour thickener in your gravy.
I'd recommend buying some slices of gluten-free bread for the obligatory sandwiches in the evening, and make sure your crisps and snack items are suitable by checking the ingredients before you buy or pick them up directly from the gluten-free section of the supermarket.
Overall though why not ask him what he can eat and what he can't eat well in advance of the day? This should take an awful lot of the stress around Christmas food for both the guest and the host!
4. Try as I might, I can NEVER get the roasties good and crispy at the same time as everything else is ready. Any advice? What can I give people to keep them quiet while I'm having a mild panic?
Perfect roast potatoes are all down to the timing and a little bit of advance preparation.
Make sure that your potatoes are peeled and chopped into equal-sized chunks. About 90 minutes before you intend to serve your meal parboil the potatoes for 15 minutes, then drain away the water and put the potatoes back in the pot with the lid off to allow them to dry out a bit.
When the meat comes out of the oven crank up the heat to about 190 degrees (you should be resting your turkey for at least 40 minutes before serving). I use sunflower oil for my roasties and pour a generous glug into a non-stick baking tray before putting the tray into the oven to come to temperature (this takes about 5 mins). Once the oil is hot, I spoon the potatoes into the baking tray, roll them around in the oil to make sure they're coated, season generously with salt and pepper, then roast in the oven for 25 minutes.
After which time you should have beautiful roasties with a crispy outer skin and lovely soft centre. The stuff of legend.
When it comes to keeping your guests occupied I'm in two camps about this one. If I'm in a flap I like to ask for help; the guests feel useful and I don't feel so overwhelmed about the tasks in front of me.
The other option is to keep a stash of drinks and nibbles on hand in case your meal is delayed to the table. Family favourites are houmous with fresh vegetables and breadsticks or nachos with salsa all washed down with generous glasses of Gluhwein.
From deluxe food treats to decorations and gifts – whatever you're looking for to make your Christmas special, you'll find it in Lidl with more for everyone this Christmas. Visit the Lidl website for full details.