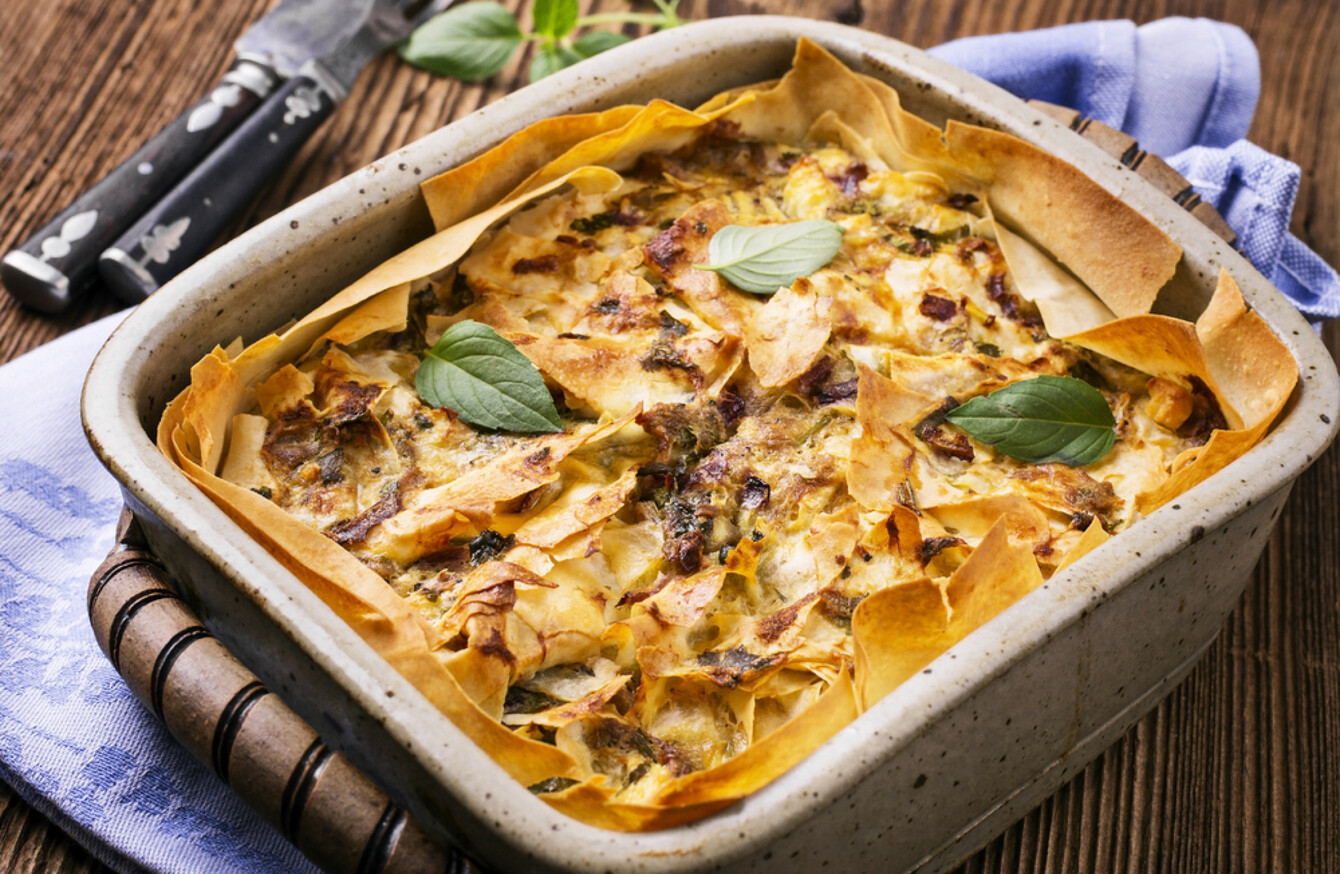 Image: Shutterstock/hlphoto
Image: Shutterstock/hlphoto
Welcome to a new series: Santa's Lidl Helper. Every week in the runup to the big day, an expert will be answering your Christmas food questions.
This week, food writer and cook Caitríona Redmond tackles leftover dilemmas, including how to deal with hungry family members at unexpected times of day. 
AH, STEPHEN'S Day, the day where I like to stay in the pyjamas all day and enjoy the leftovers.
If at all possible I think it's better not to cook if you can. Sure after all the previous day is spent feeding the masses, it's only fair to have the day off! If you do have to cook here are some suggestions for you.
1. We love turkey sambos as much as the next house, but it's nice to have something different on Stephen's Day. Plus my wife's family are coming over. Any suggestions that will impress the relatives?
If turkey sambos aren't an option but you don't want to spend too much time cooking on St Stephen's Day buy some frozen filo pastry this week. Take it out of the freezer on Christmas Day and leave it to thaw in the fridge.
The following day make up a bechamel sauce by cooking flour and butter together with hot milk. Stir your leftover vegetables and meat into the sauce before pouring into an ovenproof dish and topping the sauce with layers of filo pastry brushed with butter. Cook the pie in the oven for about an hour at a medium heat, until the top of the pie is crispy and serve with some crusty bread.
I'll be very honest here, I am a huge fan of the turkey toastie the day after Christmas. Rather than a simple sandwich, we pull out the sandwich toaster (wasn't there a time when every family in Ireland had one) which will make triangular pockets of perfection. My secret trick is to use mayonnaise on the bread instead of butter; it gives a beautiful golden colour. Then fill your sandwich with as many leftovers as you can without breaking the hinge on the machine.
2. The words 'turkey curry' bring me out in a cold sweat. What's something more interesting to do with the inevitable mountain of leftovers?
Have you ever heard of the traditional classic 'bubble and squeak'? Mix your leftover mashed potatoes and vegetables together and then form little patties with the mixture. Fry gently on a medium frying pan with a small amount of sunflower oil until they crisp and caramelise around the edges. Serve with a fresh poached egg on top with a runny yolk and lashings of black pepper.
It's not unusual to have far too many leftovers though, so much that you can't deal with the quantities of meat before you reach the 'use by' point of three days after cooking (provided you keep the meat in the fridge). I get around this by stripping the meat as soon as we are finished on Christmas Day and splitting it into meal-sized portion bags.
Once they're portioned out, I pop the meat that I'm not going to use into the freezer. It'll come in handy for the leaner weeks in January when I'm waiting for pay-day. Don't throw out the bones either, put them into a large saucepan (or slow cooker), cover with water, and simmer for about 2 hours on low to get your own homemade stock for soups and stews.
3. My family eats all around them for about five days over Christmas. What are some things I can stick in the freezer for those 3 pm 'emergency' meals?
Well, first of all, make sure you have a couple of sliced pans in the freezer; it's where I keep my stash of bread for exactly that reason.
Think about adding side dishes that don't take long to cook from frozen, like potato gratin and vegetable parcels, because you should have plenty of leftover meat for the protein element.
4. Turkey leftovers aren't the problem in our house – it's the Christmas cake that's always left hanging around. Is there any way to repurpose it? Or should I just get something else?
You could mix the leftover Christmas cake with some chocolate ganache to make chocolate cake bites, or you could just not buy the cake that could go to waste. There are so many other options when it comes to a Christmas dessert, and they don't necessarily have to include the classic Christmas cake.
I'm a big fan of chocolate biscuit cake or even a fresh sponge instead of a huge fruitcake. When it comes to desserts that you can get from the freezer at short notice I have 2 raspberry and hazelnut roulades sitting on standby that I know will be a hit with all the family.
From deluxe food treats to decorations and gifts – whatever you're looking for to make your Christmas special, you'll find it in Lidl with more for everyone this Christmas. Visit the Lidl website for full details. 
More from Santa's Lidl Helper: