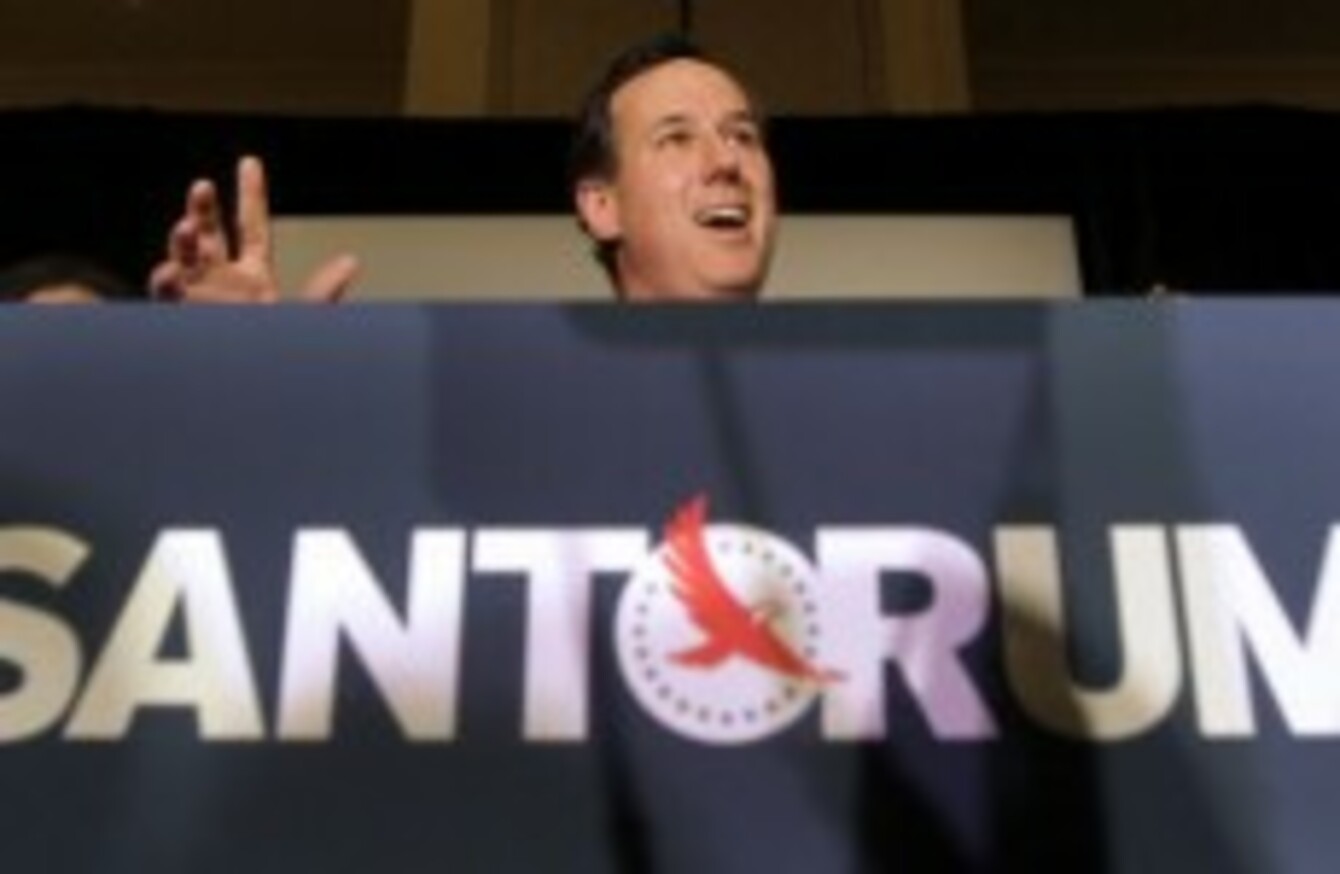 Image: Jeff Roberson/AP/Press Association Images
Image: Jeff Roberson/AP/Press Association Images
THIS TIME LAST week it looked all but wrapped up for Mitt Romney, while Rick Santorum's campaign was dismissed as a failure.
Two caucuses and a non-binding primary later and cracks have appeared in Romney's presidential bid and Santorum has fared surprisingly well.
CNN reports this morning that Santorum has won presidential contests in Missouri, Minnesota and Colorado.
Questions have now been raised about whether Romney can actually bring together the wide-ranging assortment of Republican supporters seal the GOP nomination.
In Minnesota, Santorum got 45 per cent compared with Romney's 17 per cent. Texas Rep. Ron Paul stood between them with 27 per cent of the vote. Romney's defeat there is more notable as he won the state during his unsuccessful 2008 presidential bid.
Colorado was more competitive with Santorum taking 40 per cent and Romney 35 per cent.
Bragging rights – but no national convention delegates – were up for grabs in non-binding Missouri which Santorum also bagged.
"Conservatism is alive and well in Missouri and Minnesota," the former Pennsylvania senator told supporters in his victory speech.
Meanwhile, Romney was gracious and hopeful.
"This was a good night for Rick Santorum. I want to congratulate Sen. Santorum, but I expect to become the nominee with your help," he told his own supporters in Denver.
The race is still a four-person one with Romney, Paul, Santorum and Newt Gingrich vying for the chance to fight the Democratic incumbent in November's presidential election.
There was comparatively little campaigning in either Colorado or Minnesota and no debate was held in the caucuses ahead of Tuesday's vote – a huge difference from last month's primary contests.
The race will be fuelled again as the 10-State Super Tuesday draws closer. There will be 416 convention delegates at stake on 6 March but first the primaries of Michigan and Arizona must choose a candidate on 28 February.
-Additional reporting by AP