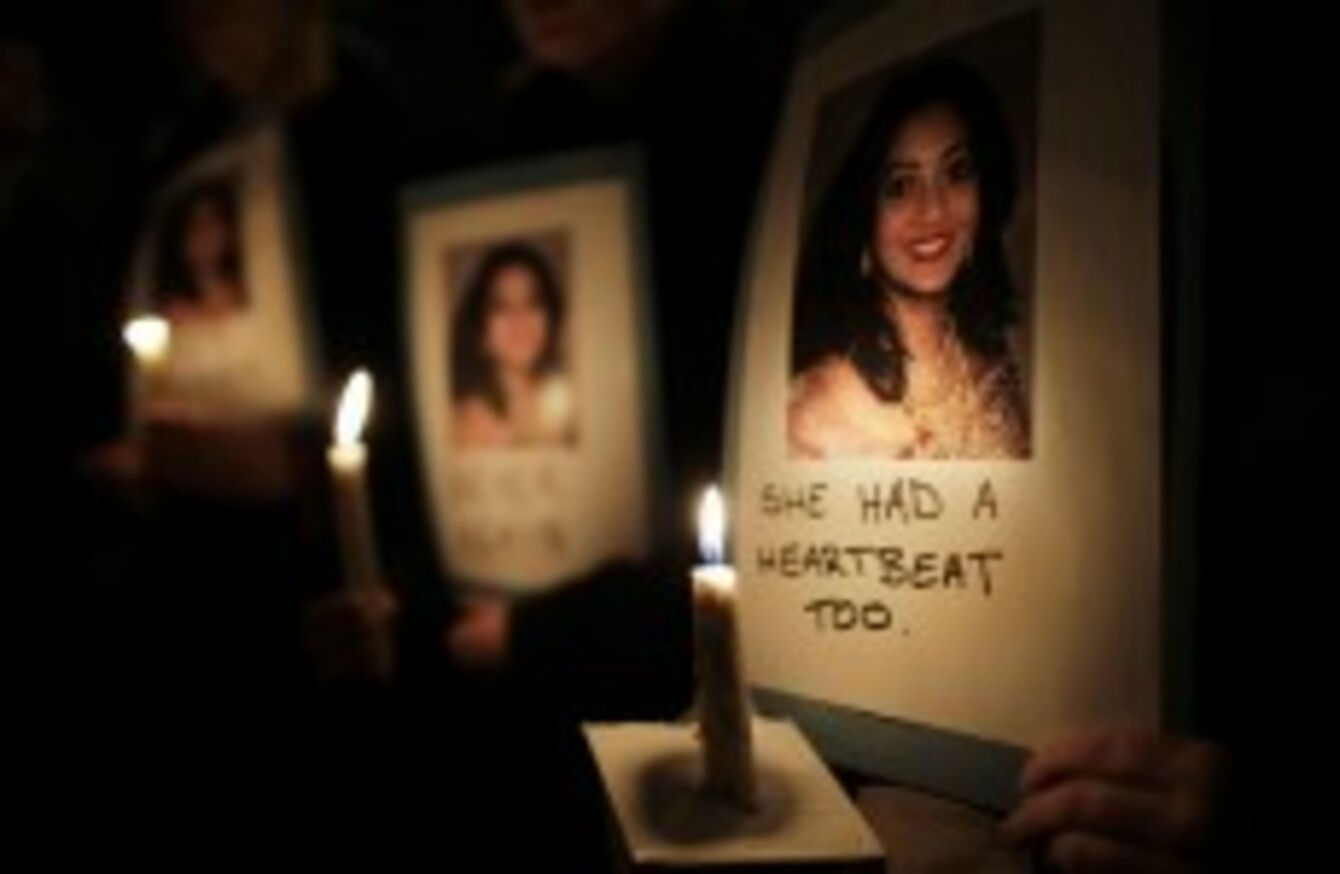 Image: Julien Behal/PA Wire/Press Association Images
Image: Julien Behal/PA Wire/Press Association Images
THE HEALTH INFORMATION and Quality Authority (HIQA) has announced that it is to investigate the death of Savita Halappanavar.
In a statement this afternoon the independent health watchdog says that it will assess the "safety, quality and standards of services" provided by the Health Service Executive at University Hospital Galway as reflected in the care and treatment of Savita, who died following a miscarriage last month at the hospital.
The family of the 31-year-old dentist claim that she was denied an abortion despite repeated requests to doctors at the hospital from both her and her husband. She died as a result of blood poisoning contracted in the days after she miscarried.
The death has drawn worldwide attention in light of Ireland's strict abortion laws which fresh debate about whether or not there is a need to legislate for the Supreme Court X case 20 years ago.
The HSE is currently investigating the death but this investigation has been mired in controversy with Savita's husband Praveen Halappanavar refusing to cooperate with it and instead calling for a public inquiry into her death.
It is not yet clear whether he will cooperate with the HIQA inquiry.
In a statement today, the health watchdog said that on foot of a request from the HSE, which was considered by its board this morning, it will now "investigate the safety, quality and standards of services provided by the HSE at University Hospital Galway (UHG) to critically ill patients, including critically ill pregnant women as reflected in the care and treatment provided to Savita Halappanavar".
The statement continued:
The investigation will assess whether the services provided complied with the National Standards for Safer Better Healthcare and national and international evidence of what is known to achieve best outcomes.

The Authority requested, and received, information from University Hospital Galway and the HSE to ascertain the facts about the tragic case of Savita Halappanavar.

Following consideration of this information, the Board of the Authority has made the decision to instigate this investigation.

The terms of reference and membership of the investigation team will be published when finalised.

As with any investigation undertaken by the Authority, and in the interest of a fair and thorough investigation, the Authority does not envisage making any further public comment until the investigation has concluded. The investigation report, and its recommendations, will be published following the completion of the investigation.