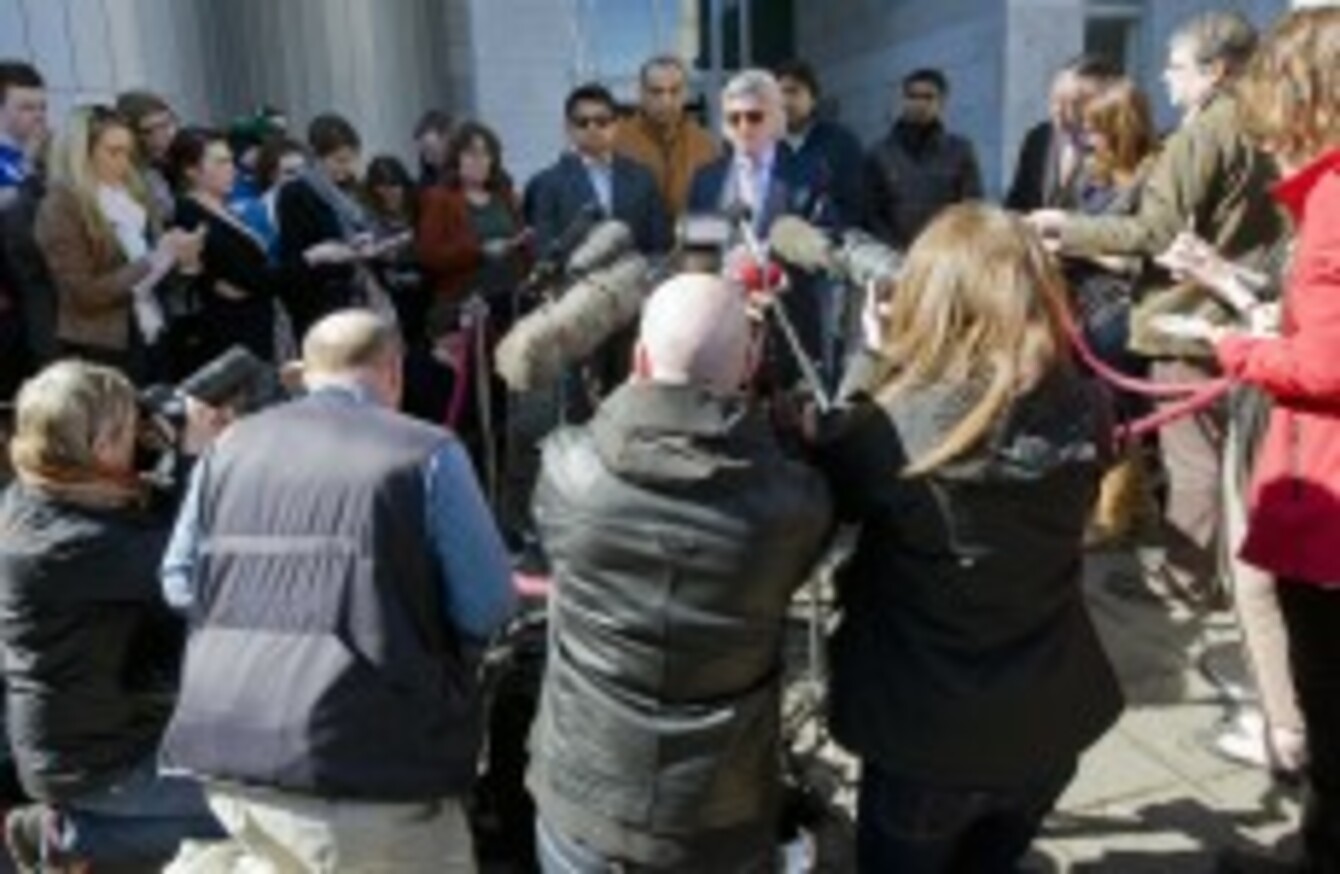 Savita's husband Praveen Halappanavar outside the courthouse in Galway today
Image: Laura Hutton/Photocall Ireland
Savita's husband Praveen Halappanavar outside the courthouse in Galway today
Image: Laura Hutton/Photocall Ireland
THERE HAS BEEN mixed reaction to the verdict of 'medical misadventure' at the inquest into the death of Savita Halappanavar at Galway University Hospital last year.
Groups campaigning on the issue of abortion issued statements in the immediate aftermath of the verdict in the controversial and high-profile case of the death of the 31-year-old dentist from septic shock, E.coli in the bloodstream and a miscarriage at 17 weeks.
When the case was reported last November it threw the issue of abortion back into the spotlight with the government now set to legislate for the Supreme Court verdict in the X Case in the coming weeks.
The Pro Life Campaign welcomed the verdict and the recommendations from the coroner for guidelines about when to carry out an abortion to be clarified by the Medical Council.
Dr Berry Kiely said the inquest had shown that a number of "'systems failures' and communications shortcomings significantly delayed the moment at which the medical team recognised the seriousness of her condition and carried out the appropriate medical intervention."
She added that it is "disturbing that those calling for abortion legislation never point out that no medical evidence whatsoever was heard in the X case."
'Unjustifiable'
However, the Abortion Rights Campaign said that the eighth amendment to the Constitution – which protects the right to life of the unborn – played a "huge part" in Savita's death and said it needs to be repealed "immediately".
"We  urge the Irish government in the strongest possible terms to legislate  immediately to give pregnant women's lives legal protection here under  the terms upheld in two referenda. The delay is unjustifiable," Sinéad Redmond said.
The chief operating officer of Galway Roscommon Hospital Group, Tony Canavan, acknowledged the findings and recommendations of the inquest and said that deficiencies identified would and in some cases had already had been implemented.
Listen (If viewing on a mobile device, click here)


Meanwhile, the Sinn Féin spokesperson on health Caomhghín Ó Caoláin was among the first to come out with political reaction saying  that Savita was "sadly let down by the healthcare system".
"The recommendation on the need for far clearer guidelines on the appropriateness and timing of termination to save the life of the mother, is especially important," he said.
"Such guidelines, in tandem with legislation in line with the X case, need to be advanced as speedily as possible."