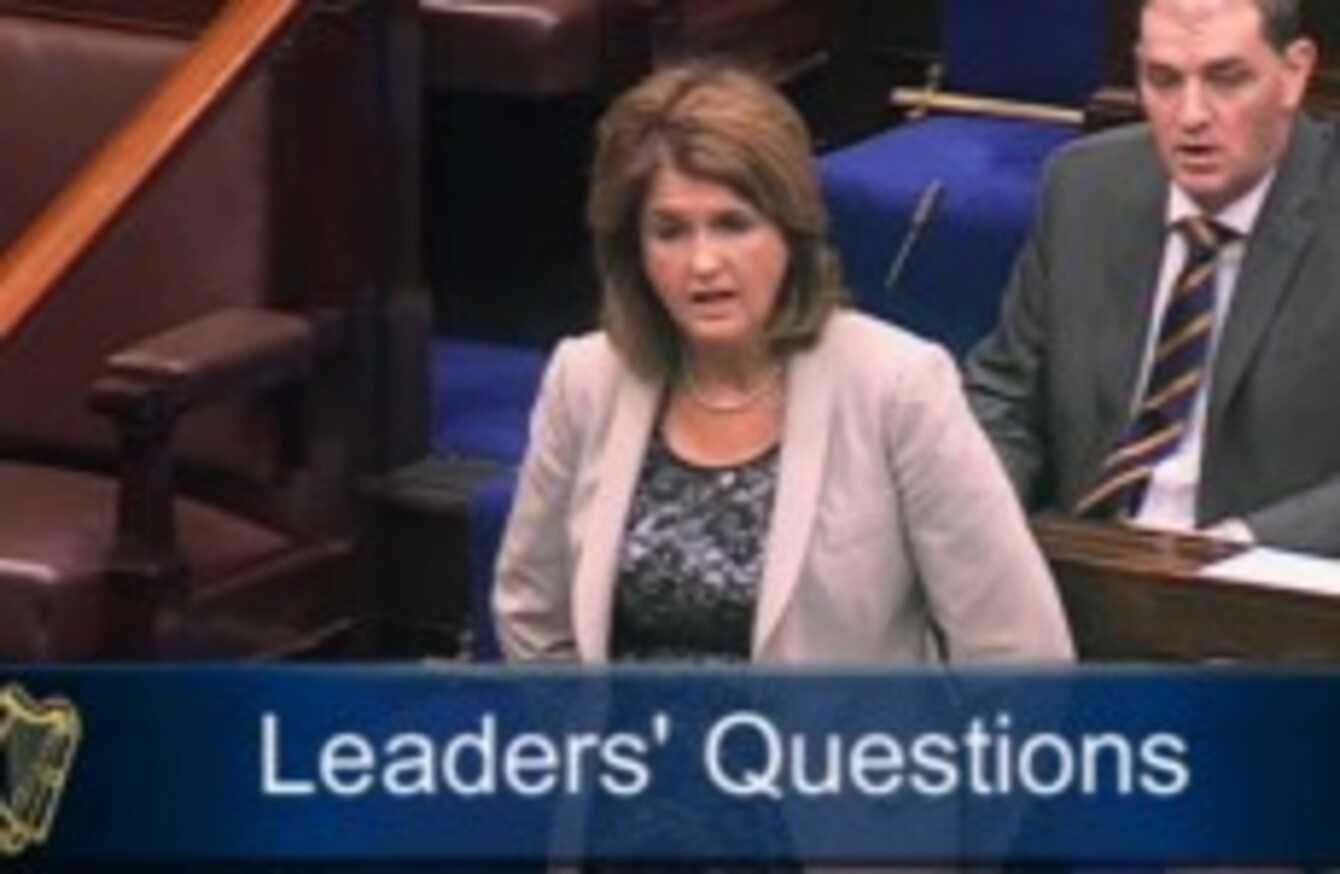 Joan Burton speaking in the Dáil this morning
Image: Screengrab
Joan Burton speaking in the Dáil this morning
Image: Screengrab
THERE WERE CALLS for Taoiseach Enda Kenny to personally meet with the husband of Savita Halappanavar as the controversy surrounding her death was once again raised at Leaders' Questions in the Dáil this morning.
Speaking for the government, Social Protection Minister Joan Burton said that the inquiry being conducted by the HSE – which Praveen Halappanavar says he will not cooperate with – was about the "safety and care of women".
"That is the most important issue, as well as tending as best we can as a country to the grief of her husband and her family," Burton told the Dáil this morning.
Fianna Fáil's Billy Kelleher and Sinn Féin's Caoimhghín Ó Caoláin called on the Taoiseach to meet with Praveen Halappanavar and his legal advisors and said there should be an independent inquiry set up into Savita's death last month.
Burton cautioned against this, citing the Moriarty Tribunal which had originally said it would be completed within a year and ended up lasting over a decade.
Ó Caoláin said this was "hardly an appropriate analogy" and said there needed to be a "full, independent inquiry". Burton said that "every effort" would be made to assist Praveen Halappanvar.
She said: "I can assure you that every effort will be made and every appropriate response will be made by the government in respect to any way in which Mr Halappanavar and his family can be supported."
Burton said that the HSE inquiry would act as "expeditiously as possible" to determine what happened and said that an interim report into the circumstances of Savita's death was expected before Christmas.
"The important issue here is women's health, it's not politics, it's women health," she said amid repeated calls for an inquiry. "I and other women have a direct interest in this."
Kelleher attempted to raise the comments of President Michael D Higgins in relation to Savita's death while he was in Liverpool yesterday saying: "Our president has told us it is clearly wrong."
But he was cut short by Ceann Comhairle Seán Barrett who said that the Dáil must respect "the constitutional position of the President".
Burton described Higgins's remarks as "considerate, thoughtful, reflectful and humane" but was quickly cut off by the Ceann Comhairle who said that the President "is not answerable to the Dáil".