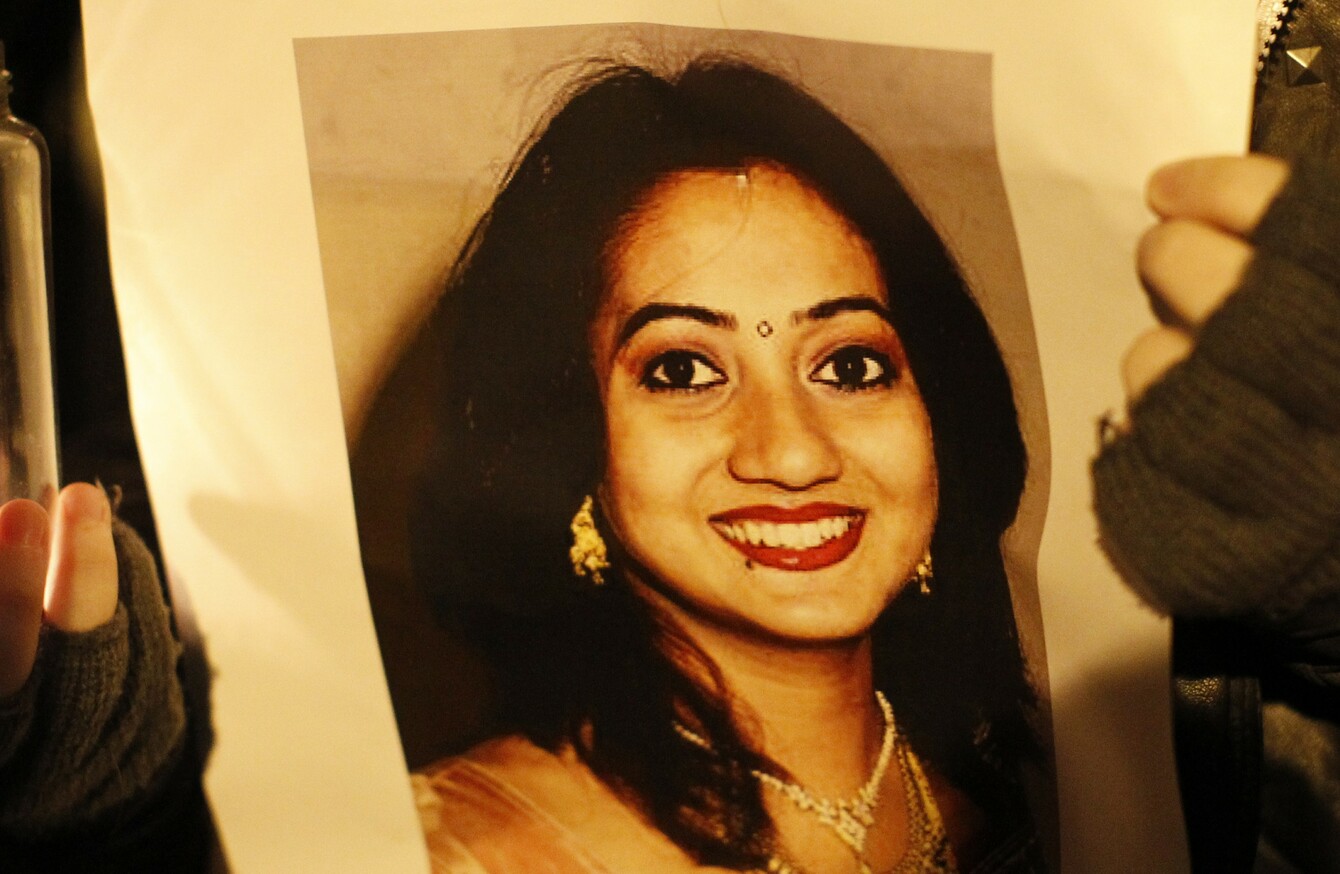 File photo of a picture of Savita Halappanavar.
Image: AP/Press Association Images
File photo of a picture of Savita Halappanavar.
Image: AP/Press Association Images
A MOTION TO rename a street after Savita Halappanavar – who died four years ago – would likely not be possible due to Dublin City Council guidelines, according to the chair of the naming committee.
AAA-PBP Dublin city councillor Tina MacVeigh has put forward a motion to be discussed at next Monday's monthly council meeting around renaming a Dublin street after Halappanavar.
Halappanavar was 17 weeks pregnant when she was admitted to University Hospital Galway on 21 October 2012.
She died one week later on 28 October after miscarrying and going into septic shock due to E coli in her bloodstream.
An inquest into the death heard that Halappanavar asked for a termination on several occasions but was refused because a foetal heartbeat was detected and an abortion could not be carried out under Irish law as her life did not appear to be in danger at that time.
MacVeigh is a vocal campaigner around repealing the Eighth Amendment of the Irish Constitution, which grants the equal right to life of the mother and the unborn child.
The motion to be voted upon reads:
To honour the memory of Savita Halappanavar, who tragically lost her life as a consequence of the Irish State's barbaric and antiquated attitudes to women's reproductive rights, that a street in our capital city be named in her memory.
Speaking to TheJournal.ie, MacVeigh said that the purpose of the motion was to honour the memory of Halappanavar, especially in the context of the current debates around the Eighth Amendment.
"The timing was prudent because it was four years this month from her death and the motion would coincide with the anniversary of her death," MacVeigh said.
"It is of course really important to constantly refer to what happened to Savita.
With Savita we knew who she was, we knew her face, we knew her story.
MacVeigh said Halappanavar's family were "honoured" by the motion.
She said she thought there would be broad support for the motion from her fellow councillors when it is voted on on Monday.
"I think because of the debate that is currently ongoing around the repealing the Eighth Amendment and the Citizen's Assembly that this is an additional gesture that we thought would be a thoughtful, permanent acknowledgement of her memory," she said.
Guidelines
If the motion passes, it would then be referred the Dublin City Council's Commemorative Naming Committee.
This is where it could fall down under the committee guidelines.
The guidelines state that nominations to have aspects of the city named after them will have to have died "at least 20 years previously".
The guidelines state:
Nominees will have to have died at least 20 years previously or have passed the centenary of their birth whichever is earlier. A lesser period may be considered by the Committee in very exceptional cases with subsequent agreement by the City Council.
#Open journalism No news is bad news Support The Journal

Your contributions will help us continue to deliver the stories that are important to you

Support us now
Chair of the committee Sinn Féin councillor Micheál Mac Donncha told TheJournal.ie that renaming a street after Halappanavar would most likely not be possible under the current guidelines.
"Under the current guidelines a person has to be dead for at least 20 years before they can be nominated," Mac Donncha said.
"Personally I think Savita should be honoured in the most appropriate way.
But under the current rules that we have that wouldn't be possible without those being changed.
While the rules acknowledge that a lesser period can considered in "exceptional circumstances" Mac Donncha said that to his knowledge this had never been done.
He said he would have to talk to MacVeigh and consider the motion before he could comment any further.
MacVeigh said she thought Savita's case represented "exceptional circumstances" and so she believed the motion would pass.
The motion is due to be voted upon on Monday, however given the size of the schedule it may be pushed back until next month.