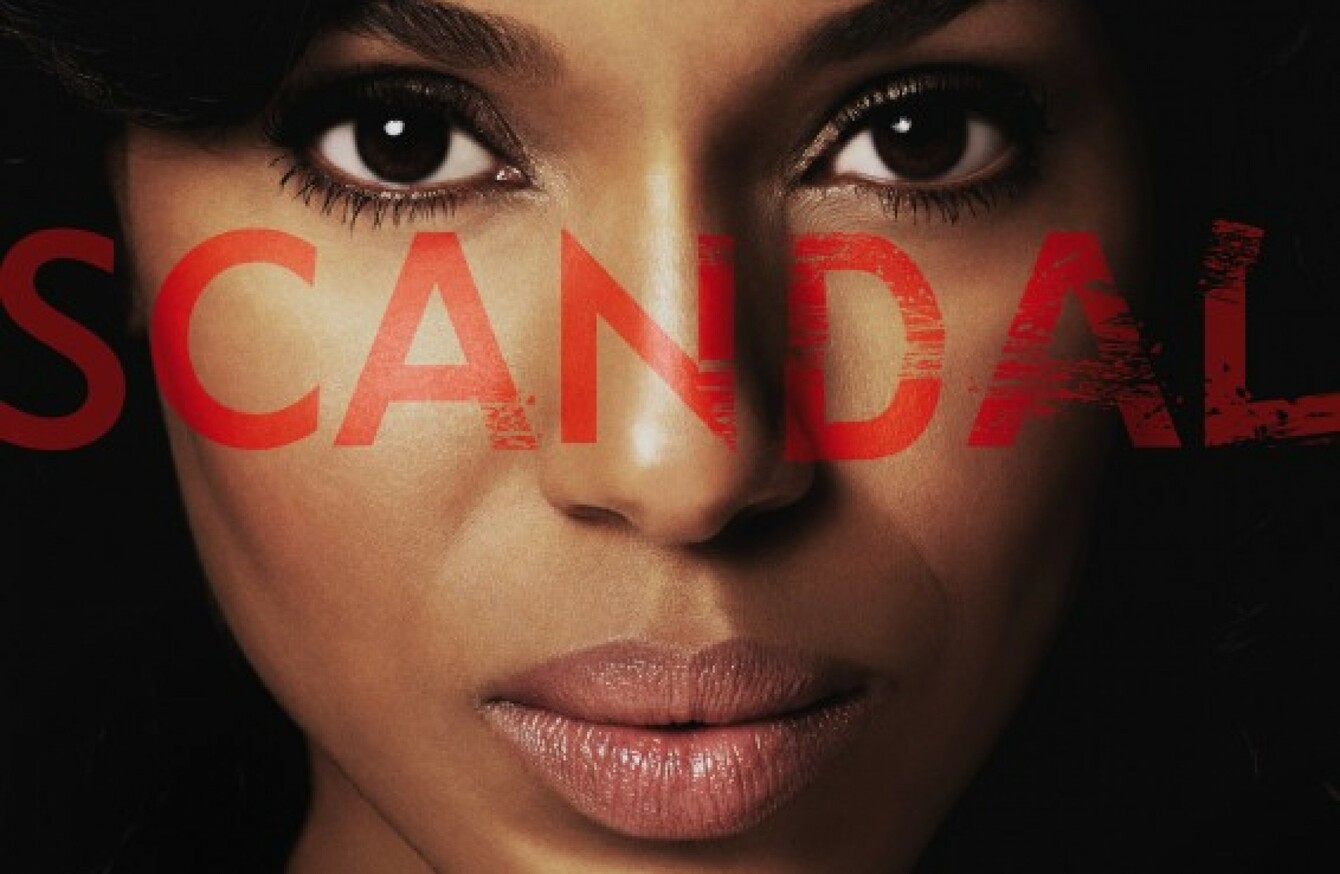 Image: ABC
Image: ABC
Your Next TV Binge is TheJournal.ie's new Friday feature, recommending a box set for you to get stuck into over the weekend. First up: Shonda Rhimes' Scandal. 
SCANDAL IS ONE of those shows that… if you're not already watching it, some of your best friends are and they keep telling you how great it is, and you mentally file it away on your Maybe Pile but then the new season of Game Of Thrones came out and you just kinda forgot about it.
However, with five seasons down and a sixth about to begin, now is the best time to get involved in the political thriller series that genuinely gives House Of Cards a run for its money.
Olivia Pope (played to perfection by Kerry Washington) is a former White House Communications Director who decides to start up her own crisis management firm, and week by week the show tells the story of how she and her team deal with new problems for the rich, famous and powerful before they become full-blown personal and public disasters.
The series was initially based on the life of Judy Smith, the press aide during the George HW Bush administration, and Smith herself is a co-executive producer on the show. She works with Scandal's creator Shonda Rhimes – probably best known for the likes of Grey's Anatomy and How To Get Away With Murder – who uses the programme to tackle everything from race to sexism and national prejudice, all while keeping us constantly entertained.
Source: MOVIEvsFILM Trailers/YouTube
While the first series got some very good reviews, it was from the second season onwards that there was a drastic shift in the tone for the writing, and it was a risk that absolutely paid off.
Perhaps sensing that the real-world political atmosphere was about to get so strange and dramatic and OTT, Scandal leaned into the high-stakes drama of its setting, bringing in everything from election rigging to assassination attempts on the President and bizarre military operations that result in family members getting bumped off.
It was filled with exactly the kind of stuff you might have considered to be absolutely ludicrous before the Trump campaign took root. And now feels all too plausible.
One of the biggest hooks of the show is its go-big-or-go-home approach to storytelling. Unlike shows like Lost or Westworld, which play coyly with their plots and send the internet into a frenzy trying to guess where it's going to go next, Scandal lays all of its cards on the table, lulling you into a false sense of security, letting you think you know exactly how a particular storyline is going to play out… and then BAM! A massive, out-of-nowhere plot-twist that is so unexpected that you could probably sue the writers for giving you whiplash.
#Open journalism No news is bad news Support The Journal

Your contributions will help us continue to deliver the stories that are important to you

Support us now
Source: ABC Television Network/YouTube
That giddy sense of unpredictability is exactly why when one episode finishes, you're already waiting for the next one to begin, constantly telling yourself "Yeah, just one more, this is definitely the last one" and then all of a sudden its 4am. But far from it being a lowest common denominator for cheap thrills, the show has gone on to win Program Of The Year at the American Film Institute, as well as picking up a very prestigious Peabody Award for Excellence.
To be honest, the reason why most people seem to have passed Scandal by in the first place is because of that title. 'Scandal' makes it sound like a spin-off of Gossip Girls or Pretty Little Liars – or perhaps viewers already had their "political drama thriller" covered with House Of Cards or reruns of The West Wing.
Where Scandal bypasses both those shows is in pure entertainment. It's the kind of well-made, highbrow soap-opera that was custom-built to be devoured seasons at a time.
So where can I watch it? Scandal is currently available on-demand on Virgin TV Box Sets. Season six will be broadcast on Sky Living (Virgin channel 124, Sky channel 107) starting February 2.