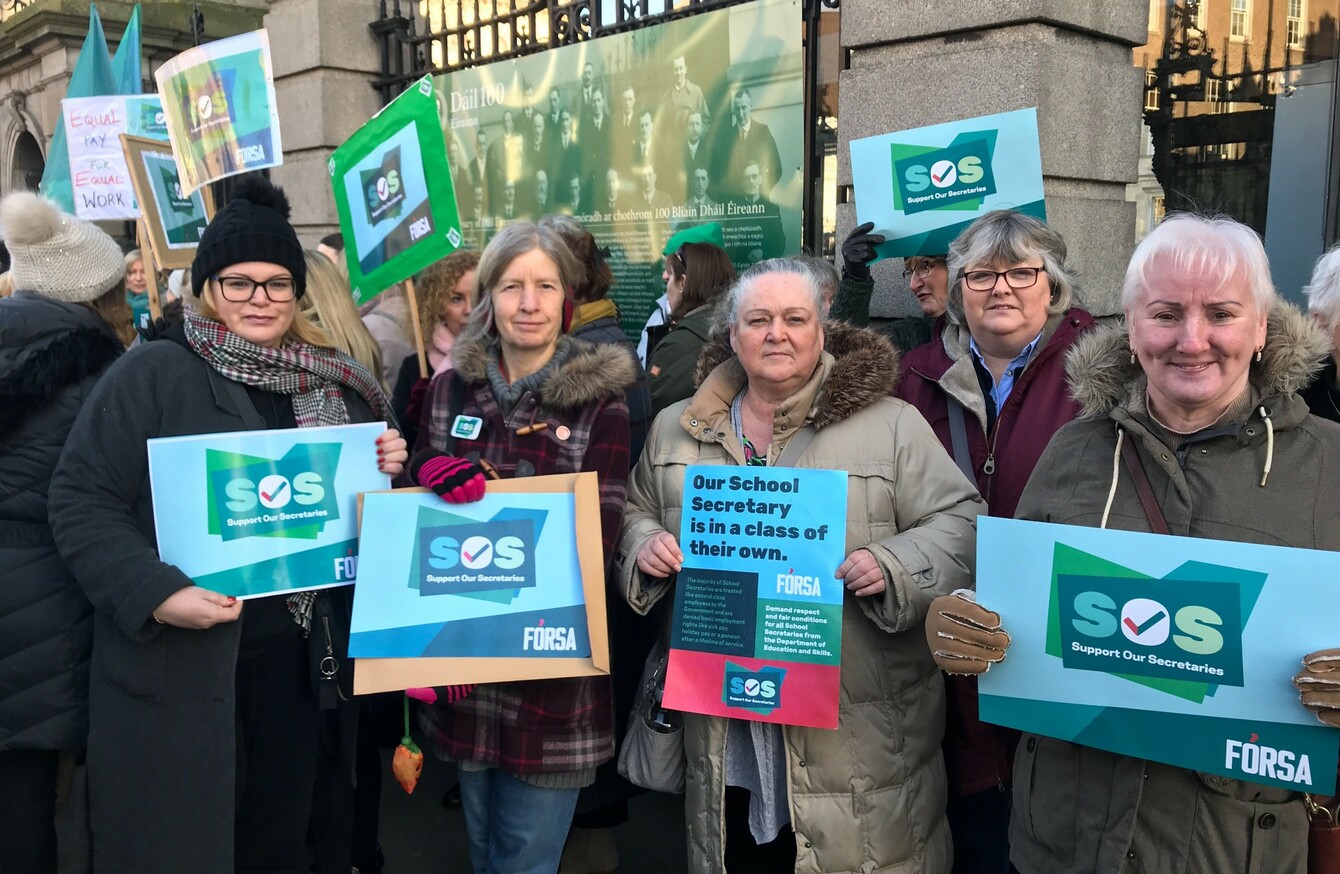 Suzanne Barrett, Leslie Thompson, Judy Dalton and Angie Burke.
Image: Garreth MacNamee
Suzanne Barrett, Leslie Thompson, Judy Dalton and Angie Burke.
Image: Garreth MacNamee
Updated Jan 10th 2020, 2:25 PM
SCHOOL SECRETARIES FROM around the country converged outside the Dáil this afternoon to demand parity of pay as they conduct work-to-rule industrial action.
The secretaries described how the lack of pay security means they must sign on to social welfare over periods when the schools are not open – Christmas being the latest time they had to do this. 
The industrial action, organised by the Forsa union, is set to continue.
If a deal is not struck, school secretaries will resume their work-to-rule, withdrawing from work on public service systems and databases. They will also refuse to carry out the functions of public servants.
Talks have been taking place since October to address the pay system that leaves most school secretaries earning just €12,500 a year with short-term contracts which unions say force them to sign on during the summer holidays and other school breaks.
Angie Burke is the secretary at Our Lady's Boys School in Balinteer, south Dublin. She described how the current system is affecting workers. 
She told TheJournal.ie: "Basically, we get paid by a grant. The grant is based on the amount of pupils per school and that's divided between the caretakers and secretaries. "We don't have any job security. We don't have any sick pay. We don't have any pension and we don't get paid for Christmas or Easter or summer and we don't have any entitlements. So we have to sign on at these times." 
Judy Dalton, who works at the North Bay Educate Together National School in Kilbarrack, north Dublin. She said that this "lack of pay parity" has been happening for decades. 
She said: "Well, I'm in a school now for 25 years. 25 years we've been in this business and I know that's this has been going on for longer. What we want is parity with other school staff, that's all."
There have been multiple protests across the country today, including one outside the office of Education Minister Joe McHugh in Letterkenny, Donegal. Angie said that while there hasn't been much love from the Government, the support from within the schools has been heartening. 
She said: "We've had amazing support from the principals, from the Board of management. We just want what we think is fair."
Talks are continuing between trade union Fórsa, which is representing secretaries, and representatives of the Department of Education at the Workplace Relations Commission over what pay and work conditions would be acceptable. 
Fórsa claims that it would cost €7 million per annum to give secretaries the pay they've requested; the Education Minister Joe McHugh confirmed on RTÉ's Today with Sean O'Rourke that it would cost between €5-7 million, but added that there were other complications to be considered. 
He said that this issue goes back to 1978, and that the "frustration is palpable" among school secretaries. "They're the glue that keeps the schools together," McHugh said.
The row centres around what secretaries call a "two-tier pay system". Around 1,000 school secretaries are employed directly by the Department of Education and Skills, and could earn up to €44,711 per year, and are given pension entitlements, holiday leave and sick pay.
The majority of the country's secretaries, however, are employed by each school's Board of Management through an ancillary grant that is issued to each board annually by the Department to help run the school. Fórsa represents around half of this number.
These secretaries do not get the same pay as directly-employed secretaries, with some being paid as little as €12,700 a year. Most have no sick pay or pension entitlements and can be forced to go without any wages when the school closes for the Christmas, Easter or summer breaks.
The work-to-rule action today involves secretaries refusing to engage with Department of Education structures, which includes the payroll site for teachers.
Fórsa said negotiations with the Department in December lead to an offer of a 1.5% pay rise, which they called "a joke" and "derisory", promising further strike action.
Andy Pike, Fórsa's Head of Education, said the department had failed to bring forward any proposals on pay capable of resolving the issue, calling the 1.5% offer "insulting".
The gap between both parties clearly remains far too wide, and school secretaries had no option but to re-commence their industrial action in their decades-long campaign for pay equity.
"Regrettably this is the only way to increase pressure on an employer wedded to an unjust two-tier pay system," he said.
With reporting by Garreth MacNamee