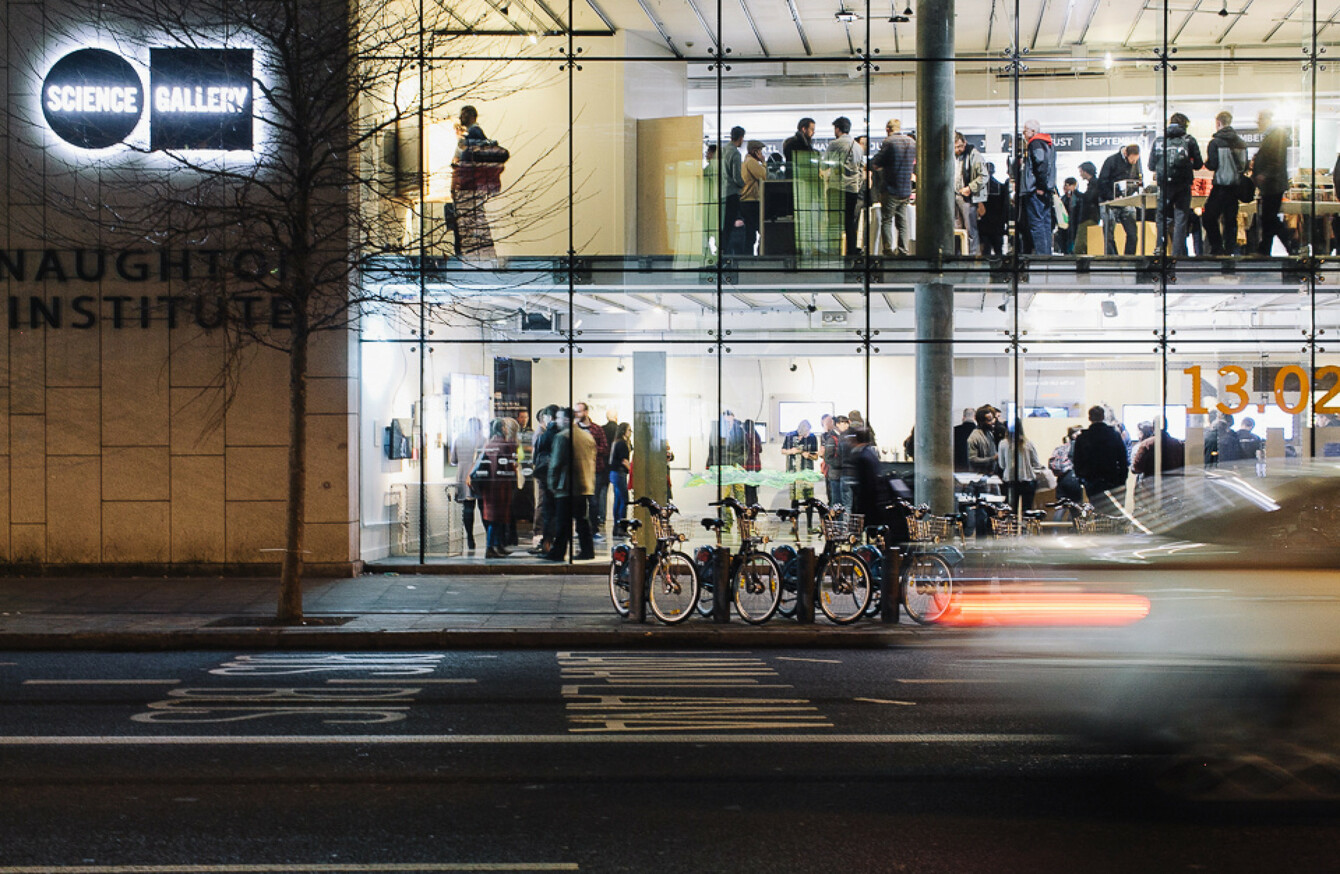 Science Gallery Dublin
Image: Science Gallery Dublin
Science Gallery Dublin
Image: Science Gallery Dublin
IN 2008, A forgotten corner of Trinity College Dublin was transformed into a living experiment called Science Gallery Dublin – and it has just celebrated its 10th anniversary.
Over the past decade, Science Gallery Dublin has developed an ever-changing programme of exhibitions and events fuelled by the expertise of scientists, students, artists, designers, creative thinkers and more.
The gallery aims to encourage young people to learn through their interests, and the focus has been on providing programmes and experiences that allow visitors to participate in and facilitate social connections.
Since opening in 2008, over 2.5 million visitors have passed through the gallery.
Director of Science Gallery Dublin Lynn Scarff has been with the centre since the get-go in 2008 but never expected it to become the massive success that it has.
"I was very lucky to be one of the founding team of the Science Gallery. It was a very rapid prototype from knowing roughly what we were going to do to 12 months later and opening the door," Scarff told TheJournal.ie. 
She said that looking back at documentation, the gallery only projected 50,000 visitors per year. However, since its launch, Science Gallery has had 42 exhibitions. It now attracts an average of 430,000 visitors a year.
"That just shows how popular it is. We weren't really expecting that level of engagement," Scarff said.
Source: Science Gallery Dublin/YouTube
The world has changed immensely since 2008, be it socially or with regards to technology, and Scarff believes the gallery opened at a critically important time for science globally.
"Science Gallery is a great example of a unique idea that exploded onto the cultural scene just at the right time. In many ways, that's what this year's celebration is about. It's about what we've done so far but it's actually also more looking forward to the next 10 years and looking at what the next boundary to push is," Scarff said.
[image alt="32875049242_ef20cff1cc_b" src="http://cdn.thejournal.ie/media/2018/02/32875049242_ef20cff1cc_b-296x197.jpg" width="296" height="197" credit-source="Science%20Gallery%20Dublin" caption="Humans%20Need%20Not%20Apply%20exhibition" class="alignnone" /end]
Going global 
Science Gallery Dublin has not only seen its own centre grow and improve through the years, but it has helped spark a global network of galleries too.
Speaking of the success it has had in Dublin and the impact that has had, Scarff said: "We all knew that we had a compelling idea and something that would resonate with people, but I think the thing we were most surprised about was its impact beyond Dublin and Ireland and how a global network just expanded from here."
In 2012, the Science Gallery concept went global with the foundation of the Global Science Network, pioneered by Trinity College Dublin. Gallery projects are currently in development in Detroit, Bangalore, Melbourne and Venice. Science Gallery at King's College, London is set to open its doors to the public later this year.
#Open journalism No news is bad news Support The Journal

Your contributions will help us continue to deliver the stories that are important to you

Support us now
[image alt="34474091383_64cf75382d_b" src="http://cdn.thejournal.ie/media/2018/02/34474091383_64cf75382d_b-296x197.jpg" width="296" height="197" credit-source="Science%20Gallery%20Dublin" caption="Science%20Gallery's%20Sound%20Check%20exhibition%20in%20June%202017" class="alignnone" /end]
Turning the conversation back to Dublin, Scarff took a moment to reflect on her favourite moments at the gallery over the past decade. She said that rather than a particular exhibition standing out as a highlight, it was, in fact, the people involved.
"The highlight has been the level of human connection and interaction that happens in Science Gallery," Scarff said.
"That has been the highlight in the sense that I've met artists that are working in so many different mediums, I've met scientists who are working on such incredible research, designers, people in technology, engineers…
The conversations have been the highlight more than anything.
To celebrate its first decade, Science Gallery Dublin yesterday held a full-day symposium, with Irish and international artists, experts, scientists and collaborators from the gallery's first 10 years. They discussed the influence of art and science collaborative practice in a cultural, social, economic and educational context.
See here for the Science Gallery's full 2018 programme.