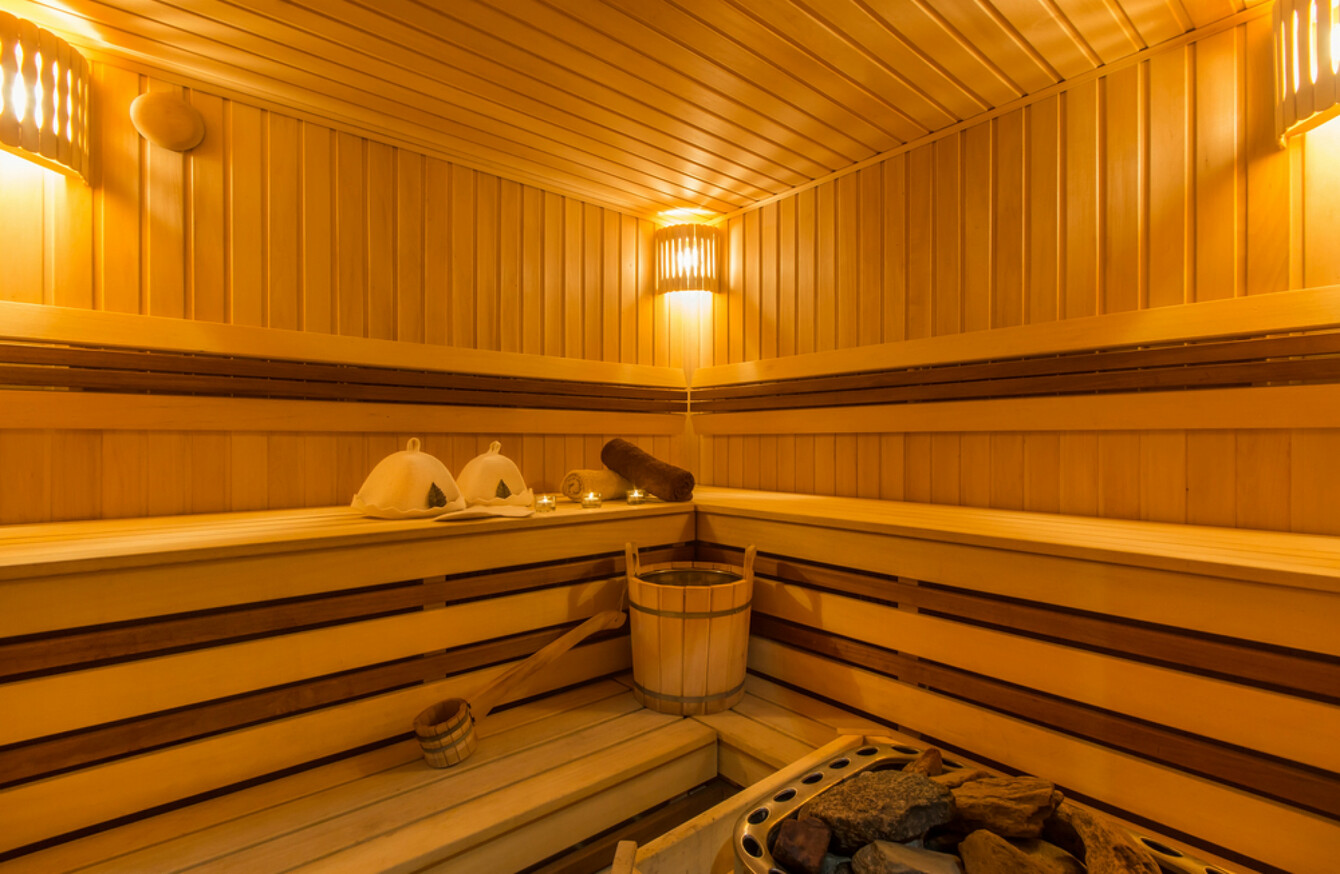 Image: Shutterstock/Alhim
Image: Shutterstock/Alhim
A HSE EXPERT has criticised elements of a Church of Scientology detox programme as 'having no standing' within the medical community.
While the Scientology movement runs a number of detox programmes, one particular "purification rundown" service is being offered to a number of people at the centre in Firhouse with a price tag of €1,500 per person.
The 'Purif' programme involves taking doses high doses of vitamins as well as spending prolonged periods in a sauna and bouts of exercise. It aims to "enable an individual to rid himself of the harmful effects of drugs, toxins and other chemicals that lodge in the body and create a biochemical barrier to spiritual well-being", according to official Scientology literature.
TheJournal.ie has spoken with former Scientologists about their experiences of the process. Some elements of the practice have been described by the HSE as having "no basis" in scientific fact.
Former member John McGhee told TheJournal.ie: "I was put onto the "purification rundown", also know in 'scientologese' as the Purif, as my first step on Scientology's 'Bridge to Total Freedom'.
"It consisted of me going into the sauna every day for up to 4 hours for 32 days. Immediately before each session in the sauna I was given high doses of niacin (vitamin B3) and brought on a two-mile jog so as to induce the niacin flush. Once my skin start turning bright red and feeling like I have been stung by fire ants, it was time to jog back to the mission and get straight into the sauna.
"It was absolutely unbearable and I would often fall asleep inside the sauna with my Purif twin (another guy who was undergoing the purification rundown with me) waking me up and talking about how great L Ron Hubbard was and that how the rest of the world was deficient without Scientology in their lives.
"The person supervising our purification rundown was called the Purif i/c (in-charge). They will periodically check on us in the sauna and administer to us salts to take orally, with water, and ensure that we would have brief cold showers and return to the sauna promptly.
"I was told by Scientology the purification was the first step on the bridge because one needed a clear body and clear mind to proceed with the intense auditing which was to follow."
Speaking to TheJournal.ie, a spokeswoman for the Church of Scientology said it could not comment on individual accounts of the purif.
Children are also allowed to undergo the 'purification rundown'. In a phone call between a prospective client and a Church of Scientology staff member heard by TheJournal.ie, the staff member said that a 13-year-old would be allowed on the course but it is understood that the Scientology member who recommended this was later admonished by their superiors.
The Scientology spokeswoman added: " Young people wishing to advance themselves on their own spiritual path would take part in the Purification programme, but would require parental consent and would require medical approval."
A "secularised adaptation" of the rundown is delivered in the 'Narconon' drug rehabilitation centres worldwide. The purification rundown is designed as a rite of passage for members of Scientology. However, the vitamin and sauna elements which make up part of it have also been used as part of a drug rehabilitation group called Narconon. The Narconon programme is supported by the Church and by Scientologists internationally. However, Narconon is not currently in Dublin.
TheJournal.ie contacted the HSE to get the Irish health service's opinion on the detox. A consultant psychiatrist in substance misuse from the National Drug Treatment Centre said that Scientology's programme has no basis in science.
The doctor said: "Scientology's drug treatment programme has no standing amongst medical professionals involved in the treatment of persons with alcohol and drug use disorders.
"It comprises a series of interventions ('Narconon') with limited or no basis in a scientific understanding of human physiology and brain functioning and may potentially be harmful directly (with overuse of vitamins and other products) and indirectly in that persons are engaging in an intervention with no evidence of potential benefit for them."
#Open journalism No news is bad news Support The Journal

Your contributions will help us continue to deliver the stories that are important to you

Support us now
The Purif programme also employs the administration of doses of vitamins.
In response from a request from TheJournal.ie, the Church of Scientology said:
"The Purification Rundown is a part of the spiritual path a member of the Scientology religion will take part in. It has been found that drugs and toxins can take a heavy toll on the emotional and spiritual well being of an individual and the programme enables an individual to rid himself of the harmful effects of drugs, toxins and other chemicals that lodge in the body and create a biochemical barrier to spiritual well-being.
We live in a chemical-oriented society. Virtually everyone is regularly subjected to an intake of food preservatives, pesticides, atmospheric poisons and the like.
The statement quoted a paragraph from the book Clear Body Clear Mind, authored by the founder of the Church of Scientology L Ron Hubbard:
"The Purification program cannot be construed as a recommendation of medical treatment or medication and it is not professed as a physical handling for bodies nor is any claim made to that effect.
There are no medical recommendations or claims for the Purification program or for any of the vitamin or mineral regimens described in this book.
"Contributions for taking such services are given willingly by our members and our members are well aware they are used by the Church to further our community betterment activities."