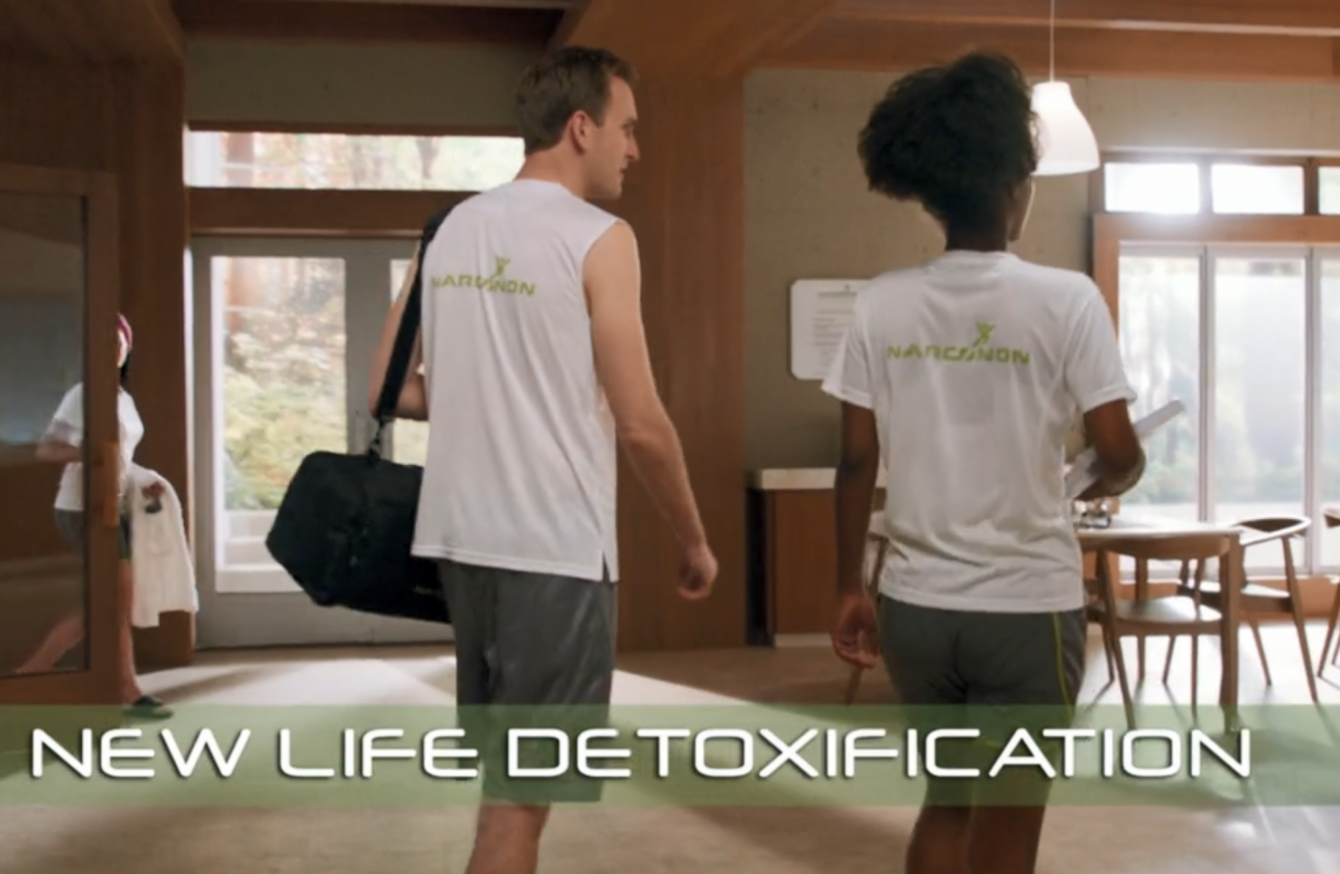 A screengrab from a 'Narconon' video.
Image: Narconon/screengrab
A screengrab from a 'Narconon' video.
Image: Narconon/screengrab
A CONTROVERSIAL SCIENTOLOGY-linked group has confirmed it plans to go ahead with a contentious "drug treatment centre" in Co Meath.
Locals already turned out in significant numbers in January to protest the mooted establishment of the Narconon centre in Ballivor – a village near Trim.
A planning request in connection to the site was initially made by the Dublin-based "Narconon Trust" a year and a half ago, and a local campaign of opposition to the expected establishment of the centre has been ongoing.
However, there has been no official confirmation of the plans until today.
A statement from a PR firm that also handles press for the Church of Scientology in Ireland said 34 "students" and 18 staff would be catered for at a new, multi-million euro facility – and that six full-time positions "will be offered locally for catering, housekeeping and landscape maintenance".
Why is it controversial? 
According to its official website, Narconon "uses unique rehabilitation technology that gets to the problem at its source and provides a path for long-term success".
But the group's methods have proven highly contentious.
Their drug detoxification programme uses high doses of vitamins along with long periods in dry saunas, which, it says, helps to flush toxins out of a person's body.
Narconon-providing facilities have also been involved in wrongful death lawsuits in the US.  There were four deaths in three years at one Narconon facility in Oklahoma, although these have not been linked specifically to the treatment administered during the programme.
Meath Sinn Féin TD Peadar Toibín said that he was hugely concerned at this latest development, and that he had recently met with Minister for Drugs Catherine Byrne to discuss Narconon's plans for Ballivor
The Department for Health has previously admitted that there is currently no provision in legislation for the regulation or inspection of residential treatment or rehabilitation centres specialising in addiction.
A consultant psychiatrist in substance misuse from the National Drug Treatment Centre previously told TheJournal.ie that interventions of the kind used by Narconon had "limited or no basis in a scientific understanding of human physiology and brain functioning" and may potentially be harmful.
Today's statement on behalf of Narconon said it was a "non-profit, non-religious, drug rehabilitation programme aimed at those looking to get off alcohol and drugs and helping them lead better lives".
The centre is expected to begin operations at the site of a former national school in the village.
"Narconon obtained planning permission from Meath County Council in September 2016, which included a Section 5 Application when permission was granted for a change of use from Nursing Home to Residential Drug Rehabilitation Centre," today's statement said.
On that basis the building was purchased.
Meath County Council confirmed in a letter to councillors back in January that the planning request had been made:
"The Council can now confirm that in August 2016 we were requested by the Narconon Trust c/o McGill Planning, 7 Fitzwilliam Street Upper, Dublin 2, to make a declaration in accordance with Part V of the Planning & Development Acts as to whether or not a change of use from a nursing home to a residential drug rehabilitation facility was an exempted development.
The Council issued a declaration on 2nd October 2016 that the change of use as outlined in their submission was exempted development (and therefore would not require planning permission).
Speaking to TheJournal.ie this afternoon, Peadar Toibín said there was "a massive gap" in the government's responsibilities "that there is absolutely no legislation and no regulation governing how these residential drug rehabilitation centres operate".
These are the most vulnerable people you can meet, and there's a responsibility by the State to protect them.
Other groups and organisations around the country also run drug rehabilitation courses.
Toibín said that, in addition to closer scrutiny of the centres themselves, the qualifications of the staff employed to administer the courses also needed to be regulated.
Asked for comment about Narconon for a previous article, a spokesperson for Scientology in Ireland said it was a completely separate entity and that he would be unable to comment.
Today's statement says: "The Church of Scientology and individual Scientologists support Narconon as part of their social mission."
The Narconon programme was developed by Scientology founder L. Ron Hubbard, today's statement added.
"A person does not become a Scientologist by completing the programme."
The Department of Health has been contacted to comment.