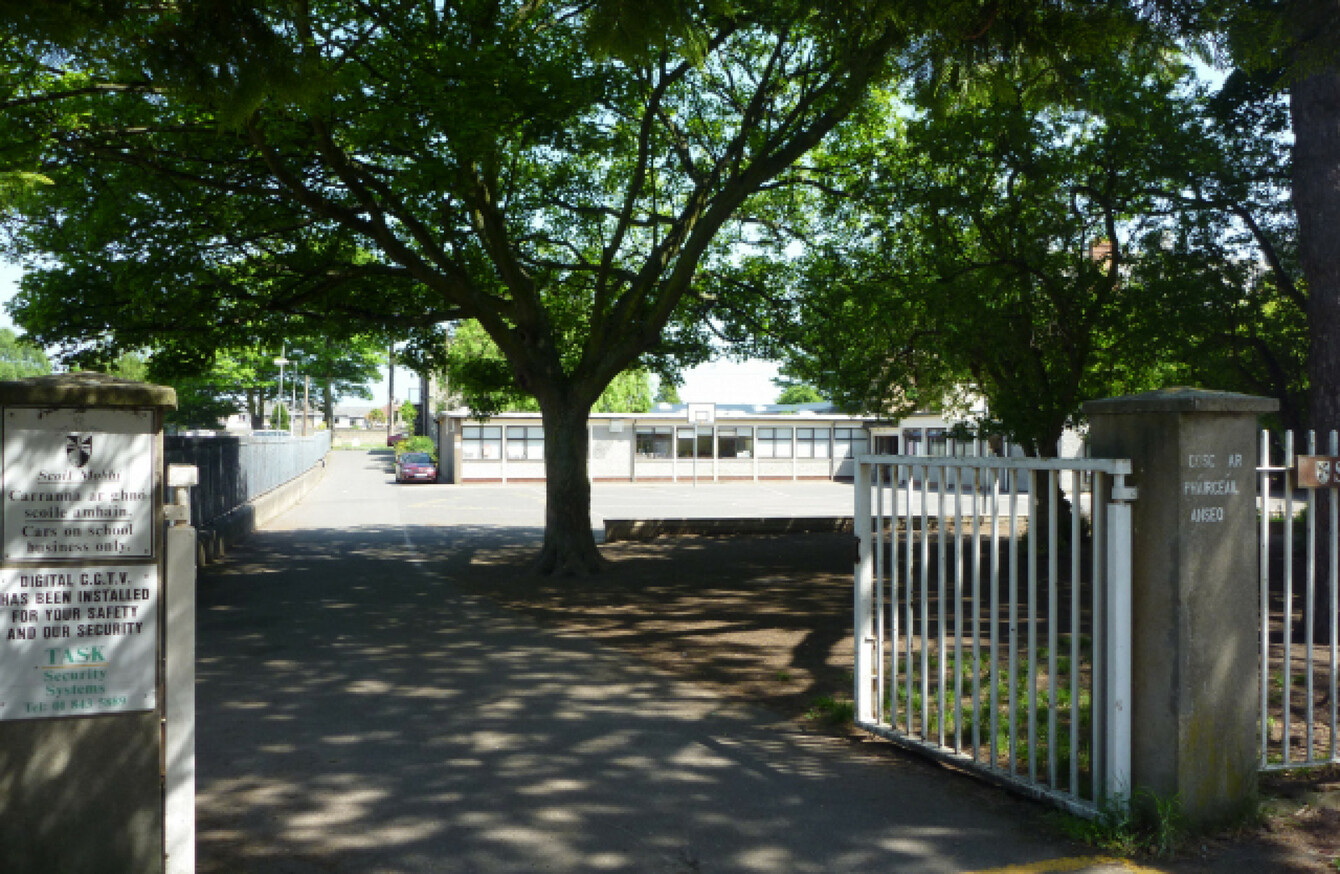 Scoil Mobhí, Glasnevin, Dublin
Image: Scoil Mobhí
Scoil Mobhí, Glasnevin, Dublin
Image: Scoil Mobhí
A GAELSCOIL IN north Dublin has raised "grave concerns" over plans for Dublin's new €3 billion Metrolink project, which will impact its school grounds.
The National Transport Authority (NTA) and Transport Infrastructure Ireland (TII) have proposed to establish a tunnel boring machine launch site (used as a home for equipment for the project), which will share its perimeter with Scoil Mobhí in Glasnevin. The school shares its site with Na Fianna GLG, Scoil Chaitríona, and playschool Tír na nOg.
The proposed site is to run the full length of the schoolyard and will be some five metres from inside the junior infants classroom, according to the school's principal.
The emerging preferred route for Metrolink, published on 22 March, will see the high-frequency, electric rail service go from Malahide to Sandyford carrying 15,000 passengers an hour.
The grounds of Na Fianna GLG, Home Farm FC and Scoil Chaitríona secondary school will also be affected by the proposed plans.
Representatives of the schools and clubs, along with members of the NTA and TII have appeared before the Joint Oireachtas Committee on Transport, Tourism and Sport this afternoon to discuss the proposed Metrolink plans.
Health concerns
Speaking before the committee, principal of Scoil Mobhí, Marcella Nic Niallaigh, said that it is impossible to describe precisely what the launch site will entail because those details have yet to be provided by the NTA and TII.
However, based upon what was included in previous proposals, she suggested it could include conveyor systems, cranes, forklift trucks, pumps and some 100 staff.
"We have grave health concerns due to dust, diesel emissions, noise and vibration. Those same factors lead us to conclude effective education would be impossible throughout the construction," Nic Niallaigh said.
She added that the school also has major safety concerns. She outlined that the proposal would take away the only current vehicle access point to the school, where staff park and where parents drop off and pick up their children.
"A large number of pupils walk, cycle or scoot to school across the site. They would no longer be able to safely do this," she said.
It is also a sad fact of life that large construction sites and heavy machinery attract the curiosity of children. Having a site such as this sharing its perimeter with a naíonra (play school), primary school, and secondary school is nothing less than an invitation for a tragic accident.
Furthermore, Nic Niallaigh said the proposals would "tear apart a unique Irish language community".
"That such a proposal should have been brought forward in Bliain na Gaeilge and at the same time as the Irish language is being placed in front and centre of Project Ireland 2040 is an irony that is truly heart-breaking," she said.
Nic Niallaigh called on the NTA and TII to remove the launch site plans from consideration "at the very earliest opportunity".
Sporting grounds
Na Fianna GLG has repeatedly raised concerns over the proposed plans in recent weeks, as the club's home on Mobhi Road in Glasnevin is set to be both the home to a new underground station on the route and the launch site.
Speaking at the committee this afternoon, chairperson of Na Fianna Cormac Ó Connchú said the club currently has 2,936 members and an additional 1,044 registered parents. At the moment, Na Fianna GLG requires the use of 14 additional facilities at different locations around the community to meet the demands of its membership.
"Prior to TII's announcement, we have been struggling with the lack of access to green space in our community as we are already at breaking point," Ó Connchú said.
He went on to note the club's collaboration with local community groups and schools to ensure that cultural and social activities are provided to locals.
"Our cultural work is beautifully complemented by the very close relationship we enjoy with our nearest neighbours – our adjoining Gaeilge speaking schools Scoil
Mobhi and Scoil Chaitríona," he said.
"We work closely and share use of each other facilities to create a unique, safe educational, sporting and cultural Gaelic environment. On every level, we breathe the same air."
#Open journalism No news is bad news Support The Journal

Your contributions will help us continue to deliver the stories that are important to you

Support us now
Ó Connchú said the proposed plans will "transform space, which has been lovingly nurtured" into a construction site of an unprecedented scale".
A generation of children will be deprived of an opportunity to engage in healthy activity within their local community during their most formative years.
Under the proposals, Home Farm FC's grounds at Mobhi Road will be unavailable to the club for a period of around seven years, commencing in 2020.
Michael Dowling, outgoing chairman of Home Farm FC, said the club has been assured by TII that "suitable alternative arrangements will be made available as a priority, to relocation our teams for the duration of the project, if it proceeds as planned".
Public consultation
Over the last year, TII, in partnership with the NTA, identified an Emerging Preferred Route (EPR) for the MetroLink project. The EPR was identified as the route option which performs among the best in terms of public transport demand, integration with the wider public transport system and economic return.
Michael Nolan, chief executive of TII addressed the committee to outline a public consultation process, which is currently underway in relation to the Metrolink proposals.
Nolan detailed how and why the TII made the decision to choose the above sites for construction work: "Constructing such a large scheme in a built-up urban area is not possible without impacting people, businesses and property. We have strived to minimise the impacts of the planning work done to date.
It is difficult to find locations for tunnel stations and for construction sites in a built-up urban area, which does not have an impact.
Such construction sites are inevitably located in open spaces. In these specific instances, the choice was between directly impacting on homes and local businesses or locating temporary construction sites and future stations in open spaces.
TII said it is committed to discussing possible proposals to ameliorate the Metrolink's impact on the clubs' operation within weeks of the conclusion of the public consultation process.
As of now, the Metrolink plan would commence construction in 2020 and be completed by 2027.