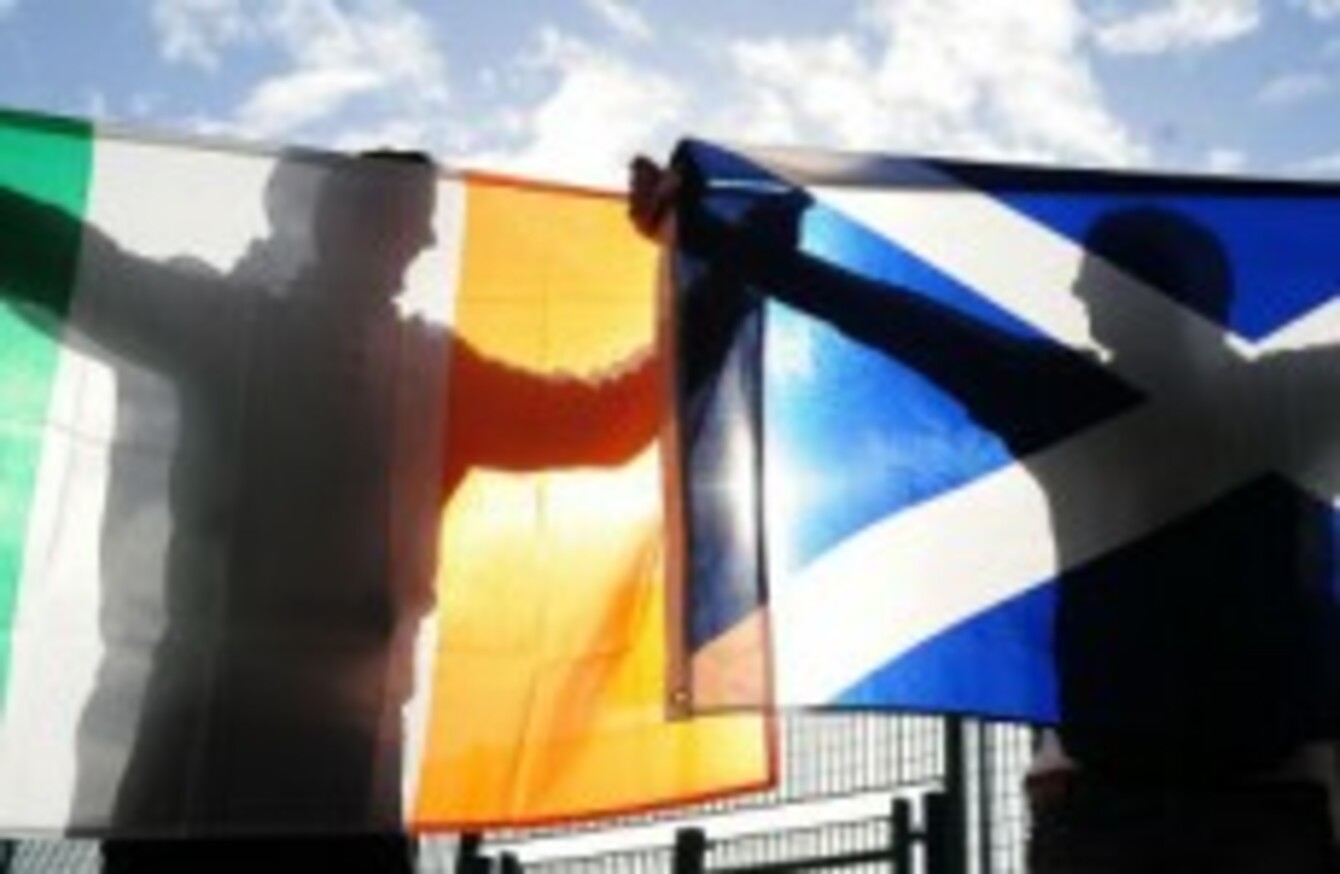 Ireland and Scotland fans show there support prior to the RBS 6 Nations match at Murrayfield.
Image: Owen Humphreys/PA Archive
Ireland and Scotland fans show there support prior to the RBS 6 Nations match at Murrayfield.
Image: Owen Humphreys/PA Archive
TDS HELD A video conference with Scottish counterparts about EU membership today with Labour deputy Eric Byrne telling them that "European friends came to the help" of Ireland during the financial crisis.
The discussion was held between the Oireachtas Joint Committee on European Union Affairs and the Scottish Parliament's European and External Relations Committee which is looking into proposals for an independent Scotland and its potential membership of the EU.
Byrne told the listening Scottish parliamentarians that "it wasn't Europe who sabotaged" the Irish economy and that it was the EU who helped Ireland as part of the bailout programme.
Overall, the four Irish TDs who took part in the discussion – Seán Crowe, Dara Murphy, Eric Byrne and Timmy Dooley – extolled the advantages of EU membership with social progress being among the most repeated benefit.
"Membership has contributed to many of our labour laws. Legislation about equal pay for men and women, much has come from EU directives," said Fianna Fáil's Dooley.
Byrne agreed, saying that in 1973, "Europe's social agenda was very much advanced" and that membership "liberated many Irish women who were trapped".
In Murphy's opening statement, the TD said that the EU has "given Ireland a place at the top table in Europe" and has "enhanced rather than diminished sovereignty".
Adding that, "where the commission is sidelined smaller states tended to suffer".
Sinn Fein's Seán Crowe echoed comments about the positive social impact of membership but cautioned that "we have ceded some of our sovereignty".
"There are a succession of treaties in which we ceded sovereignty from Irish Governments to Europe," he said.
But Byrne later countered Crowe's comments by saying that "every treaty change has to go by the way of a referendum".
"They (the Irish people) have voluntarily ceded any form of sovereignty that the Sinn Féin member is worried about," he said.
The Euro
One of the primary issues in the referendum debate has bee been about what currency an independent Scotland would use.
#Open journalism No news is bad news Support The Journal

Your contributions will help us continue to deliver the stories that are important to you

Support us now
Conservative deputy Jamie McGrigor asked the Irish TDs  if the inflexibility of the Euro 'was a major part of Irish crisis?'
Murphy definitively answered "No", before adding that it "would be overly simplistic to say that the Euro was part of the problem".
Crowe also said that it would be "fantasy stuff" to say that the crisis would have been completely averted if Ireland was not a member of the Euro.
Dara Murphy was reluctant to answer if Ireland would hope to continue the free movement of goods and people with an independent Scotland.
"It's a matter for you in the ongoing negotiations you would have, it's not for us to comment, that's part of your own internal debate, he said.
TDs were also asked about the potential pullout of the UK from the EU, something the TDs felt would be detrimental to Ireland's interests.
"Ireland and UK share common views on many issue in Europe", said Murphy. Adding that "the UK is good for EU and the EU is good for UK".