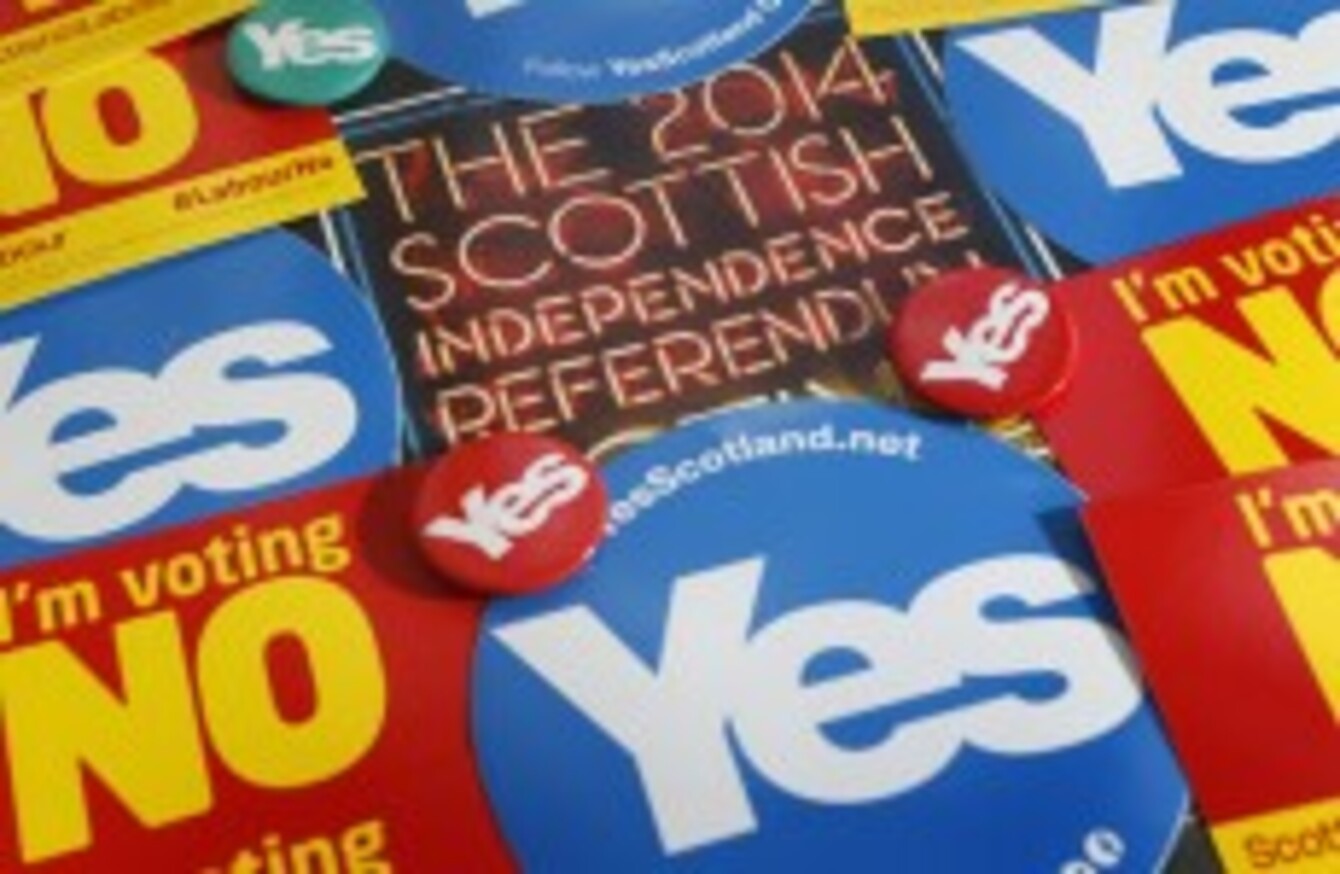 Image: PA Wire/Press Association Images
Image: PA Wire/Press Association Images
NONE OF THE four main political parties in Ireland are taking a position on whether or not Scotland should be independent of the UK ahead of the much-anticipated referendum next month.
On 18 September voters in Scotland will be asked to answer Yes or No to the question: 'Should Scotland be an independent country?' with opinion polls showing a narrow lead for the No side.
However, a strong performance by Scotland's First Minister and Yes campaign leader Alex Salmond in a debate on Monday night has narrowed the gap between the Yes and No sides less than three weeks before the vote.
In Ireland, none of the four main political parties are taking a position in relation to the referendum, all insisting it is a matter for the Scottish people to determine.
Officially the government has been at pains to stay out of the debate and has previously warned ministers to be "very careful to avoid expressing views" on the independence question.
Fine Gael said that the independence or not of Scotland is a matter for the Scottish people alone with a spokesperson adding: "Regardless of the result, Fine Gael hopes for and anticipates continued good and productive relations with all of our near neighbours – Scotland included."
Meanwhile, a Labour spokesperson said: "I think we'll leave that question to the good people of Scotland." 
'Kick out NATO'
On the opposition side, Fianna Fáil's foreign affairs spokesperson Brendan Smith said that the party "respects the right of any nation to seek self determination" and added: "The Scottish Referendum is a matter for the Scottish people alone and we will fully respect the outcome of that vote."
Sinn Féin said it has kept out of the debate with a spokesperson insisting: "Sinn Féin believes in the right to national self determination free from external interference. Therefore our position on the Scottish referendum is that it is a matter for the Scottish people alone."
However the smaller parties are taking a stance with the Socialist Party, which is linked to the Socialist Party Scotland, saying it is in favour of a Yes vote.
Former Socialist MEP and Dublin South-West by-election candidate Paul Murphy said a Yes vote is "an opportunity for people to express their opposition to Tory-led cuts".
"A yes vote will open up a space to fight for a Socialist Scotland where you nationalise the North Sea oil and kick out NATO," he said.
People Before Profit TD Richard Boyd-Barrett said his party had not discussed the issue as a collective and said he would not have strong feelings either way.
However he added: "Tipping the balance I probably would be in support of the Yes campaign. I think it's about asserting a greater level of democratic control for the people of Scotland.
"It gives a greater level of self-determination for people on the ground. But I put a big qualification on it – whether they're in or out it is not going to address the fundamental issues that affect the Scottish people."