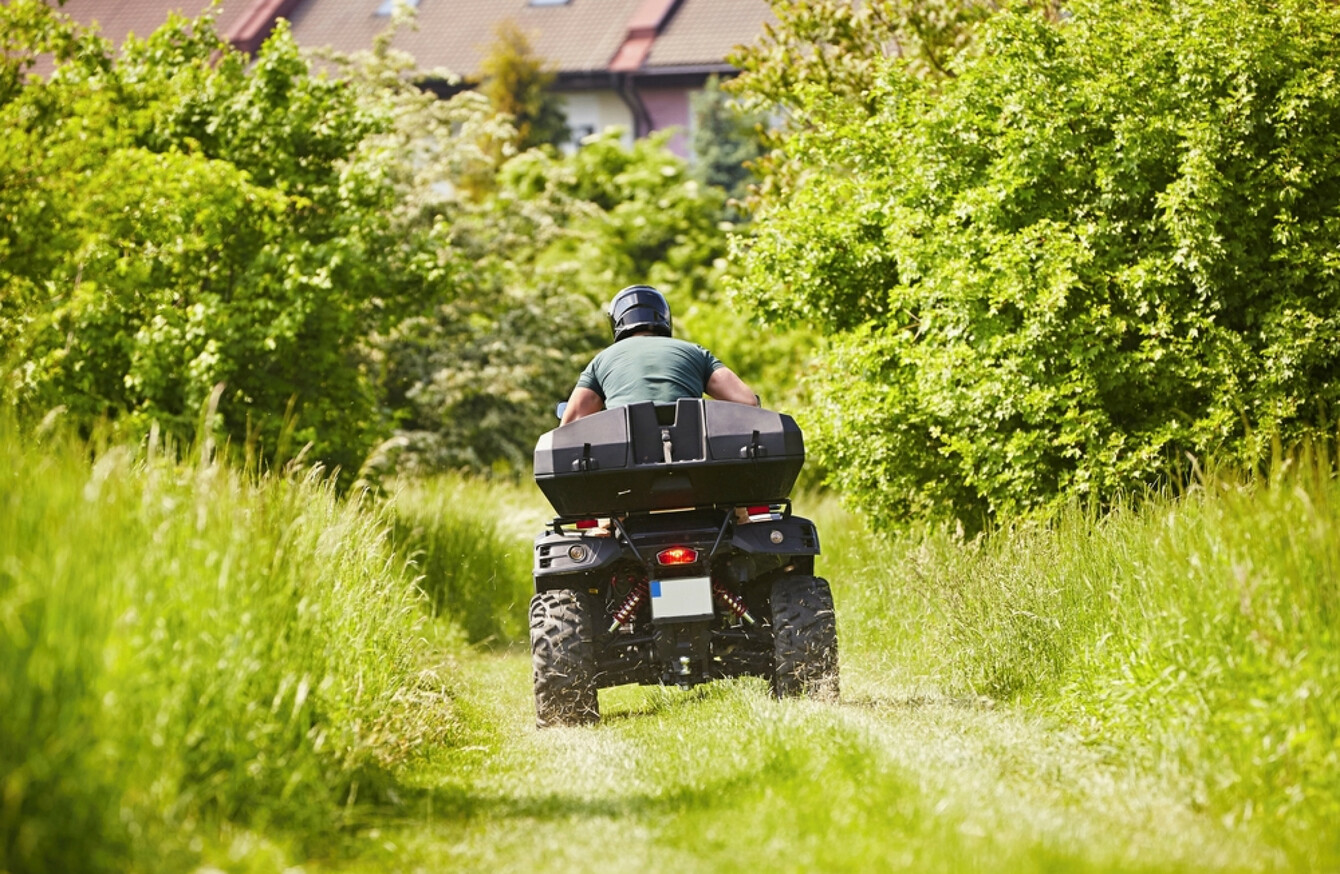 Image: Shutterstock/Jaromir Chalabala
Image: Shutterstock/Jaromir Chalabala
TRANSPORT MINISTER SHANE Ross has told the Dáil the government will move as a "matter of urgency" to deal with the unsafe use of scrambler and quad bikes. 
A Sinn Féin Bill seeks to amend the law to allow gardaí the power to seize and detain quad bikes and scrambler motorcycles when being used unlawfully.
The Road Traffic (Quads and Scramblers) Amendment Bill is currently at Second Stage, but is to be opposed by government.
The reason for opposing the proposed bill is the government believes an amendment to the Road Traffic Bill to deal with the issue is "not appropriate" as it could have unintended consequences for other road traffic legislation.
A cross-agency working group has already been set up by the Justice Minister Charlie Flanagan to deliver a "multi-pronged" response the problem of young people using the vehicles.
Ross told the Dáil today that the group will meet again next week and will engage with local authorities around their difficulties in dealing with scrambler and quad bike use in local parks and other areas. 
He said a Road Safety Authority campaign in the run up to Christmas will appeal to parents not to buy the vehicles for their children.
While he said he is "fully behind the excellent intentions" of the movers of the Bill – TDs Dessie Ellis and Imelda Munster – he did not agree with the amendment being proposed.
He said the approach of Sinn Féin runs the risk of undermining other legislation. 
"Those risks are not worth taking," said Ross, but he conceded that as a "matter of urgency" the group would ascertain other ways of dealing with the issue. 
Fianna Fáil's Robert Troy accused the minister of being slow to move on the issue, stating Ross had previously stated that there was no deficiency in the legislation in dealing with illegal use of scramblers.
Troy urged Sinn Féin to withdraw its Bill for a period of two months, so that there could cross-party work done on it to get it over the line and accepted by government.
"That might be a way to move this forward… withdraw the Bill and work with Fianna Fáil and the government to put forward robust legislation," he added. 
A number of other TDs also contributed to this afternoon's debate, with many stating that the issue of the dangerous use of quad bikes being one of the constant issues raised at local joint policing meetings with the gardaí. Others stated that locals are afraid to use parks.
"It is an issue scrounging our environment," said Fianna Fáil's John Brassil.