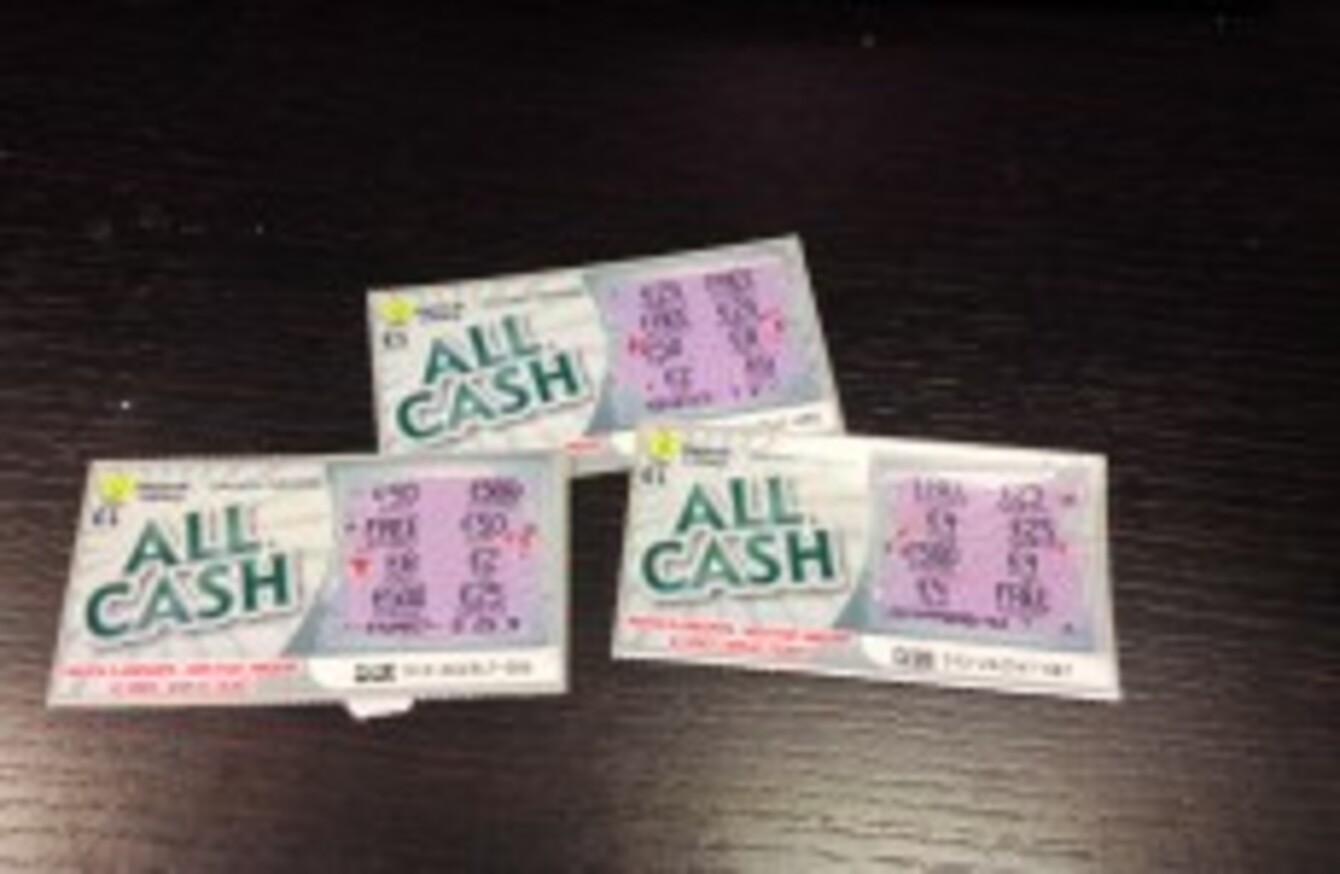 Image: Paul Hosford/TheJournal.ie
Image: Paul Hosford/TheJournal.ie
EVERYBODY LOVES THE humble scratchcard.
Whether as a gift for someone you don't really know or a way of spending change in search of a fortune, they're an acceptable way of gambling at any time of day.
But, just how likely are you to win on one? And even then, how can you be sure that you haven't bought a ticket from a batch that has no winners?
To answer the second part, a National Lottery spokesperson told TheJournal.ie about the auditing process.
"We have a robust auditing protocol for all of our Lottery games including scratch cards. All of our processes, checking systems and audits, are subject to audit to World Lottery Association standards. The National Lottery holds the highest level of accreditation available under World Lottery Association standards.
We retain two ticket printers, both of which supply games to The National Lottery as required throughout the year.
"The primary supplier is Pollard Banknote Limited, which is based in Winnipeg, Canada. The secondary supplier is Scientific Games, based in Leeds, UK. Their headquarters are in Atlanta, Georgia, USA. Both companies are renowned security printers, providing Lottery tickets to most of the major lotteries worldwide."
So now you know there's a winner in the tickets, what game should you play if you want a winner?
Scratch cards have eight games that run year-round, with seasonal games launching every couple of months.
Here's the breakdown of how likely you are to win on each of those games.
So the odds are pretty good, in most cases. Especially when you consider that the odds of winning the main prize in the National Lottery draw is 1 in 8,145,060.
But, as we all know, not all prizes are created equally. From free tickets to the jackpot, the array of prizes on offer is one of the selling points of scratch cards.
So here's where your odds are best.
That is the breakdown for the top three most popular brands on National Lottery scratch cards, a spokesperson for the company says.
So even though All Cash has longer odds of winning, it does represent a better chance to get rich quick.
However, Winning Streak has the added bonus of potentially meeting Marty Whelan.
Whatever you do, we wish you luck.