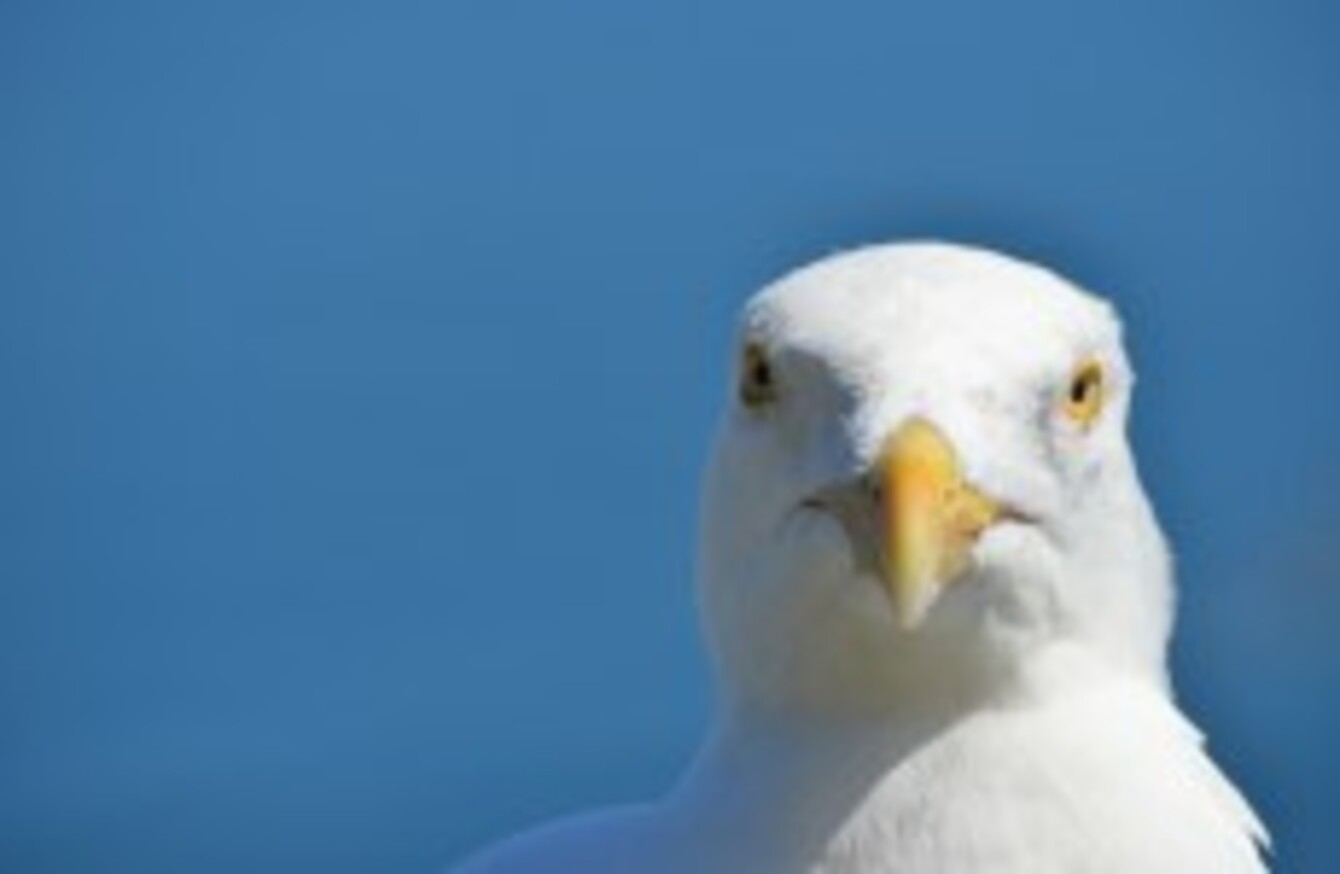 Image: Shutterstock/Merlins99
Image: Shutterstock/Merlins99
Updated at 11.01pm
IT'S JUST OVER a year since Kerry senator Ned O'Sullivan dragged seagulls (kicking and squawking) into the Irish political spotlight.
The nation's Herring Gulls had "lost the run of themselves completely" the Fianna Fáil politician opined (pointing out, in the course of his address to the upper chamber, that he had nothing whatsoever against pigeons).
"I saw that they're getting so cheeky now that they attack young children and dispossess them of their lollipops and stuff like that," he continued, citing complaints from listeners on a recent Liveline.
The general response to O'Sullivan's calls for government action on the issue? Sniggers, mostly… But perhaps that was more to do with the way he phrased his complaint, than its content.
It's a subject people have been talking about again in recent days: partly because the pesky things are at the height of their breeding season at the moment, and are therefore behaving quite aggressively – but also because David Cameron had some harsh things to say about the creatures.
The British Prime Minister wants to "start a big conversation" about what can be done about them, he said – and he's not ruling out a cull.
It was after gulls killed a Yorkshire Terrier in Newquay last week. Elsewhere in the UK, they were seen turning over and eating (alive) a pet tortoise.
Doubling down
Our own politicians were also talking about the subject today – with O'Sullivan's party colleague Senator Denis O'Donovan calling for a Seanad debate on the problem.
"Seagulls have killed lambs and rabbits and we are reaching the stage where they are endangering society," he insisted, saying Ireland should also consider a cull of the species.
Their behaviour is sometimes like that of a rabbit with myxomatosis or a cow with mad cow disease.
Protected species
As members of Birdwatch Ireland explained to us in the wake of O'Sullivan's initial comments, studies have shown the population of Herring Gulls is down by a whopping 90 per cent in the last two decades.
However, we may be noticing them around more because the birds are increasingly moving into urban areas. Around Dublin Bay in particular, they're making the move inland to breed because many of the islands they would typically use are infested with egg-eating rats.
According to the National Parks and Wildlife Service, the reduction in population over the last 20 years is partly as a result of better management of municipal dumps, where the gulls would once have gathered in large numbers to feed.
They remain a protected species, a spokesperson said in response to a query from TheJournal.ie today today.
There is no change to the Department's policy on this issue.
Asked whether control measures could be imposed locally, the spokesperson said:
"Individuals may apply to the Department for a licence where seagulls are considered a nuisance.
However, it is advisable that concerned individuals should contact their local conservation ranger, in the first instance, who will advise them of all options in order to address the situation.
Breeding season, you'll be pleased to hear, generally lasts until around the end of July.