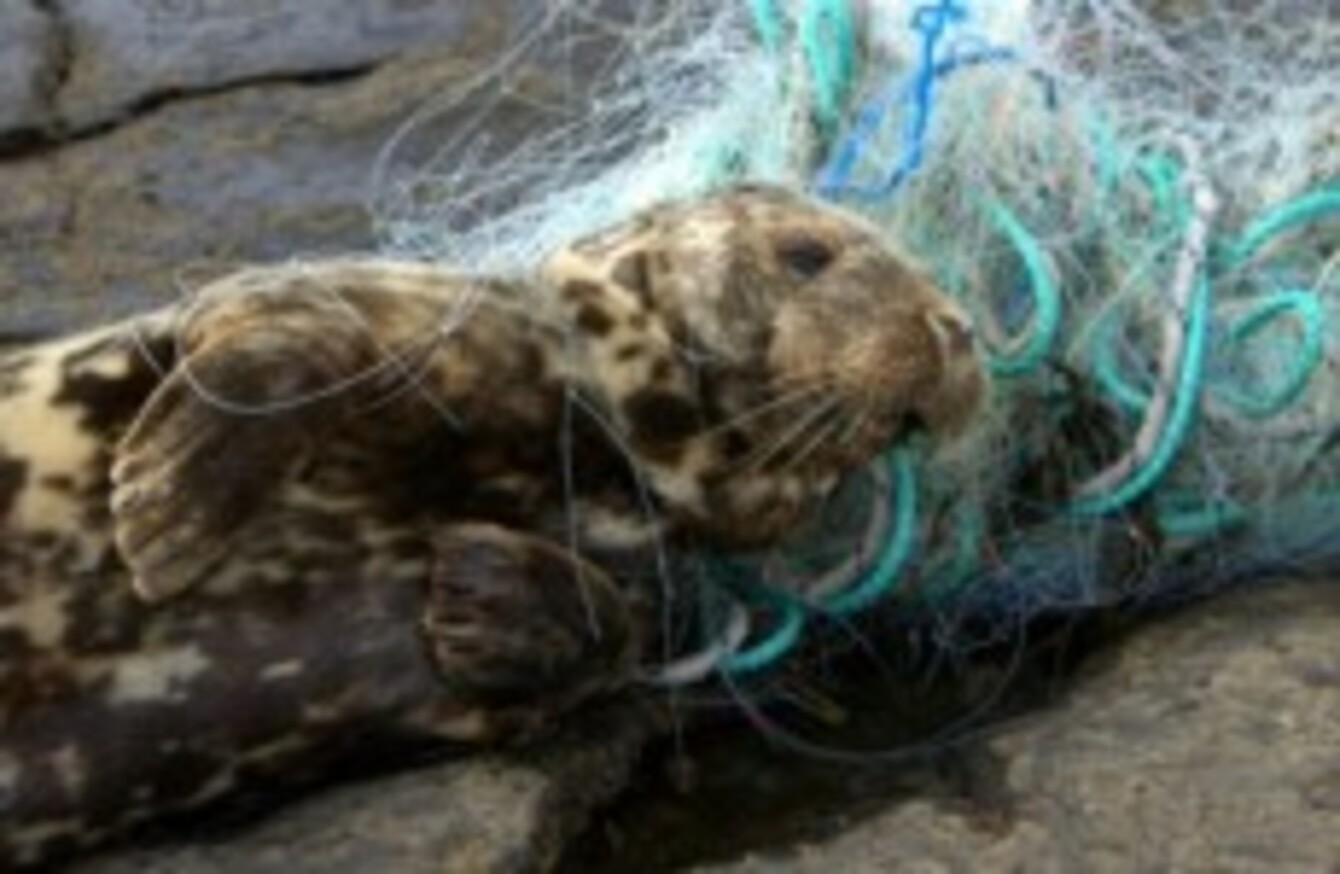 Some good news: this little guy was rescued after being caught in a net earlier this week.
Some good news: this little guy was rescued after being caught in a net earlier this week.
IN THE PAST two weeks a number of incidents have highlighted the plight of seals who reside in the coastal waters of Ireland.
Two separate Garda investigations have been launched after a horrific find at the gates of the Dingle Wildlife and Seal Sanctuary in Co Kerry on Thursday, 7 June and a shooting in Cork just days later.
At the Kerry sanctuary, workers were shocked when they discovered two seals' heads had been nailed to plywood and then screwed onto the sign at the gate of the centre. Written on the signs in red paint were the messages "RIP CULL" and "RIP I AM HUNGRY".
Just days after the gruesome incident, two kayakers at Knockadoon Head in east Cork discovered two seals who had just been shot. "Sickened to the core" by the incident, the husband and wife who reside in the locality, reported the shooting to the Gardaí.
Gardaí in Youghal have said their investigations into the incident are ongoing.
On Tuesday, two separate seal deaths were called in to the Dingle Seal Sanctuary. One by Galway County Council was probably a natural occurrence but another headless seal was found at Whiting Bay in Waterford.
Sarah Harmon from the Dingle Seal Sanctuary said the decapitated seal signalled suspicious activity.
Last February, three seals were found over a two-day period washed up at Tramore beach with apparent gun shot wounds to the head.
"There has been a swing in activity in recent months," says Johnny Woodlock of the Dingle Seal Sanctuary. "Many of the seals found dead have apparent gun shot wounds but it is difficult to say this definitively without an autopsy."
They have obviously been shot inhumanely and we condemn this fully.
The National Park and Wildlife Service (NPWS), however, told TheJournal.ie that is has not noticed an increase in alleged illegal killing of seals off the coast of Kerry and Cork.
"The problem is that there is nobody keeping records of dead seals washing up on beaches," explained Woodlock. "That data simply doesn't exist but we have now started to keep records."
The NPWS is currently undertaking a survey of seal numbers in the coastal areas, including the surrounds of the Blasket Islands, but exact figures have yet to be finalised.
The data collection comes after some calls from the fishing industry for a cull on seals because of what some say are increased numbers which deplete stocks.
Despite calls from a number of individual fishermen and politicians, the Irish Fish Producers' Organisation told TheJournal.ie that it has never requested a cull.
The group continues to work with various vested interests and protection organisations and chairman Francis O'Donnell, who is also an ecologist, noted that seals are an important part of the eco-system.
He says that scientific analysis needs to be carried out by experts to assess if seal populations are depleting fish stocks.
Depending on recommendations from those scientists, an open dialogue about the management of seals should begin, added O'Donnell.  "It might be prudent to begin management but it may not be so we can't just target seals without a scientific report."
Although he is aware of complaints from fishermen that they are "losing fish to seals", O'Donnell, who is also a spokesperson for the Federation of Irish Fishermen, said there is no evidence that any recent killings are linked to the industry.
#Open journalism No news is bad news Support The Journal

Your contributions will help us continue to deliver the stories that are important to you

Support us now
Commenting on the incidents in Kerry last week, he said they were acts of "illegal and criminal activities".
Nobody would condone such actions. It does no good for anyone.
Currently, fishermen can apply for a license from the NPWS to carry out authorised shootings of seals.
Woodlock believes such licenses ensure that deaths are managed in a humane way. The Irish Seal Sanctuary continues to work with fishermen's organisations in an attempt to resolve conflicts between fishermen and seals. It has never opposed the properly licensed killing of individual seals, carried out in the authorised manner.
However, Woodlock remains adamant that seals don't actually take "fish from the nets of fishermen". Although his sanctuary has never opposed an official cull, it sees "no need for one".
"Internationally, culls have never improved the stock of fish," added Woodlock.
The practice of seal culls around the world consistently raise tensions among politicians, animal welfare activists and fishermen. Just last month, PETA in Canada had an advertisement against the annual seal cull banned by the broadcasting watchdog for its graphic imagery.
Last March, the Scottish government gave the go-ahead to a cull up to 1,300 seals despite the protestations of the Seal Protection Action Group.