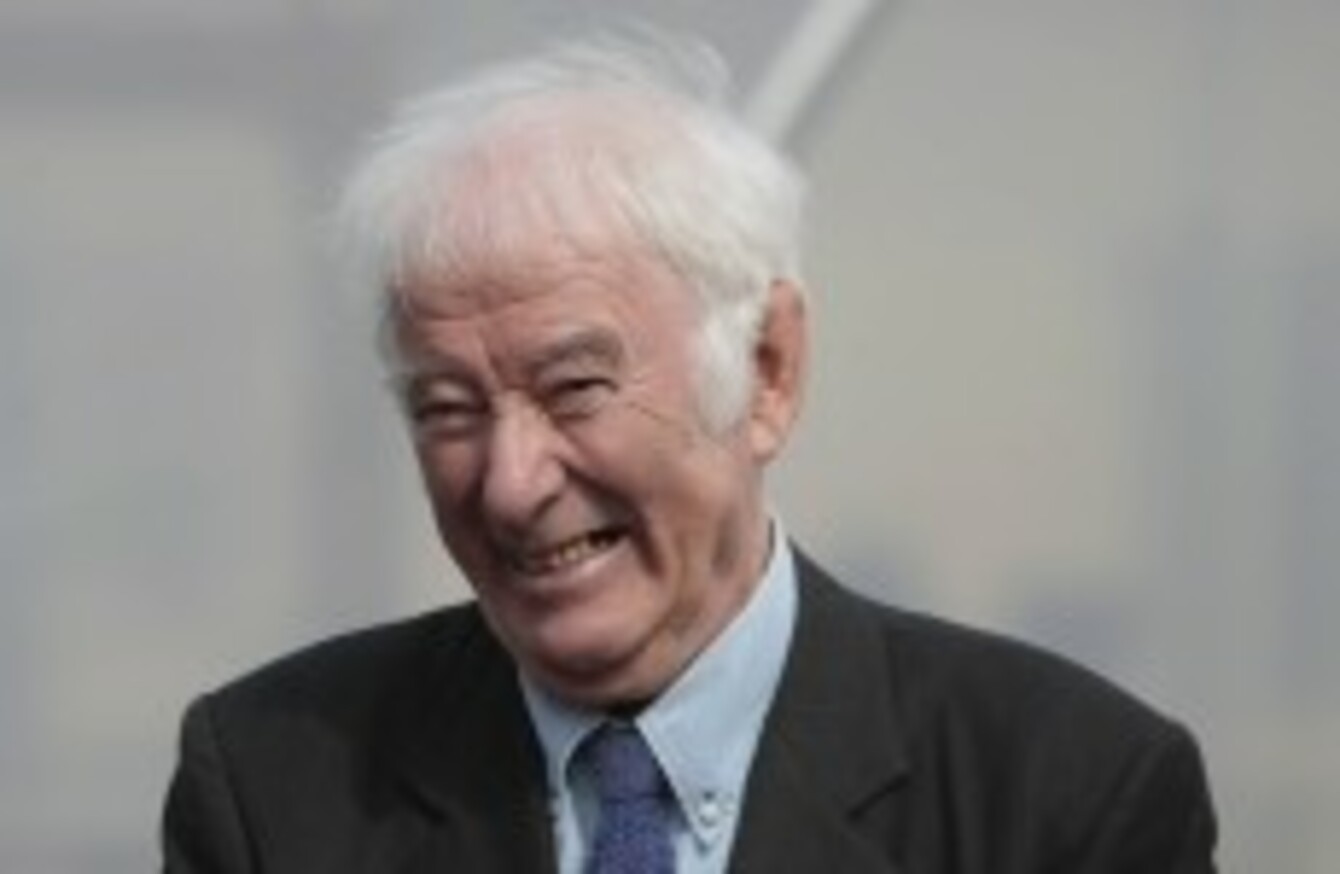 Seamus Heaney
Image: Niall Carson/PA Archive/Press Association Images
Seamus Heaney
Image: Niall Carson/PA Archive/Press Association Images
THERE HAVE BEEN tributes paid to the late poet Seamus Heaney who died today, aged 74.
Heaney, a Nobel laureate, was one of Ireland's and indeed the world's best known poets and had been suffering from ill health in recent weeks.
President Michael D Higgins has led tributes today speaking of Heaney's "immense" contribution to "the republics of letters, conscience and humanity".
The President, himself a poet, continued: "As tributes flow in from around the world, as people recall the extraordinary occasions of the readings and the lectures, we in Ireland will once again get a sense of the depth and range of the contribution of Seamus Heaney to our contemporary world, but what those of us who have had the privilege of his friendship and presence will miss is the extraordinary depth and warmth of his personality.
"The presence of Seamus was a warm one, full of humour, care and courtesy – a courtesy that enabled him to carry with such wry Northern Irish dignity so many well-deserved honours from all over the world."
Long before his being awarded the Nobel Prize for Literature which Sabina and I, and the late Davy Hammond attended with him as his guests, we were aware of his grace and his generosity.

His careful delving, translation and attention to the work of other poets in different languages and often in conditions of unfreedom, meant that he provided them with an audience of a global kind. And we in Ireland gained from his scholarship and the breath of his reference.

Generations of Irish people will have been familiar with Seamus' poems. Scholars all over the world will have gained from the depth of the critical essays, and so many rights organisations will want to thank him for all the solidarity he gave to the struggles within the republic of conscience.
'Tremendous, tremendous loss'
Tánaiste Eamon Gilmore said that "we have lost a great Irish poet and a great Irishman".
"Seamus was an exceptional ambassador for Ireland," Gilmore said in a statement. "His work reflected his deep love and knowledge of the Irish land and the Irish people. His poetry explained us to ourselves. In his work, the dignity and honour of the everyday lives of people came to life."
Speaking on RTÉ's Today show this morning, the Arts and Heritage Minister Jimmy Deenihan paid tribute to the poet, saying that his work had gone all over the world, noting that he had recently been in Paris with him where he performed to a "huge audience".
"I was in China there before Christmas and I was in the national library and some of his works had been translated into Chinese," he said adding that the Derry-born poet was a "very humble, modest man, as we all know, and he was very accessible."
Press Ombudsman and friend, John Horgan, told the same programme that Heaney was "a great listener, a great talker and a great reader" and said that as a friend of many decades he "gave far more than he ever received".
Heaney's fellow poet Eavan Boland said that he was an "an extraordinarily good poet"  and said that his death is "a tremendous, tremendous loss."
Northern Ireland Deputy First Minister, Martin McGuinness, has also paid tribute to Heaney:
His Sinn Féin colleague and party president Gerry Adams said: "I knew and was very fond of Seamus.
"He was a wonderful man as well as a literary figure of huge international stature, regarded by many as the greatest Irish poet since Yeats."
Fianna Fáil leader Micheál Martin said that Heaney "was a giant of modern literature".
"He was a unifying figure, who gave voice to the changing dynamic on our island and the potential that exists," Martin said. "The fact that he is on the curriculum for school children on both parts of the island is a fitting tribute to the unique role and resonance he had."