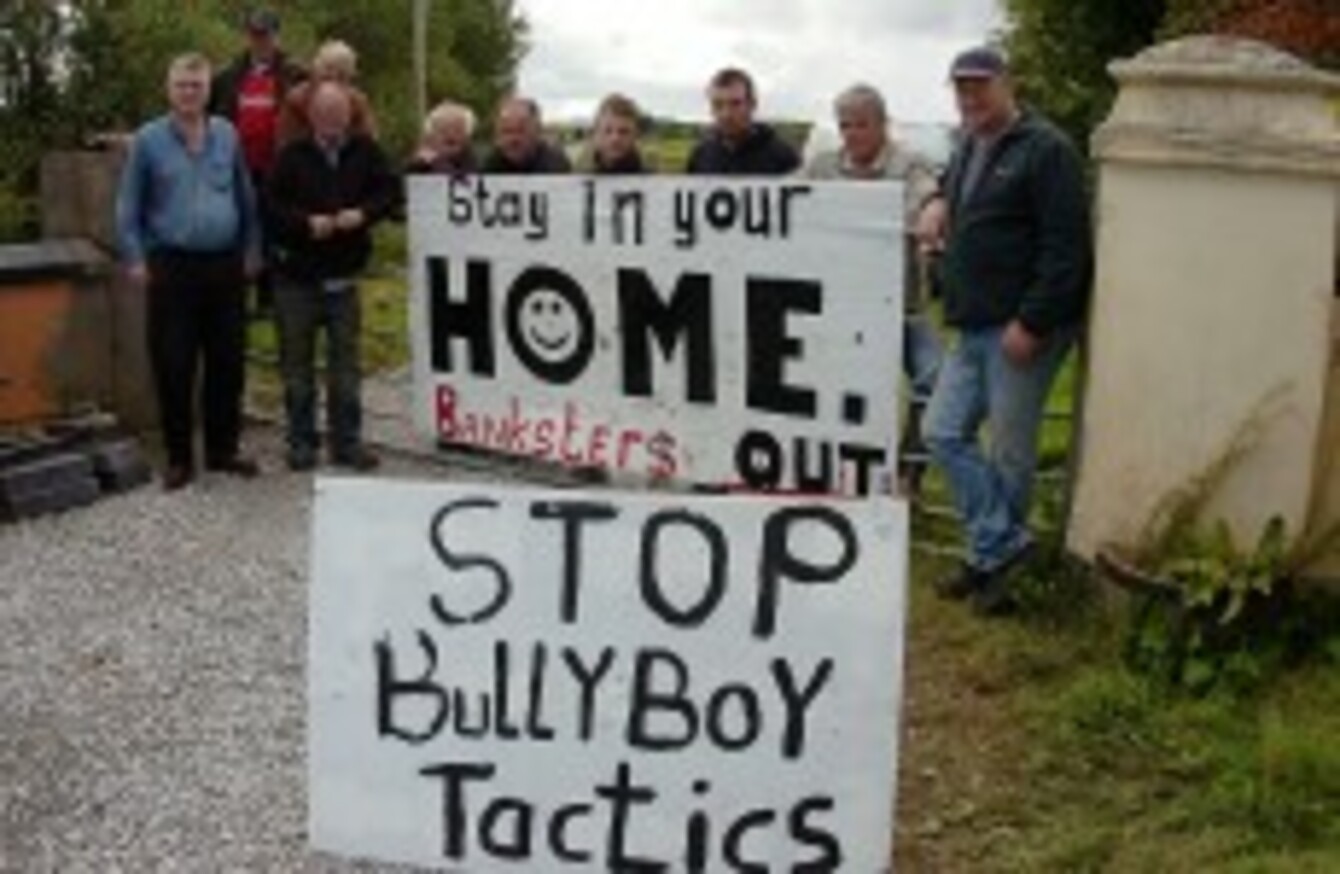 Seamus Sherlock (fifth from right) and supporters
Image: Michael Cowhey
Seamus Sherlock (fifth from right) and supporters
Image: Michael Cowhey
SEAMUS SHERLOCK, A father of five who has been campaigning for people in debt for the last two years, has barricaded himself into his farm after receiving an eviction notice last Thursday.
Speaking to TheJournal.ie, Sherlock said the notice came with no warning and he was "absolutely gutted" when he read it.
"I was shocked, it took me a good few minutes to recover once I had read it," he said. "There's no date on the order so I have no idea when they're coming but we're staying put."
The farmer has barricaded the entrance to his farm and has had a large group of supporters standing at the house with him day and night since he received the eviction notice.
Sherlock said he tried to come to an agreement with the bank to pay a lump sum through his solicitor as he has been unable to keep up mortgage payments since his business failed last year but the bank has not accepted his offer.
"I don't want a write down, that's not what I'm looking for, I want to pay it off I just need the bank to give me some time", he said.
Sherlock said the "cold manner" in which the bank treated him has added to the stress of the situation. "The letter I got was only two sentences long and my whole life and the lives of my five children was wrapped up in those two lines," he said.
'Life After Debt'
In 2010 Sherlock chained himself up outside ESB headquarters to protest against the company cutting off power of people in arrears on their bills. Sherlock himself was in arrears and wanted the company to agree to a deal where he could pay off his bill at a reasonable rate.
It was this action that prompted the farmer to set up the 'Life After Debt' organisation as he said a surge of people in a similar position started to contact him.
"I was getting more than 30 calls a day some days from people who were struggling with their debt, looking for someone to talk to," he said. "I get a lot of calls in the middle of the night from men just like myself who are feeling really low and in the last two years I've lost five friends to suicide."
Sherlock has travelled around the country speaking to people at public meetings about how to cope with the stress of being in debt and worked as a mediator for people dealing with banks and in court.
Support
Yesterday there were more than 30 people at the farm in Limerick with Sherlock and his children. He said about 60 per cent of supporters standing with him are people he helped in the past and some are people he has never even met.
"Most people here are in debt themselves and have their own problems but they said they want to feel like they're actually doing something," he said. "Someone said to me this this morning that in 20 years time people will remember this and they want to be able to say they were here."
Supporters who have come from all over the country have been staying at the farm in shifts with many camping overnight on the farm. Several businesses have donated food, portacabins, walkie talkies and even generators to the camp.
"I'm really very honoured to see it and I'm so proud of the Irish people for standing with me", said Sherlock.
Sherlock said he feels like the bank is "making an example" of him because he has been so vocal about bank debt in recent months.
"I was in the national media a lot in the last few months telling people to stay in their homes and now I suppose I have to practice what I preached", he said.
People staying at the farm with Sherlock have drawn up a rota for the next few weeks so there is a strong presence to delay the eviction.
"We're not going anywhere, we're here until the bank sees sense and stops trying to bully people," Sherlock said.