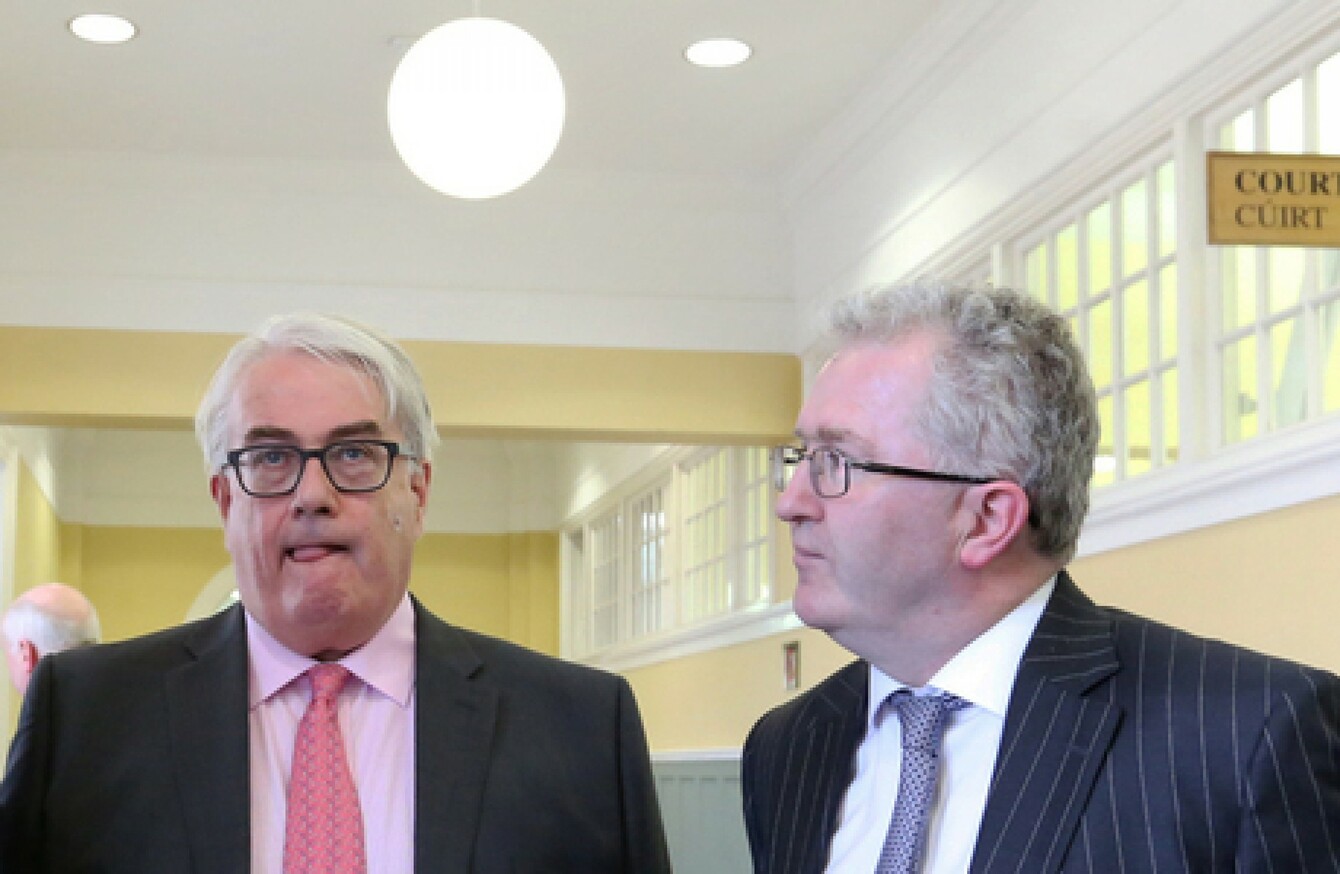 Chief Justice Frank Clarke and former Attorney General and Supreme Court judge Seamus Woulfe.
Image: Sam Boal
Chief Justice Frank Clarke and former Attorney General and Supreme Court judge Seamus Woulfe.
Image: Sam Boal
Updated Nov 13th 2020, 5:00 PM
NO CONSENSUS ON the approach to be taken to the Seamus Woulfe controversy has been reached between party leaders after meeting with the Taoiseach this afternoon.
Taoiseach Micheál Martin said the meeting was being called "to get a sense" of how other parties view the situation.
Following the meeting, Opposition leaders have said no consensus on how to break the impasse has been reached.
There were divided views between party leaders as to how to proceed. 
Speaking to TheJournal.ie, Social Democrats co-leader Catherine Murphy said the Opposition leaders did not get sight of the Attorney General's advice to government today, stating that she would now be writing to the Ceann Comhairle seeking for separate legal advice on the matter to be sought on behalf of the Oireachtas.
She said the meeting was very "frank" this afternoon. 
Murphy said party leaders have to consider the "long-term consequences" of proceeding, and will also have to "make a judgement call" on the legal advice when it is received.
"We all want this dealt with quickly," she said, but indicated it could be a longer process than some might like if the call is made to proceed. 
"There are quite a lot of things to be sorted before we get any clarity," she said, highlighting that if it is decided that impeachment proceedings get the go ahead – which she said no one has said will happen – it will involve a committee being set up, members being appointed, and terms of reference being drawn up. 
Any decision may well be appealed and it could end up in the Supreme Court, she highlighted, stating that it is "very circular" how things could play out.
"There is no easy solution with this," she said.
Speaking after the meeting, Labour leader Alan Kelly also described the meeting as "very open" and "frank" .
He said it was too early to say whether impeachment proceedings are under consideration.
"We are very clear that this issue needs to be dealt with quickly," he said.
Kelly said he wants all correspondence between the Chief Justice Frank Clarke and Woulfe to be published. 
In publishing his letter, Clarke sent the issue "across the river to Leinster House", said Kelly. 
In a letter Clarke sent to Woulfe, which he published, the Chief Justice said he believed Woulfe should resign his position in the wake of the controversy caused by the Golfgate dinner.
He said politicians now find themselves in an "unprecedented situation".
Speaking earlier today, the Taoiseach said the situation was "very serious" and "grave".
"The separation of powers is something I hold very dearly. It's a crucial part of our democracy. And so, there's a reluctance for the political system to embroil itself in the judicial arm of government.
"Nonetheless, this issue falls to consideration. In the first instance for the political system. I am thankful, and I appreciate the fact that political leaders across the Dáil have been very restrained," he said. 
The Taoiseach said he too had to careful in his comments in case a motion of impeachment does come into play and he has to play a role in that process.
On the matter of impeachment, Martin said that is "not even contemplating that right now".
"I mean it's not, whether that will happen or not will be a matter of for the Oireachtas  ultimately to decide.
"I think the initial situation here is my role in government is to ensure continued confidence, both in our legislative system and our judiciary arm. And that's the objective I have going into these talks with the opposition leaders. And so I'm not pre-empting what may emerge ultimately out of this. Suffice to say that I'm determined that we retain the integrity of our system, and that we do everything we possibly can to protect the Supreme Court itself," he said.
Speaking ahead of today's meeting, Sinn Féin leader Mary Lou McDonald said that it was "manifestly the case" that Woulfe's position as a Supreme Court judge was not tenable. 
"The publicly known facts are that the Chief Justice has suggested by letter, which is now a matter of public record, that Justice Woulfe should resign. And I think that creates clearly a problem, and clearly an issue around the tenability of justice, which is why we're meeting today, " McDonald told RTÉ's Today with Claire Byrne. 
Asked whether this equated to believing this position was untenable, McDonald said: "Where the Chief Justice has lost confidence in him, yes so I would have thought that is manifestly the case."
#Open journalism No news is bad news Support The Journal

Your contributions will help us continue to deliver the stories that are important to you

Support us now
Clarke's letter which gave his opinon that Woulfe should step down came following the fallout from Woulfe's attendance at the controversial Oireachtas Golf Society dinner in Clifden in August.
Clarke told Woulfe in a letter dated 5 November that it was "the unanimous view of all of the members of the Court" that the affair had caused "significant and irreparable damage" to the court.
The potential removal of a judge is possible under Article 35.4 of the Constitution for "stated misbehaviour", but this would have to be approved by both the Dáil and Seanad.
Such an impeachment motion can be lodged by any TD for the above reason.
Earlier this week, Cabinet considered the correspondence between the Chief Justice and Woulfe and also sought advice from the Attorney General.
The Attorney General outlined the "serious constitutional issues" that have arisen. 
In a separate matter, The Irish Times reported this morning that the Cabinet was not told in July that a number of other judges had expressed interest in the vacancy on the Supreme Court before Woulfe was selected. 
Speaking on the matter, the Taoiseach said only one name is brought to Cabinet when a judge is being appointed.
Woulfe had come through the Judicial Appointments advisory board (JAB) process, he said. He said he was not told other judges had expressed interest. 
He said the advisory board is made up of senior judges themselves, and they had selected Woulfe. "As far as I'm concerned, that was it from from my perspective," said Martin, adding that he had "no difficulty in ratifying that". 
New legislation will deal with the appointment of judges into the future, said Martin.
"The less political involvement in the appointment of judges to better. And that's why I was happy to stand back and say okay, JAB has made a nomination here. I'm happy to ratify that nomination," he said.
Woulfe had been Attorney General to the previous government from 2017-2020. 
- With reporting by Rónán Duffy