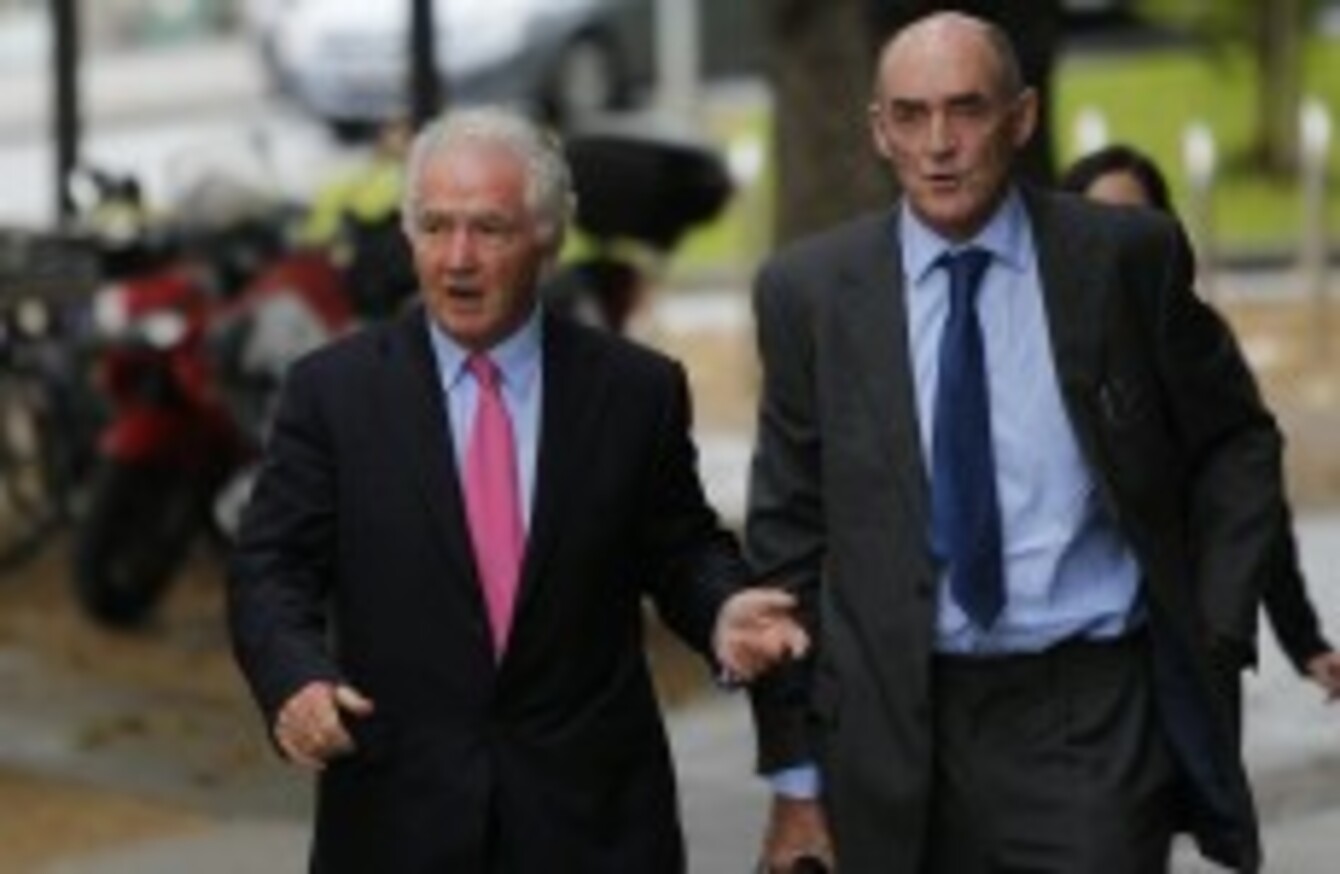 Seán FitzPatrick outside Dublin District Court with his solicitor Michael Staines yesterday
Image: Julien Behal/PA Wire/Press Association Images
Seán FitzPatrick outside Dublin District Court with his solicitor Michael Staines yesterday
Image: Julien Behal/PA Wire/Press Association Images
THERE WAS NO early morning arrests, no Garda vans escorting them to the court. Not like last time.
This time these three former bankers had to wait outside court number one just like everyone else before proceedings got under way at the Courts of Criminal Justice yesterday morning.
It was just before 10.30am and Anglo Irish Bank's former chairman and CEO Seán FitzPatrick, former finance director Willie McAteer and former MD of Irish operations Patrick Whelan were huddled with their respective loved ones and legal teams.
Dark suits were the order of the day, all three dressed in them. FitzPatrick wore a bright pink tie, McAteer opted for a light blue number while Whelan opted for the open neck shirt.
The men did not speak to each other, nor did they sit together as they waited to be called before Judge Cormac Dunne who first heard a number of other cases, mainly for smaller offences, once proceedings got under way.
By contrast to those cases these three men stand accused of providing unlawful financial assistance to 16 individuals in an attempt to prop up the share price of a bank that was once considered one of the world's best and now no longer exists.
#Open journalism No news is bad news Support The Journal

Your contributions will help us continue to deliver the stories that are important to you

Support us now
At least in name. Not so much in debt. The debt is still there. We all know about the debt.
McAteer accompanied by his wife Maria at Dublin District Court yesterday (Julien Behal/PA Wire)
Just after 11am the trio – Seánie, Willie and Pat – were called to the dock and shuffled in, sitting tightly together on the short bench, Seánie in the middle with his arms crossed, his stone-faced complexion a little red.
That famous cheeky grin is now extinct it would seem.
In what seemed to be a show of strength, officials from the Garda Bureau of Fraud Investigation and the Office of the Director of Corporate Enforcement attempted to deliver the books of evidence box-by-box to the men in the dock.
There were nine in total – three boxes for each of the accused – with big A4 ring binders inside. As they laid the boxes beside the defendants, the nearest one - McAteer - smiled but beside him FitzPatrick appeared less than pleased.
The judge halted the move, questioning the sense of it all and the box-by-box delivery stopped.
The hearing was short, no more than ten minutes and the formalities were completed in silence before the judge informed the three men that if they wanted to rely on alibis in their defence they must notify the authorities and the prosecution.
The three nodded to indicate they understood.
Whelan's solicitor asked that her client's bail terms be suspended during any period of travel where prior notification has been given and the judge agreed to this.
Whelan leaves Dublin District Court yesterday (Julien Behal/PA Wire)
The case was sent for trial at the Circuit Criminal Court where it will be mentioned at some point before Christmas. When it will go to a trial before a judge and jury is less clear.
The three men then left the court to sign their bail bonds, another formality, as journalists left the court to await their emergence outside, the cameras lying in wait.
Waiting too was a man with a letter that he wanted to give to FitzPatrick as well as ask him two questions. The Gardaí put a stop to this man's attempts to deliver his letter before FitzPatrick emerged to the waiting media pack.
With legal counsel Michael Staines and a Garda escort he made his way to a nearby taxi.
Unbeknownst to most of the waiting journalists and photographers, McAteer slipped out too, into the taxi in front of FitzPatrick's with minimum fuss as the media pack chased Seánie.
Later Whelan emerged too, completing the exit of the three wise men of Anglo who are on a journey that has only just begun.
Comments are disabled as court proceedings are active.