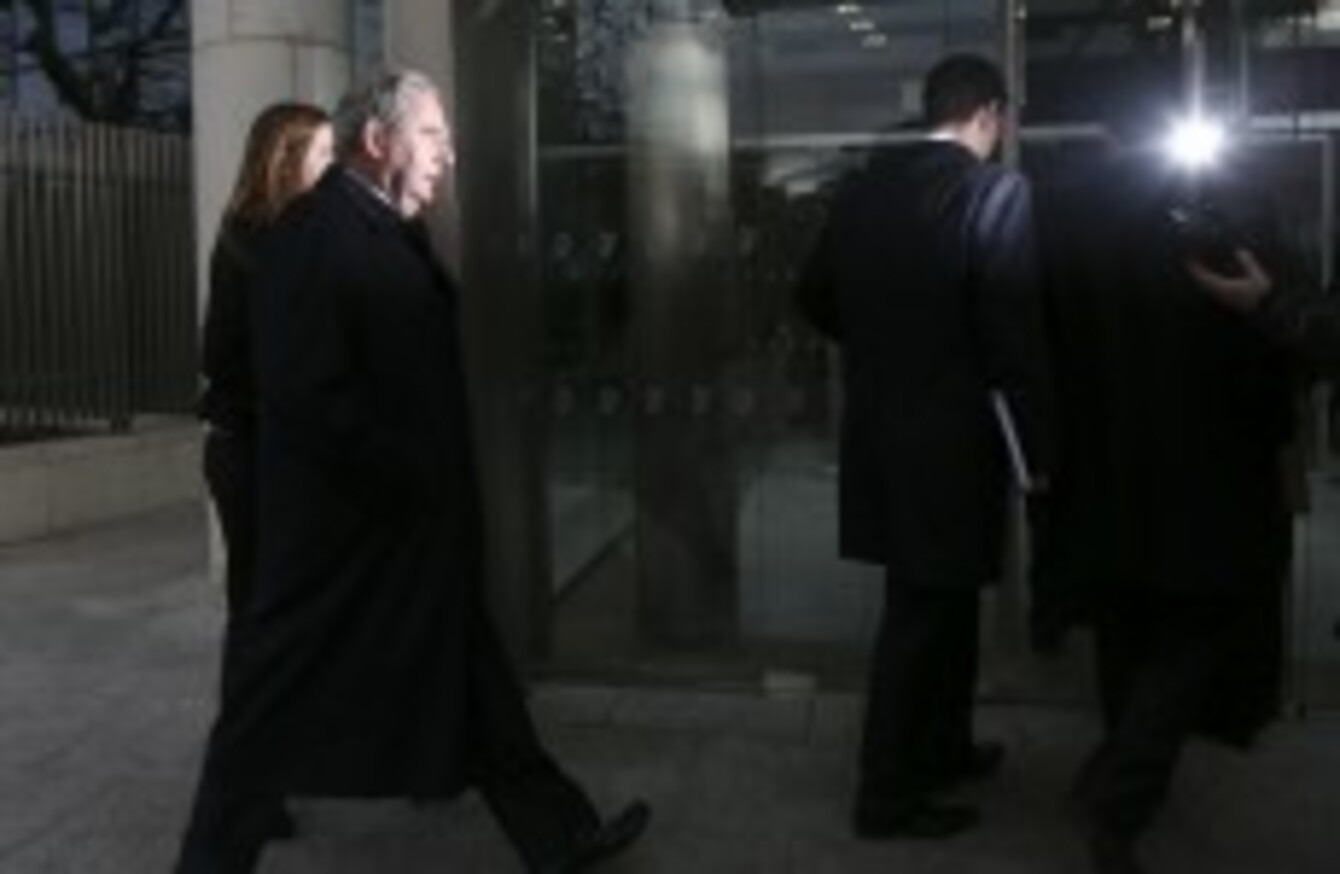 Image: Photocall Ireland
Image: Photocall Ireland
SEÁN QUINN WAS, as court 19 in the Circuit Criminal Court was yesterday reminded, once on the Forbes list of the 200 richest men in the world.
Quinn's response was one of dry humour that belied no small tinge of sadness.
"How times have changed," Quinn told the court, to some laughter.
Shopping centres, hotels, towers, insurance, construction and manufacturing. All were held by the self-made billionaire who lost his shirt, and his empire, on the back of a "spectacular gamble" on Anglo Irish Bank.
Taking the stand in the Circuit Criminal Court during the trial of three former Anglo executives, Quinn revealed cumulative losses of over €3.2 billion.
He took to the stand shortly after 10.30am, having to pass by his former bank manager, Sean Fitzpatrick. On his way to the witness box, he cast a distinctly icy glare towards Fitzpatrick, but the accused just stared straight on.
In times past, this head to head would have been a heavyweight fight that could have been sold on pay-per-view.
Two titans of the Celtic Tiger going at it would have had the business world agog.
Instead, following their respective downfalls, this was a side-show, the last punches of two prize fighters who have taken one too many blows.
Marvellous
Quinn admitted that he had admired Anglo from around 2006. Casting his eyes from afar on how they managed to turn a profit on comparatively low overheads.
That ethos appealed to Quinn, who had grafted to build the Quinn Group into an empire that bestowed upon its founder a personal wealth of €4.7 billion according to a 2008 estimate.
Just three years later, Quinn would file for bankruptcy, with Anglo the biggest of his problems.
Due to ongoing litigation, today was technically the first chance Quinn might have had to take aim at those he felt had wronged him.
However, poked and prodded by defence counsellors, Quinn remained cagey. He asserted one point about Anglo management that earned him a rap on the knuckles from Judge Martin Nolan, but other than that he stayed calm.
That's not say that he was not combative, and occasionally quite funny.
Told that he had been named Ireland's richest man, Quinn replied, "I have read that".
A later retort would draw laughter, earning those in attendance a rebuke from the judge.
Unfriendly
Quinn told how a conference call with Anglo executives during which his shareholding would be sold started, he says, in a friendly manner.
"However, it did not end in a friendly way."
He said that he had "dipped his toes" in contracts for difference, the method used to purchase the Anglo shares, but that the bank represented a whole new ball game. He said:
With Anglo, we put our head, neck and feet in.
He then agreed that his recollection of the events, which at times was incomplete, was coloured by his losses.
In all, the day's evidence painted the picture of a man doggedly trying to hold on to his investment, to the point of "emptying the kitty" of the Quinn Group.
By March of 2008, Quinn had taken cash from his other companies, which were earning €500 million a year, to pay the margin calls on the CFDs.
When he said that he was "involved in spending money stupidly", Quinn might have been only half-joking. He seems to be aware of his folly, scalded by his investment in the bank, which would have been the jewel in a glittering crown.
A crown that included a €246 million hotel in Prague and investments in Russia.
Coveted
The shares were something Quinn coveted, going to great lengths to, as he put it, "fly under the radar".
He said that he was "absolutely furious" when he was told to close out his position in the company, feeling that he should not take a loss.
In the end, it was the remark that raised the ire of Judge Nolan that summed up Quinn's day.
Asked what might have happened had Anglo not plugged the hole in the Quinn Group in 2007, a move that would have forced Quinn to sell his Anglo shares, he responded simply:
I'd be a happy man today.