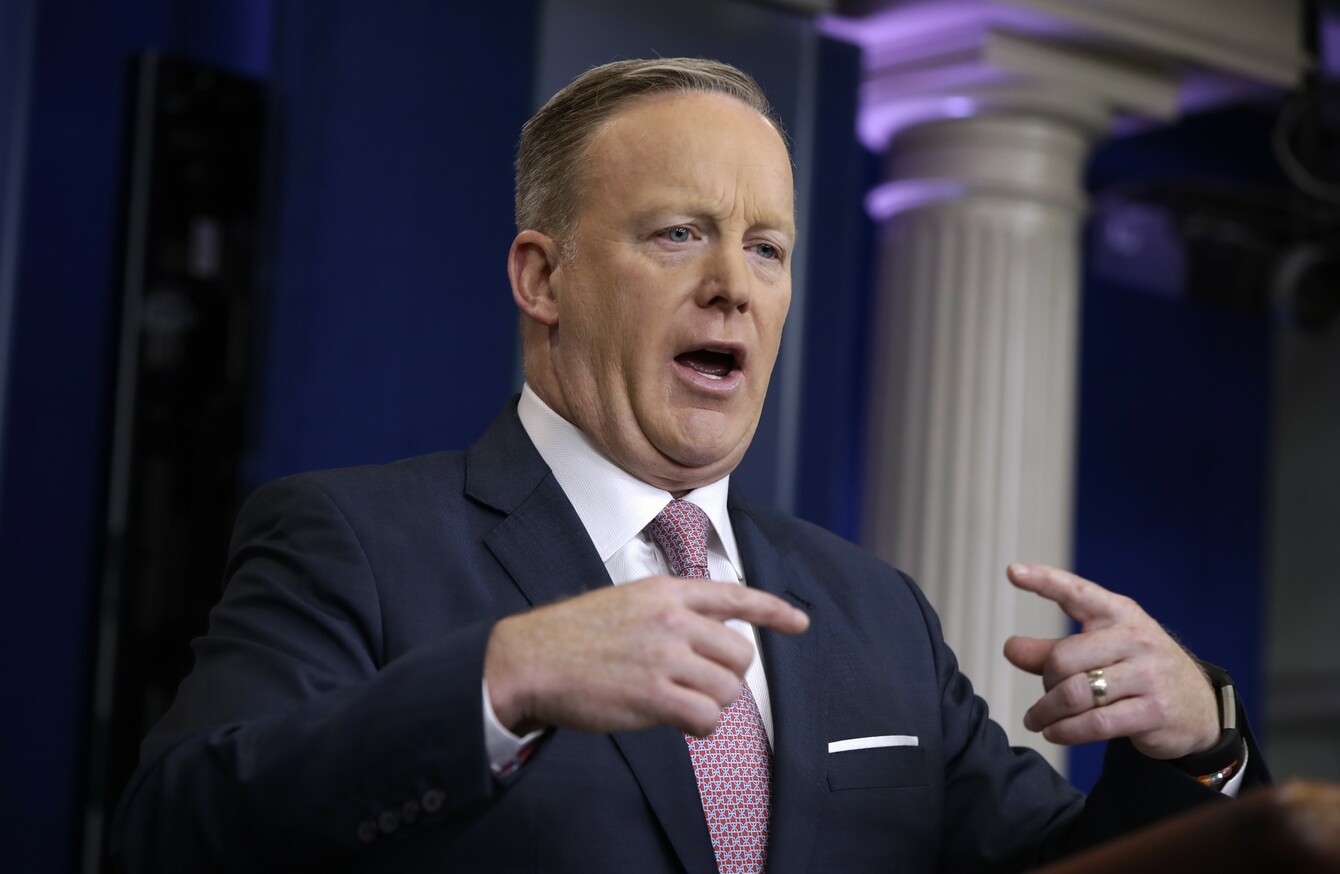 Image: AP/Press Association Images
Image: AP/Press Association Images
WHITE HOUSE PRESS secretary Sean Spicer has defended his claim that Donald Trump's inauguration was the most watched in history, telling journalists: "Sometimes we can disagree with the facts."
Spicer had felt the ire of reporters and analysts who had analysed the figures and found that Obama's maiden speech as president was viewed by more people, based on aerial photographs of both inaugurations.
However, this evening, in the first official press conference of the Trump administration, Spicer said that thanks to internet streaming, Trump's swearing of the oath was, in his words, "the largest audience to ever witness an inauguration, period."
He did not give figures to back up this statement. Several factchecking websites say that even taking online figures into account, and using the numbers currently available, Spicer's claim is wrong and that other inaugurations had higher attendances.
As he got into a tit-for-tat with a number of reporters, Spicer said: "I'm pretty sure that Reagan didn't have YouTube, Facebook or the internet."
He said that he did not mean to say anything that could be construed as a lie and said "he wanted to work with the press".
"Our intention is never to lie to you," he added.
Spicer had slammed the media on Saturday in a brief statement from the same podium, accusing reporters of knowingly minimising the attendance at Friday's inauguration before offering a series of statements that were not true.
"This was the largest audience to ever witness an inauguration – period – both in person and around the globe," he said.
Asked the following day about Spicer's statements, senior Trump aide Kellyanne Conway said her colleague had simply offered "alternative facts" – a phrase that quickly went viral.
"It's not just about a crowd size," Spicer said on Monday night. "There is this constant attempt to undermine his [Trump's] credibility and the movement he represents. It's frustrating… it's a little demoralising."
The other topics that Spicer spoke about
During the 90-minute briefing, Spicer responded to questions on a wide range of topics.
He reasserted that illegal immigrants with criminal records would be the focus of the stepped-up deportation drive promised by President Donald Trump.
"People who can do harm or have done harm and have a criminal record are the focus," Spicer told reporters, when asked about the future of a programme that shields from deportation undocumented immigrants who arrived as children.
"We've got a series of individuals we have to figure out — people who overstayed their visas, have committed a crime. We'll go through that in a systematic and methodical way. Right now the focus is on people who have done harm to our country," Spicer said.
Mexican President Enrique Pena Nieto Monday rejected US President Donald Trump's plans to build a wall between the countries, saying his nation "does not believe in walls, but in bridges".
Pena Nieto was outlining his strategy for relations with Mexico's northern neighbour under Trump, who has vowed to build a wall on the two countries' border to keep out migrants and to make Mexico pay for it.
With reporting by AFP