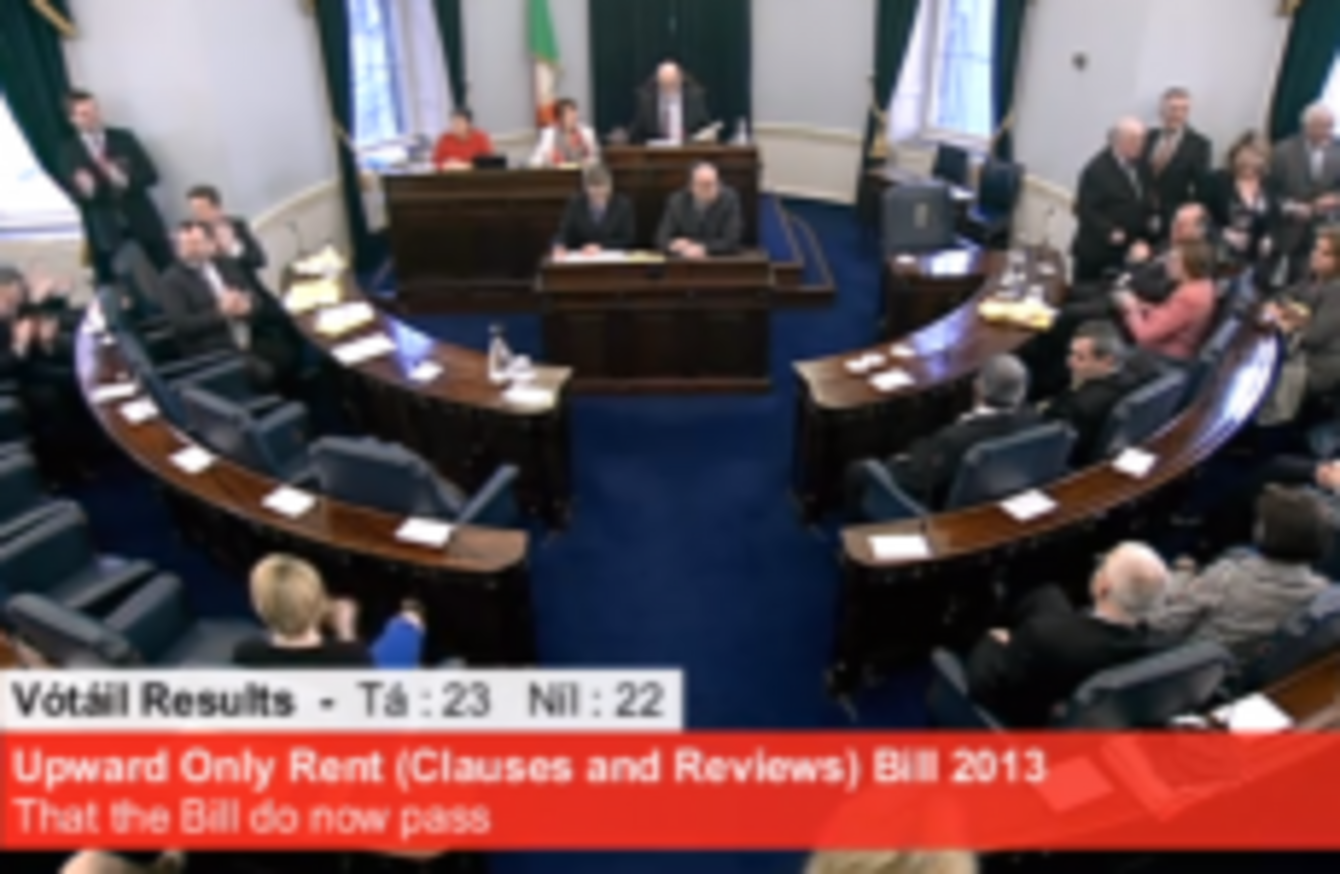 The Seanad chamber should have a new Fine Gael member later this year
Image: Oireachtas TV
The Seanad chamber should have a new Fine Gael member later this year
Image: Oireachtas TV
THE GOVERNMENT WILL look to introduce legislation that will kickstart the process of electing a new Fine Gael member to the Seanad before the summer recess.
It is now a priority of the coalition to pass legislation that will ensure that the seat vacated by newly-elected MEP Deirdre Clune can be filled by early September.
As TheJournal.ie reported last week the coalition is currently in the minority in the upper house after Clune's departure left the opposition with a 30-29 majority in its favour even when the vote of cathaoirleach Paddy Burke is included on the government side.
However under Oireachtas rules a by-election of Dáil and Seanad members for Clune's vacant seat can't take place until a new permanent Clerk of the Dáil is appointed. This position has only been filled on an interim basis since long-serving Kieran Coughlan's retirement last year.
The process of appointing a permanent replacement has been delayed as the government seeks to change the law in order to have a more open competition for the role of clerk.
Amendments to the Staff at the Houses of the Oireachtas Act are now likely to be introduced in the Dáil and passed before the summer recess next month.
This will pave the way for Clune's replacement to be selected by the government and formally elected by members of the Dáil and Seanad to the upper house when they return in the autumn provided that a new clerk has been appointed.
Who's in the running?
Despite Clune being Cork-based Fine Gael is likely to select a candidate from Dublin with a particular focus on constituencies in the capital where the party doesn't currently have any Dáil representation.
The party is likely to pick a candidate that they will look to run in the general election in 2016.
Names mentioned internally in recent weeks include newly-elected Dublin city councillor Noel Rock, who is based in Ballymun, and could run in Dublin North West in the next election.
Also thought to be under consideration is councillor Kate O'Connell, who was elected to represent Rathgar-Rathmines in last month's vote. She would run in the redrawn Dublin Bay South constituency where Fine Gael already has sitting TD Eoghan Murphy. Its also where former TD Lucinda Creighton is based and will run as an independent.
Fine Gael could also look at unsuccessful candidates in local elections with a number of party sources stating that Samantha Long, who ran unsuccessfully in Rathgar-Rathmines in last month's local elections, is under serious consideration.
Her selection would be with a view to her running for a Dáil seat in Dublin South Central at the next general election. However, Fine Gael already has a seat in that constituency with Catherine Byrne having represented the area since 2007.