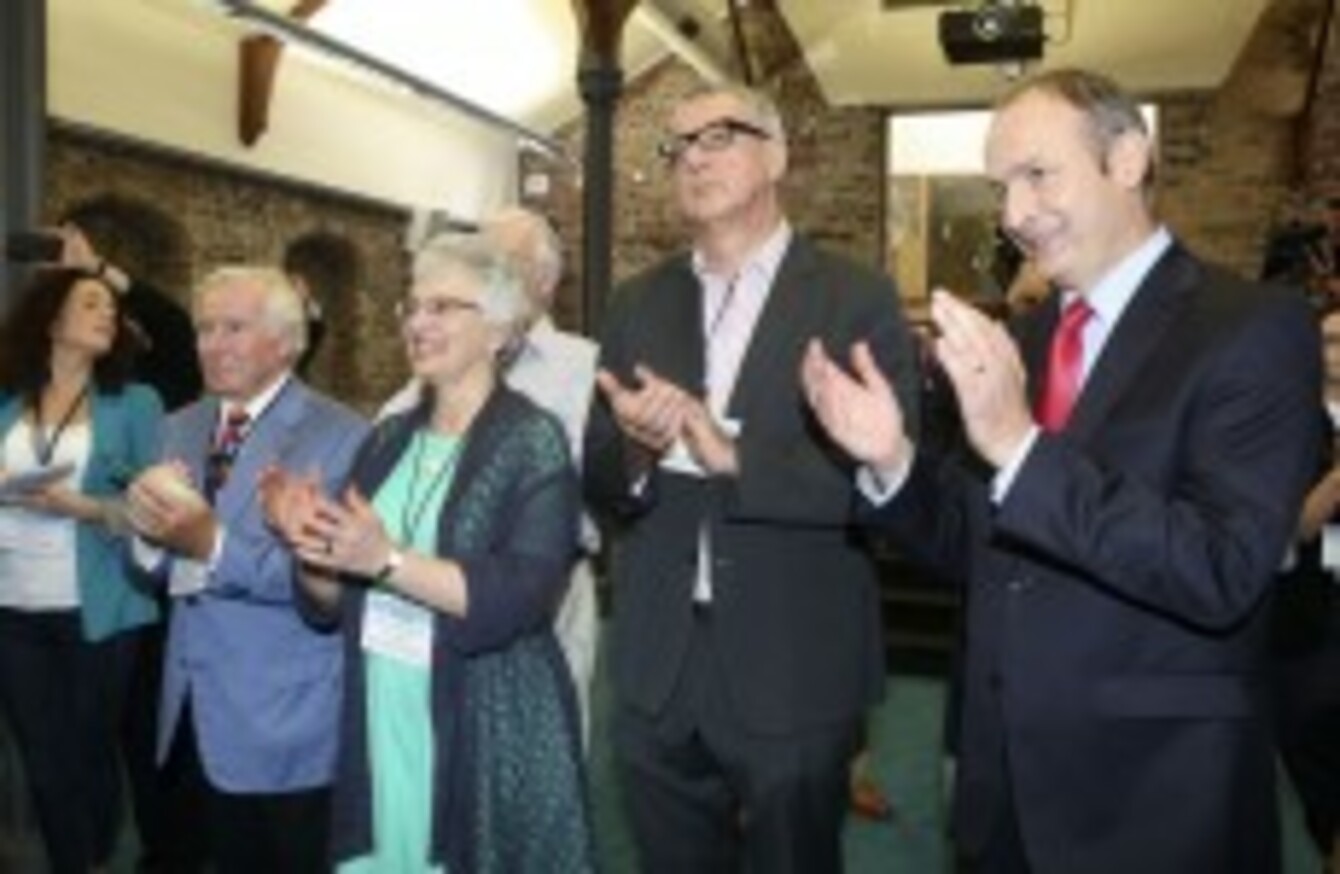 Senators Feargal Quinn, Katherine Zappone, John Crown and Fianna Fáil leader Micheál Martin.
Image: Sam Boal/Photocall Ireland
Senators Feargal Quinn, Katherine Zappone, John Crown and Fianna Fáil leader Micheál Martin.
Image: Sam Boal/Photocall Ireland
WITH THE REFERENDUM to abolish the Seanad rejected discussion has now moved to reforming the upper house with the government indicating an openness to the idea but not rushing to commit to anything.
During the referendum debate a lot of talk about reform centred on what has become known as the Quinn-Zappone Bill – a piece of legislation that's actually called the Seanad Bill 2013 which is currently before the upper house and has so far not been opposed by the government.
It could be law by Christmas and would not require any constitutional amendments (and therefore a referendum), say Zappone and others but what's in it? TheJournal.ie takes a look…
The biggest reform proposed by the bill is opening up Seanad elections to include everybody in the State who is eligible to vote – about 3.1 million people.
Irish people abroad (who have an Irish passport) and persons eligible (entitled to Irish citizenship) in Northern Ireland as well graduates of universities and other higher-education institutes would also be allowed vote.
To do this would require the registration of all of the above on a separate Seanad electoral roll, a significant and problematic task . How does one go about notifying an Irish citizen in Australia that they can vote in the Seanad elections and more importantly how do they get them to register?
A reformed Seanad under this bill would have a 50-50 balance of male and female senators.
Candidates could be nominated by popular support or more specifically, if they have the "verified support" of 500 persons who are eligible to vote in the Seanad elections they can run for the upper house.
It also proposes extra powers of scrutiny including:
Additional powers for legislative scrutiny including European legislation.
The examination of public appointments which the senators argue would provide "much needed transparency and accountability" in relation to senior appointments to public bodies.
The holding of inquiries – a power that would be conferred on the Seanad based on the recently-passed Oireachtas Inquiries Bill which the government is hoping to use to itself set up a banking inquiry in the coming months.
Scrutiny of statutory instruments which "receive virtually no degree of parliamentary scrutiny", according to the senators.
That Seanad committees would be created, each to be chaired by a non-government member of the Seanad – like the Public Accounts Committee for the Dáil.
The bill would not change some things in that the Seanad panels to which people are elected would remain – they are actually in the Constitution.
There would be, as now, five in total – cultural and educational; agricultural; labour; industrial and commercial; and administrative.
There would also be a six-seat constituency for universities and other higher-education institutions in the State. The Taoiseach would also retain his 11 nominees.
Senators' salaries would be reduced to half of what a TD earns, so about €43,629. Lump sums on senators' resignations or loss of their seat would be scrapped.
Another section of the bill proposes that a Seanad Public Consultation Committee would hold a debate "on an issue of national importance" when a petition is signed by 1,000 people.
Finally, the bill proposes to nominate the chair and vice chair of the Seanad by way of a secret ballot. This is currently something widely favoured for the appointment of the Ceann Comhairle of the Dáil but the government has not yet agreed on it.
The bill has been criticised by some including barrister and Labour advisor Richard Humphreys who said the bill does not change the "impotence and complete lack of power" currently in the Seanad.