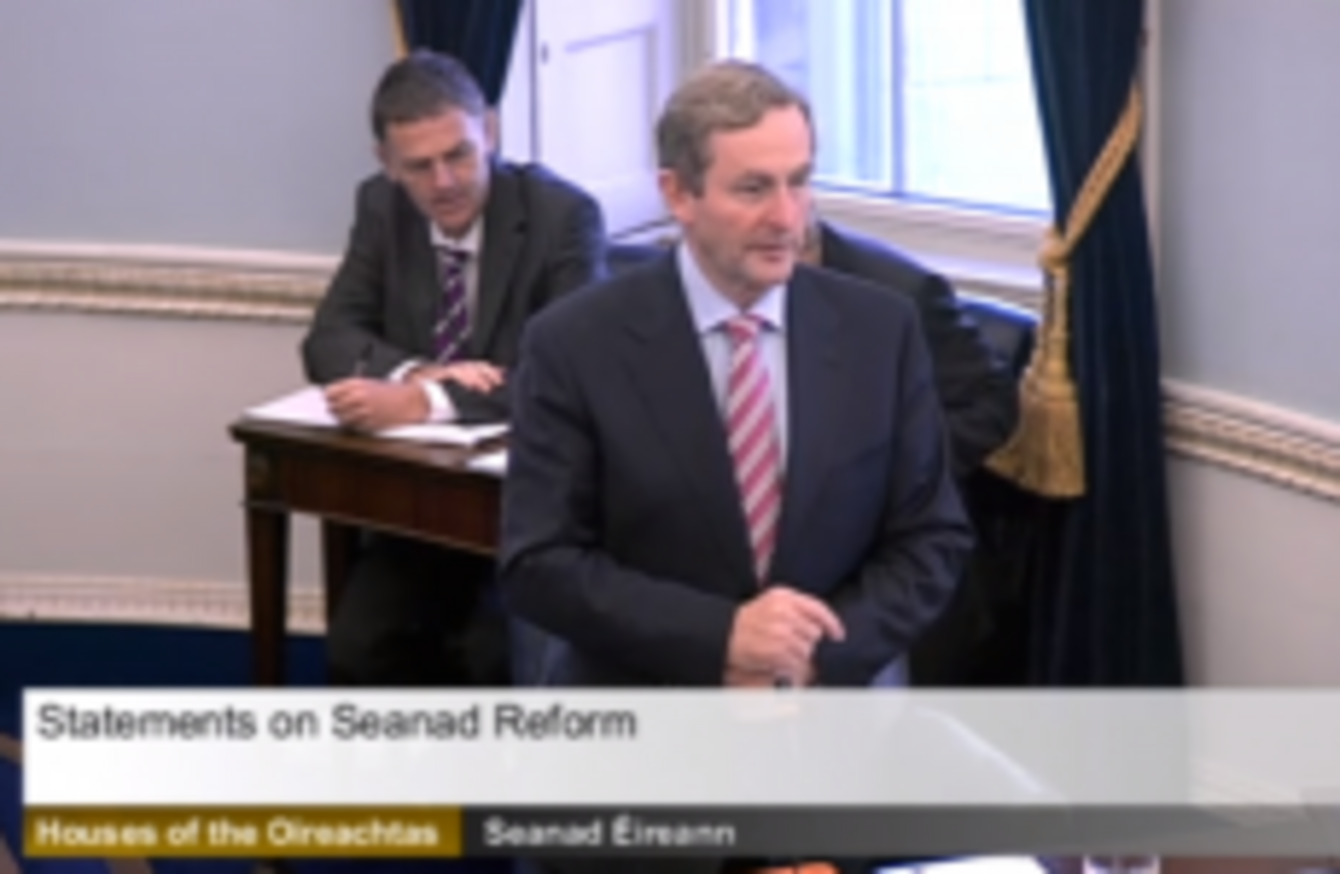 Enda Kenny on his most recent visit to the Seanad (File photo)
Image: Screengrab via Oireachtas TV
Enda Kenny on his most recent visit to the Seanad (File photo)
Image: Screengrab via Oireachtas TV
THE SEANAD SHOULD have a role to scrutinise European legislation and Oireachtas committee reports, but there will be no more referendums on the issue and no universal suffrage for elections to the upper house, the Taoiseach has said.
Enda Kenny was speaking today as he cited a report from Referendum Commission about the two recent referendums which he said showed that 55 per cent of those who voted were unclear about the ballot papers and what they meant.
"That's an issue that we need to look at for all future referenda, but I think people will be even more confused about elements of how the Senate might be structured," Kenny said today.
The government intends to legislate for a 1979 referendum result which would extend the franchise for elections to all third-level graduates, but proposals allowing for everybody in the State who is eligible to have a vote have been ruled out.
The Taoiseach said he did not "believe that the framers of the Constitution intended that you'd have a universal suffrage for the Senate in the same way as the Dáil", pointing to the political deadlock in the US because of disputes between the House of Representatives and the Senate.
No more referendums
He also said he had "no intention of going back for another referendum" regarding the Seanad following the defeat of the proposal to abolish it in October.
Kenny met with Seanad and political party leaders in Leinster House today to discuss how Standing Orders could be changed to give the upper house greater powers of scrutiny.
He said that the Seanad's Committee on Procedures and Privileges (CPP) will look at issues such as allowing the upper house to have scrutiny of European legislation, and for Ministers and committee chairpersons to come into the chamber to deal with Oireachtas Committee reports.
He also said that there needed to be better planning so as that Ministers can be given notice to come to the Seanad when they are requested to do so by Senators during the Order of Business.
"So I think there are quite a number of procedural issues that we can deal with to make the running of the Seanad, within the existing constraints of the Constitution, far more effective and I would like to see that happen," he said today.
He also said that other issues, including possible further legislation, will be dealt with by "a task force representative of the different groupings" within the Oireachtas, which will look at "the implication of any other piece of legislation that might be involved here".