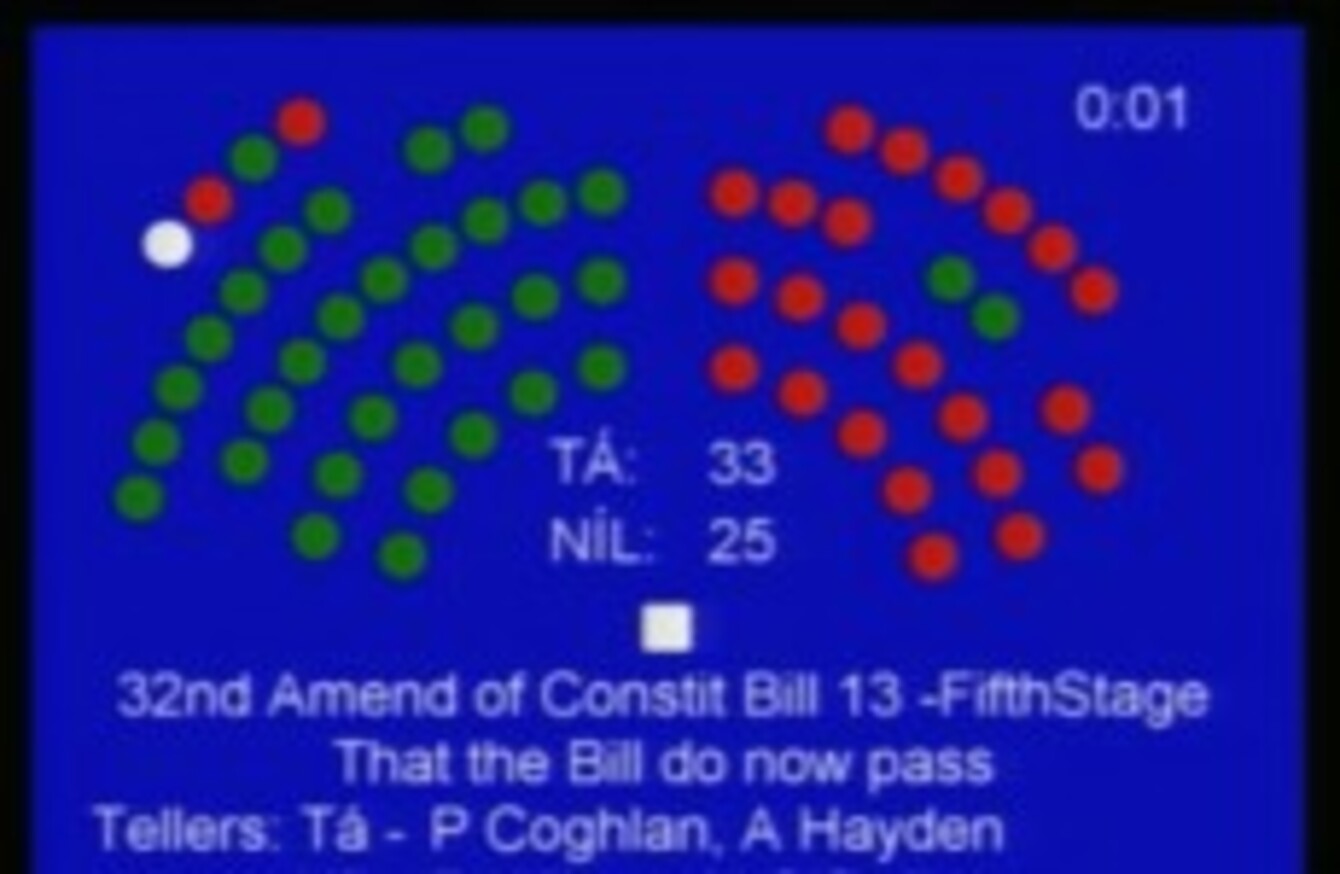 SENATORS HAVE TODAY voted to hold a referendum to ask the Irish electorate if it would like to abolish the House in which they sit.
With a vote of 33 to 25 the Thirty-Second Amendment of the Constitution (Abolition of Seanad Éireann) Bill 2013 passed through the Seanad. A walk-through vote was held after the final electronic vote
It was the final debate and vote on the proposed legislation to hold a referendum on getting rid of the second chamber, which could turn Ireland's parliamentary system (the Oireachtas) into a unicameral legislature (with just the Dáil).
The public will go to the polls to vote on the amendment later this year.
Ahead of this afternoon's vote, some Senators had a chance to have their final say with many in the Opposition taking aim at their government counterparts. However, the Bill was guillotined at 4pm before all Senators could contribute to the session.
Fianna Fáil's leader in the chamber, Darragh O'Brien called the Bill the "worst act of political vandalism" and told Fine Gael senators that they do not deserve any respect.
Likening them to "sheep", he claimed that they should not be allowed to bring any amendments forward or contribute to debates over the next two-and-a-half years.
David Norris described today as a "very sad day to Seanad Éireann". He said he is going to rely on the "good sense of the people of Ireland" not to fall for the government's "sleight of hand and dishonesty" in placing this referendum ahead of Budget 2014.
"The Irish people will see through the poke and give one almighty poke to the pig that is contained within it," he concluded.
Fidelma Healy-Eames said she voted for the Amendment as she did not want to impede democracy.
"We may be the fall guy, but at least we'll have made our work," she added.