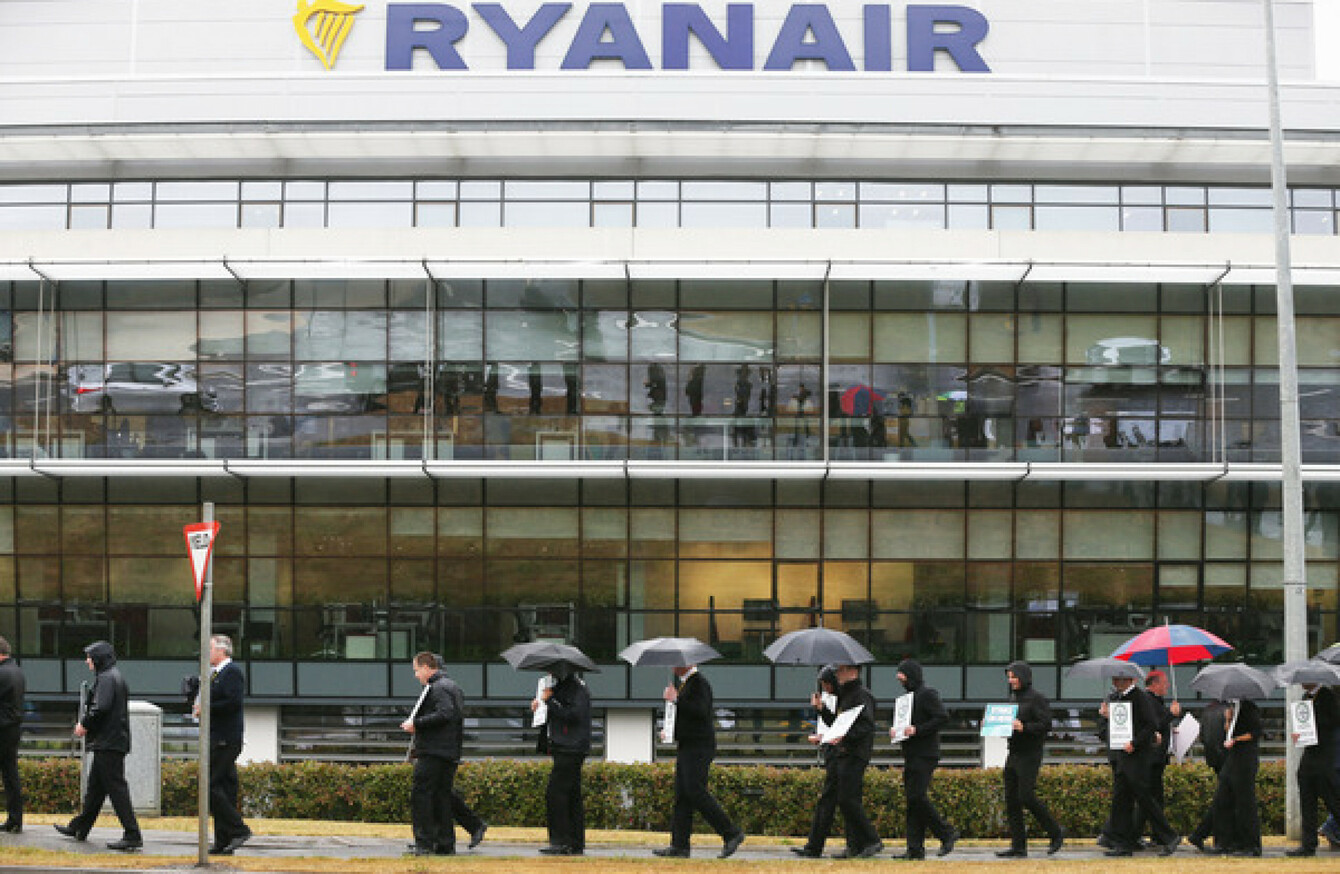 Pilots on strike in the rain outside Ryanair head office in Swords, Dublin
Image: Sam Boal via Rollingnews
Pilots on strike in the rain outside Ryanair head office in Swords, Dublin
Image: Sam Boal via Rollingnews
SOME IRISH BASED Ryanair pilots have begun their second 24-hour strike, resulting in the cancellation of 24 flights to the UK today.
Almost 100 Ryanair pilots have stopped work in a dispute over rostering, leave and other working arrangements.
Spokesperson for trade union Fórsa, Bernard Harbour said that the dispute is mainly about working conditions and how Ryanair organises transfers of its pilots between bases.
"Pilots have to move bases from time to time and what we're trying to agree on is a methodology for transferring pilots for determining who has to move and how to do that in a fair and transparent way."
Harbour says that transfers are currently at the discretion of management.
What we're looking for is for it to be based on seniority.
"It's what operates in most airlines. The longer you have been there the more choice you have. Management currently decides who goes where. "
Harbour admitted that there had not been a great deal of time for face to face negotiations and believes that intervention is needed in order to move talks along.
Last week we were in talks for about seven hours and this Wednesday we were in talks for about two hours.
"An independent broker in the talks would be useful, it would help both sides to move forward and help build trust between two parties who for 30 years have no sat around a negotiating table."
Ryanair has said the industrial action involves less than 25% of its Irish pilots, with the majority of pilots continuing to work today.
Fórsa says that it only represents 25% of more than 350 of Irish based Ryanair pilots because of current industrial relations laws which only allows direct employees to be represented by a trade union.
"That's about 100 who are directly employed. The other pilots they have are either supplied by an agency or they are on a form of self-employment.
"Because of the industrial relations laws in Ireland, a trade union can't represent a contractor or a self-employed person."
Further strike action 
In a statement released yesterday, Ryanair urged Fórsa, to call off its third 24-hour stoppage, scheduled for 24 July.
The airline has said that it will cancel 16 flights in and out of Ireland on Tuesday if Fórsa doesn't call off a planned strike.
But according to Harbour, Tuesday's strike is unlikely to be avoided.
There is always a chance it could be called off, but we wouldn't be optimistic at this point.
Ryanair has said that passengers affected would be accommodated on other flights.
In a separate statement, the airline said that over 85% of the 50,000 customers whose flights on 25 and 26 July were cancelled due to a strike by cabin crew members in Belgium, Portugal and Spain have been re-accommodated on alternative flights, or applied for full refunds.
Over 600 flights are expected to be affected by the cabin crew strike.