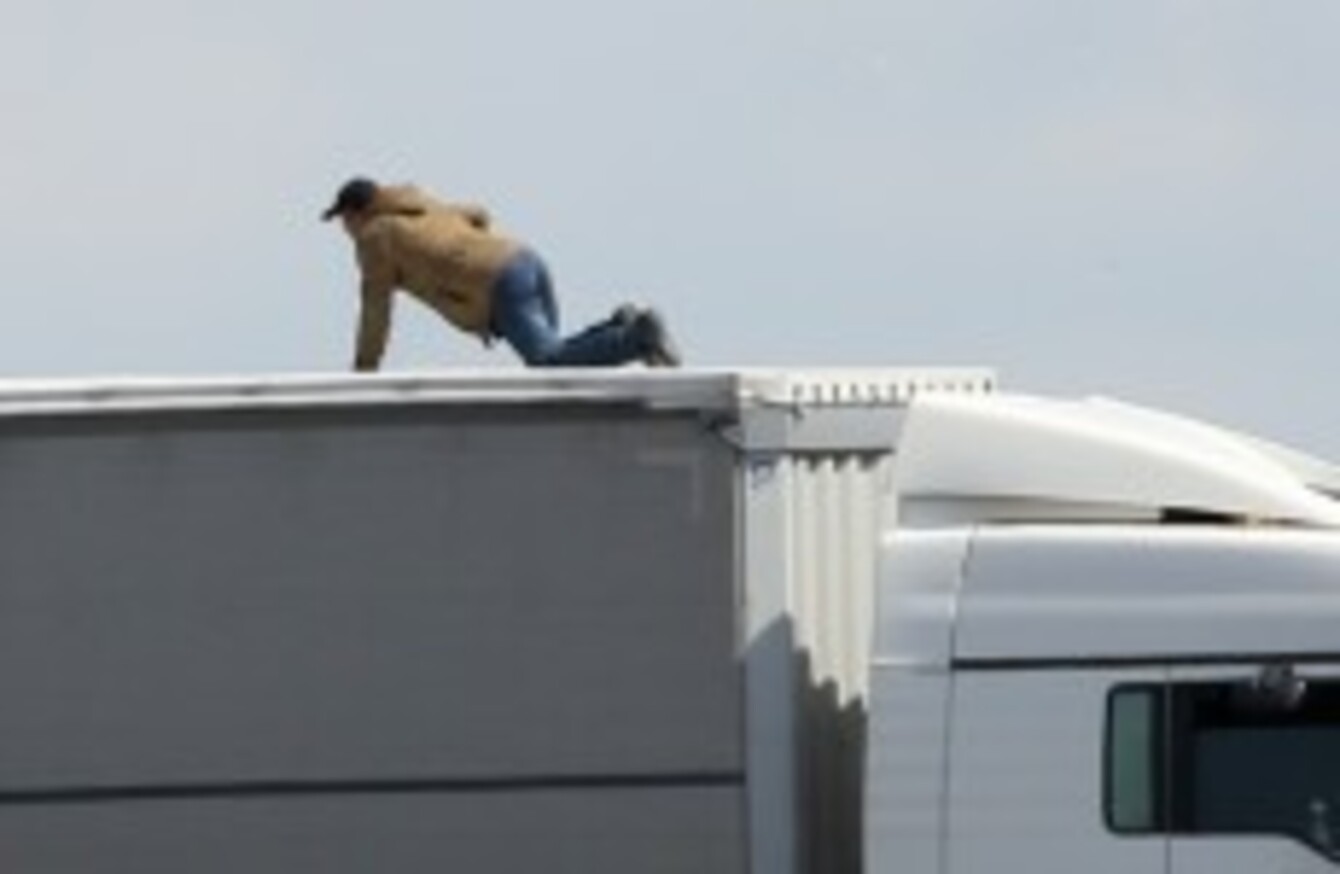 File photo of a man trying to board a lorry
Image: PA Wire/Press Association Images
File photo of a man trying to board a lorry
Image: PA Wire/Press Association Images
A NEW "SECURE zone" will be set up in the French port of Calais to protect Britain-bound lorries from migrants attempting to board them,
"Today I can announce the creation of a new secure zone at the port of Calais for UK-bound lorries," the British interior minister Theresa May told parliament, adding the waiting area could accommodate up to 230 vehicles.
This should transform protection for lorries and their drivers — removing them from the open road where they can become targets for migrants.
A sub-prefect in the local Pas-de-Calais region, however, told AFP he was not aware of the plan.
Attempts
Home Secretary May said that more than 8,000 attempts by migrants to travel to Britain from French ports were intercepted by British and French officials in less than a month between June 21 and July 11.
This compared with earlier figures showing 30,000 attempts over a 10-month period to January 2015.
A Home Office spokesman said that the new area would be within the existing perimeter fence of Calais.
The announcement came as new figures showed that hauliers had paid £6.6 million (€9.3 million) in fines in Britain for carrying illegal immigrants over the year to April 2015, a £2.4-million increase in 12 months.
Many migrants have in recent weeks sought to take advantage of strikes by French ferry workers in Calais, which have heavily disrupted cross-Channel transport.
Alan Pughsley, the police chief constable for the area surrounding the English port of Dover, told lawmakers that during the strikes up to 7,000 France-bound lorries had been forced to wait near the port, blocking a motorway.
He said that 22 migrants were detained in Dover earlier today and warned that without more resources local communities "will continue to suffer".
May said British and French authorities had worked together "to mitigate the consequences of irresponsible French strikers".
Around 3,000 migrants are currently camped out around Calais in northern France and are trying to cross the Channel into Britain.