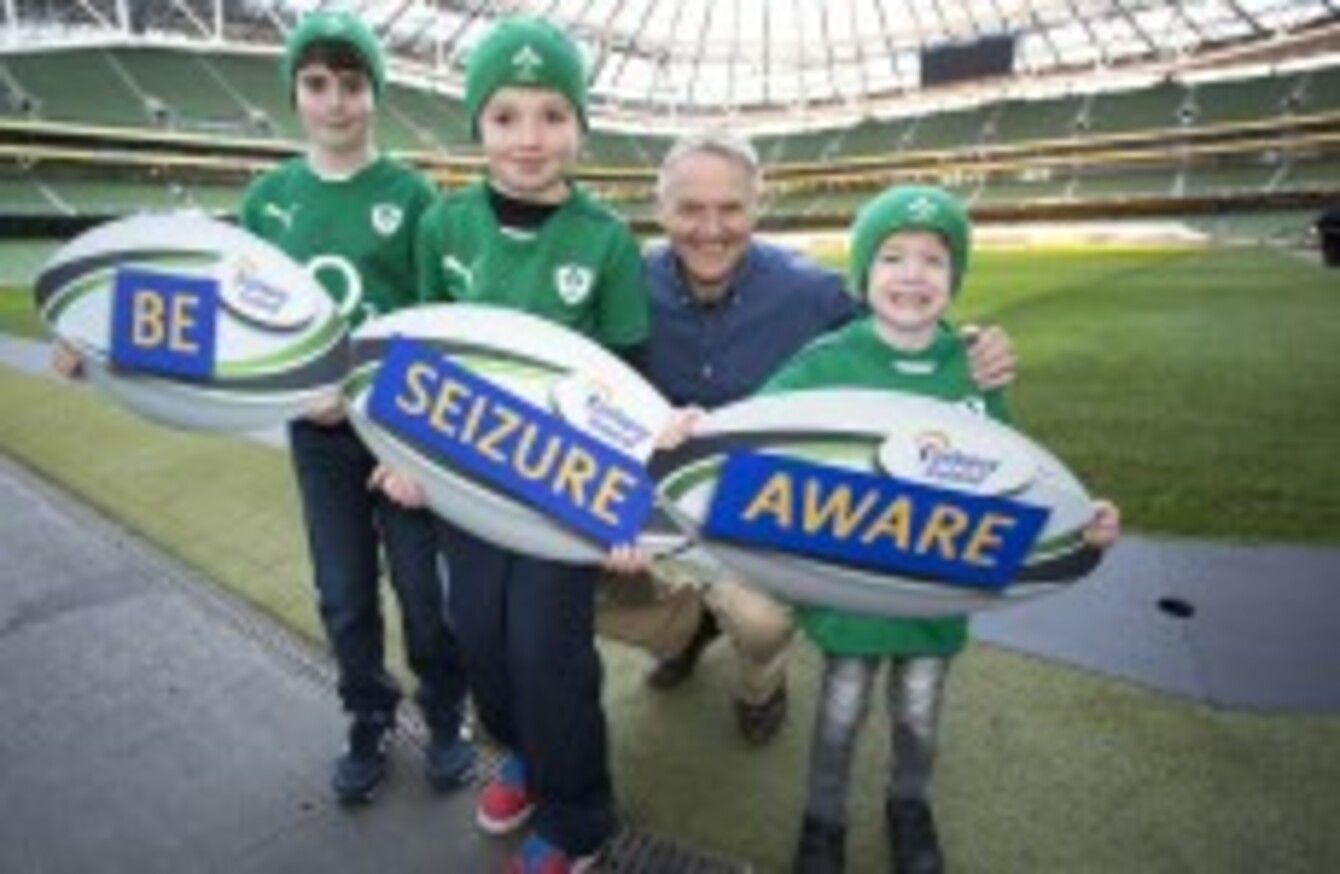 Sean Delaney, Joar Ryan and James Devine with Irish rugby coash Joe Schmidt.
Image: Epilepsy Ireland
Sean Delaney, Joar Ryan and James Devine with Irish rugby coash Joe Schmidt.
Image: Epilepsy Ireland
A WORRYING SURVEY released today has shown there is still a significant lack of public knowledge about epilepsy, with one in three people saying they would put something into the mouth of a person having a seizure.
Results show 12 per cent would try to restrain the person and today Epilepsy Ireland said these actions are "completely inappropriate and potentially dangerous". Some 70 per cent of people said they would call an ambulance in the event of a seizure but the organisation said this is only required if it is a person's first seizure, if it lasts more than five minutes or if a person has become injured.
Epilepsy is the most common serious neurological condition in Ireland and one in 115 people in Ireland or 37,000 people over the age of five years have a diagnosis of epilepsy. It is also estimated that one in 26 people will develop epilepsy at some point in their lives.
Of those surveyed, only 37 per cent said they knew someone with epilepsy but 50 per cent said they have undertaken some form of first aid training and those who had done so displayed significantly improved knowledge of appropriate action for a seizure.
Knowledge gaps
Speaking in advance of European Epilepsy Day, Ireland rugby head coach Joe Schmidt, whose son has epilepsy, said it is "encouraging" that there is an increasing awareness around what to do in the even of a seizure.
"However there are still knowledge gaps and probably some fear about epilepsy amongst people generally as indicated in the research findings, which naturally present major challenges for people living with epilepsy," he said.
A new campaign by Epilepsy Ireland, supported by Schmidt, encourages the public to 'Be Seizure Aware' by remembering this anconym:
T means Take care to protect the person;
E means Ensure you stay with the person;
A means Allow the seizure to run its course;
M means Move the person on to their side when the seizure is over (if needed).
Let it run its course
"The majority of seizures are short and self-limiting and in general, you should let the seizure run its course which in most cases will only be from a few seconds to a few minutes," explained Professor Norman Delanty, Director of the Epilepsy Programme at Beaumont Hospital.
The correct response to tonic-clonic seizures (those involving loss of consciousness, muscle stiffening, the person falling to the ground followed by jerking movements) is to try and protect the person from injury by removing any harmful objects that may be nearby and by cushioning the person's head. You should also gently place the person in the recovery position when the seizure has finished, reassure them and stay with them until recovery is complete which is usually between five and 20 minutes.
The Epilepsy Ireland website contains information and a range of resources including videos and posters on responding to seizures.