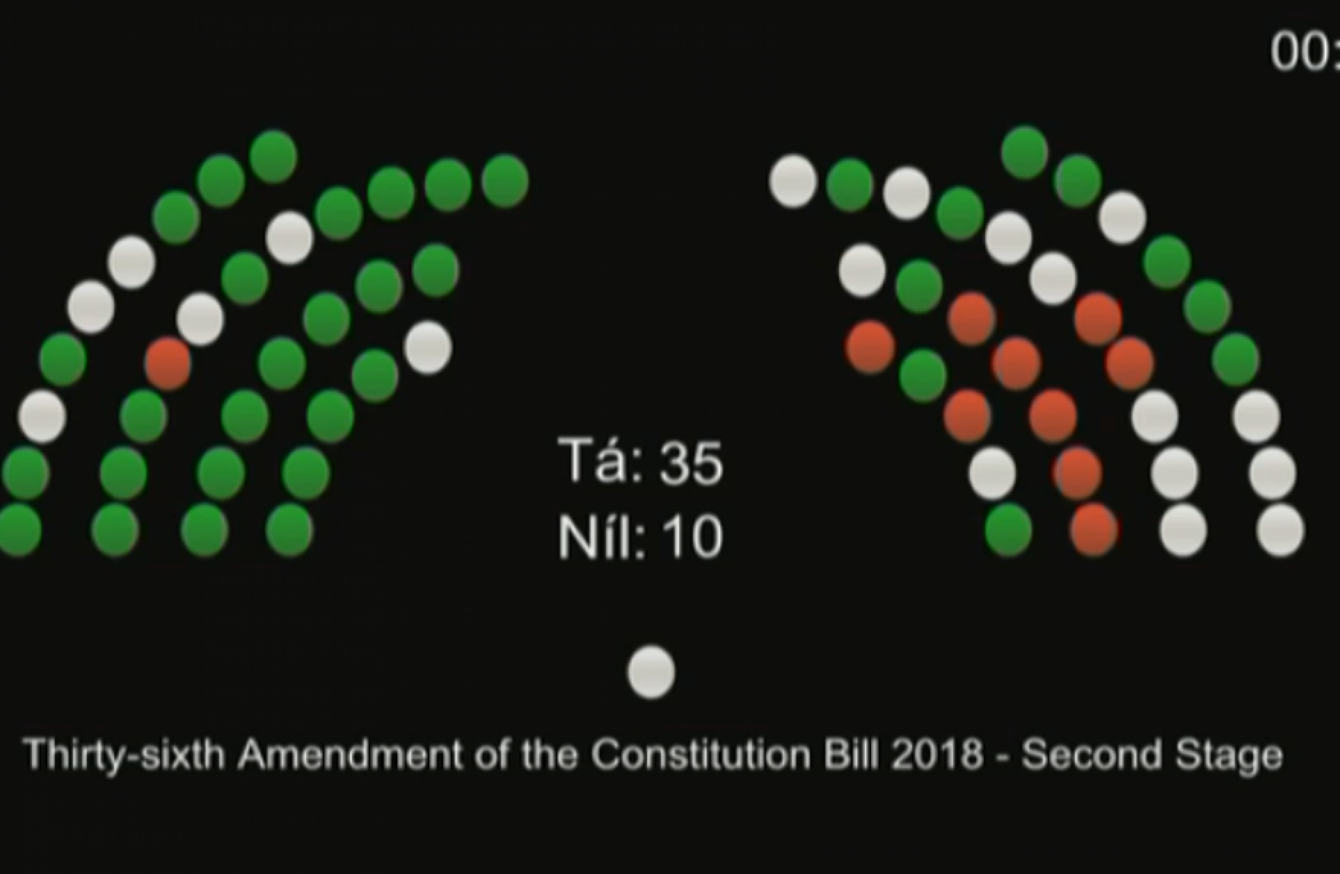 Image: Oireachtas.ie
Image: Oireachtas.ie
THE SEANAD LAST night approved a bill to allow a referendum on the Eighth Amendment by a margin of 35 votes to 10.
The vote was taken after 11pm last night with 32 members of the Seanad and Health Minister Simon Harris contributing to the debate.
Urging Senators to pass the bill, Harris asked them to "provide the people of Ireland the chance to have their say".
Earlier this week, Harris proposed to Cabinet the legislation the government intends to pass should the Eighth Amendment is repealed.
Speaking in the Seanad last night, Harris said that he believes it is time for a referendum.
"I trust mothers and I trust women. Mothers and women protect their babies, they don't need people to protect the unborn from their mother. I trust mothers and I trust women. And I believe the Irish people trust Irish women and doctors," Harris said.
And I think what we need to in the Oireachtas shortly is stop talking about the issue, and let the Irish people start talking. Let's have a respectful debate. Let's be vigorous in our arguments but respectful in how we put them.
In opposition to the proposed change to the Constitution, Fianna Fáil Senator Gerry Horkan said that he "has to stand with my own values" and "regretfully" vote against the referendum bill.
"One of the difficulties I find is that there's constitutional protection at the moment for the unborn but if this referendum is passed that constitution protection is removed. And then we're left with a situation where, as Senator Wilson and others have pointed out, legal provisions may be inserted. It doesn't say they will be provided."
"We have seen some politicians who have spent their entire political careers saying 'don't trust politicians' now come out and saying 'trust politicians'," he added.
Debate on the next committee stage of the bill will begin today.
Here's how the Senators voted on the referendum bill:
Yes
Catherine Ardagh
Ivana Bacik
Colm Burke
Paddy Burke
Ray Butler
Jerry Buttimer
Maria Byrne
Lorraine Clifford-Lee
Paudie Coffey
Martin Conway
Rose Conway-Walse
Gerard Craughwell
John Dolan
Frank Feighan
Paul Gavan
Alice Mary Higgins
Maura Hopkins
Kevin Humphreys
Colette Kelleher
Tim Lombard
Pádraig Mac Lochlainn
Michael McDowell
Gabrielle McFadden
Michelle Mulherin
Ged Nash
Catherine Noone
David Norris
Niall Ó Donnghaile
Kieran O'Donnell
Marie-Louise O'Doennell
Grace O'Sullivan
Ned O'Sullivan
James Reilly
Lynn Ruane
Fintan Warfield
No
Paul Daly
Aidan Davitt
Robbie Gallagher
Gerry Horkan
Terry Leyden
Rónán Mullen
Jennifer Murnane-O'Connor
Brian Ó Domhnaill
John O'Mahony
Diarmuid Wilson
Senator Neale Richmond was in London on Oireachtas business for the vote but said that he will be voting Yes in the later stages of the bill today.