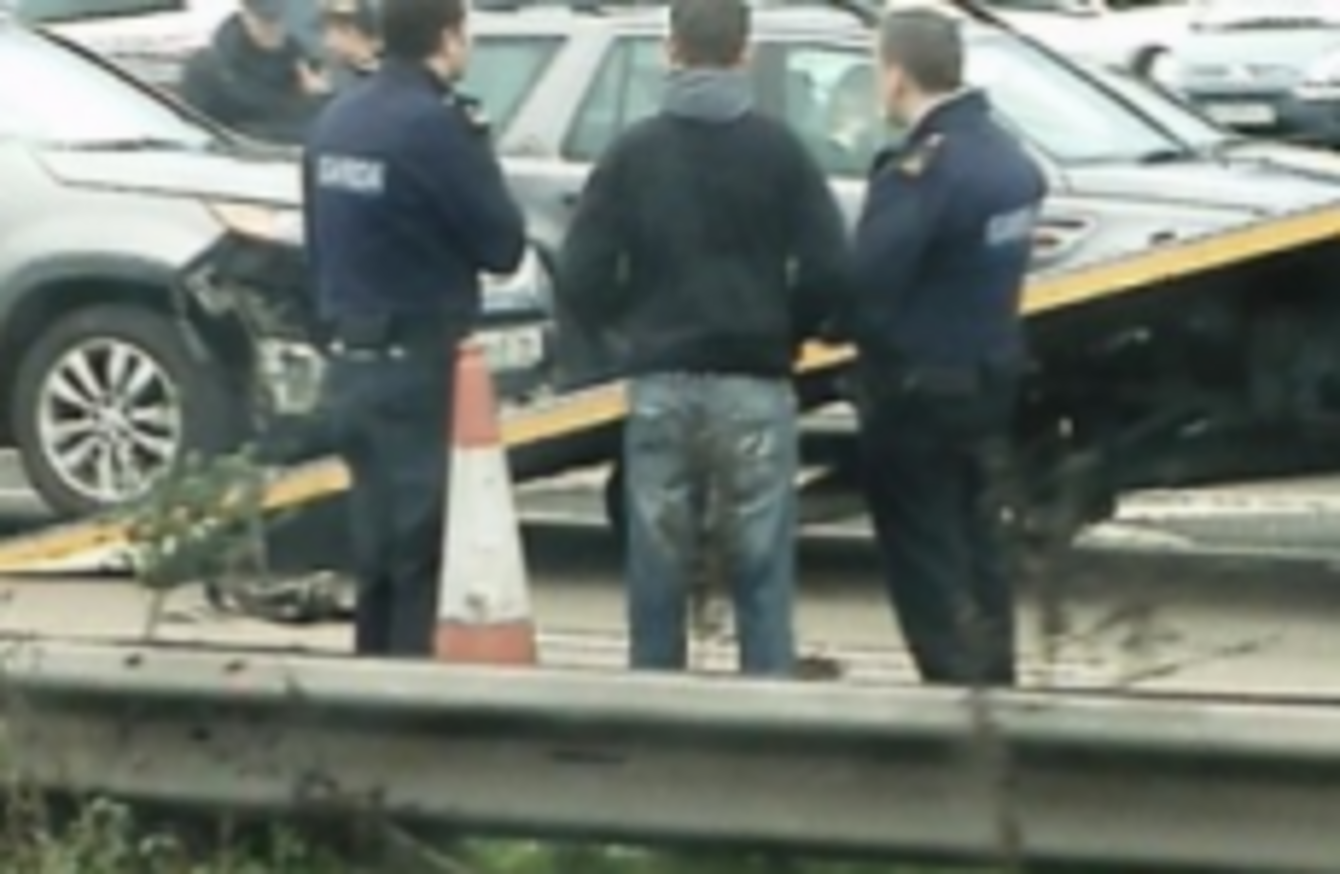 Newlands Cross, Dublin, where two of the suspects were intercepted.
Newlands Cross, Dublin, where two of the suspects were intercepted.
Updated 5pm
SENTENCES OF BETWEEN five and 16 years have been handed down to a gang of seven men who carried out a terrifying raid on a young family causing "catastrophic changes" to their lives.
Judge Thomas Teehan said the crime inflicted on Mark and Emma Corcoran and their three young daughters in their Co Tipperary home almost two years ago had "shocked an entire nation" and was an affront to the law-abiding citizens of Ireland.
The seven men in their 20s, from north Dublin, received a total of 72 years imprisonment at Clonmel Circuit Court, after pleading guilty on earlier dates to a single charge each of aggravated burglary.
Judge Teehan said the case had multiple aggravating factors, the most significant of which was the effect it had on the Corcoran family whose home at Burnchurch, a few kilometres from the village of Killenaule in south Tipperary, was broken into by the gang early on 21 November 2013.
The raiders were armed with a sawn-off shotgun, a handgun and a machete at the time and all were wearing balaclavas.
"The five were awoken from sleep in the family home in the most violent manner by what must have seemed like an army of sinister-looking intruders," the judge said in his sentencing ruling.
The court heard on Tuesday that Mark Corcoran suffered a fractured eye-socket when he was struck on the face with a gun, that his wife was forcibly removed from her bedroom, the two older daughters witnessed the event from the family's hallway, and the youngest daughter who was two at the time was found rocking herself and her teddy in her cot.
Threats were made to the couple that the gang would kill the children and they were left in fear of their family's lives.
"No human being of any age should ever have to witness such an egregiously violent scene, and most especially in their own home," Judge Teehan said.
All three children have been emotionally-scarred by this ordeal. The effects on … the youngest are particularly harrowing, even though she did not witness directly – as did her sisters – the full horror of what happened to their parents.
He described the raid as "highly-planned" while the nature of the weapons involved had "sinister connotations" in such circumstances.
The level of gratuitous violence visited on the two adults, neither of whom was in any way a physical threat to the raiders, was quite terrifying. In the light of this, the unfortunate occupants had every reason to take very seriously indeed the horrifying threats which were shouted.
The Corcorans had to close their successful gym-equipment business because of the incident and had also suffered other major financial losses because of securing their home and through medical expenses.
#Open journalism No news is bad news Support The Journal

Your contributions will help us continue to deliver the stories that are important to you

Support us now
"Taking all of these effects together, it is clear that the Corcoran family, and each individual member, have suffered catastrophic changes to their lives."
Judge Teehan said other people who might be contemplating similar crimes in future should know there can be "a very heavy price to pay" for such crimes.
"This is a message which must go out in the clearest and most unequivocal terms."
Dean Byrne (22) of Cabra Park, Dublin 17, was given a sentence of 20 years, with four suspended. He had 120 previous convictions.
Patrick Gately (28) of Primrose Grove, Darndale, Dublin 17, was also sentenced to 20 years, with four suspended for 10 years. He had 85 previous convictions.
John Joyce (21) of Lentisk Lawn, Donaghmede, Dublin, was sentenced to 15 years, with four of those suspended. He had 55 previous convictions.
Patrick Joyce (23) of Beaumont Hall, Beaumont Woods, Dublin 9, was given a sentence of 14 years, with four suspended. He had 16 previous convictions, none for violent offences.
Thomas Flynn (21) of Moatview Avenue, Coolock, Dublin 17, was sentenced to 12 years in prison, with three of those suspended. He is already serving a three-and-a-half year sentence for a separate offence and had 20 previous convictions.
Donal O'Hara (22) of Glin Park, Coolock, Dublin 17, was sentenced to 12 years, with seven suspended. He had 19 previous convictions but they "did not begin to compare" with those of Dean Byrne.
Michael McDonagh (23) of Tara Lawns, Belcamp Lane, Coolock, Dublin 17, who was the only defendant with no previous convictions, was sentenced to 12 years, with seven of those years suspended. He was "anxious to rehabilitate," the judge said.
All of the suspensions were for 10 years and to come into effect upon them leaving prison, under conditions including keeping the peace, staying free of alcohol and drugs and engaging with the Probation and Welfare Service.
The only time any of the defendants spoke in court was to acknowledge the terms of their suspension bonds. The Corcorans were emotional in court today.