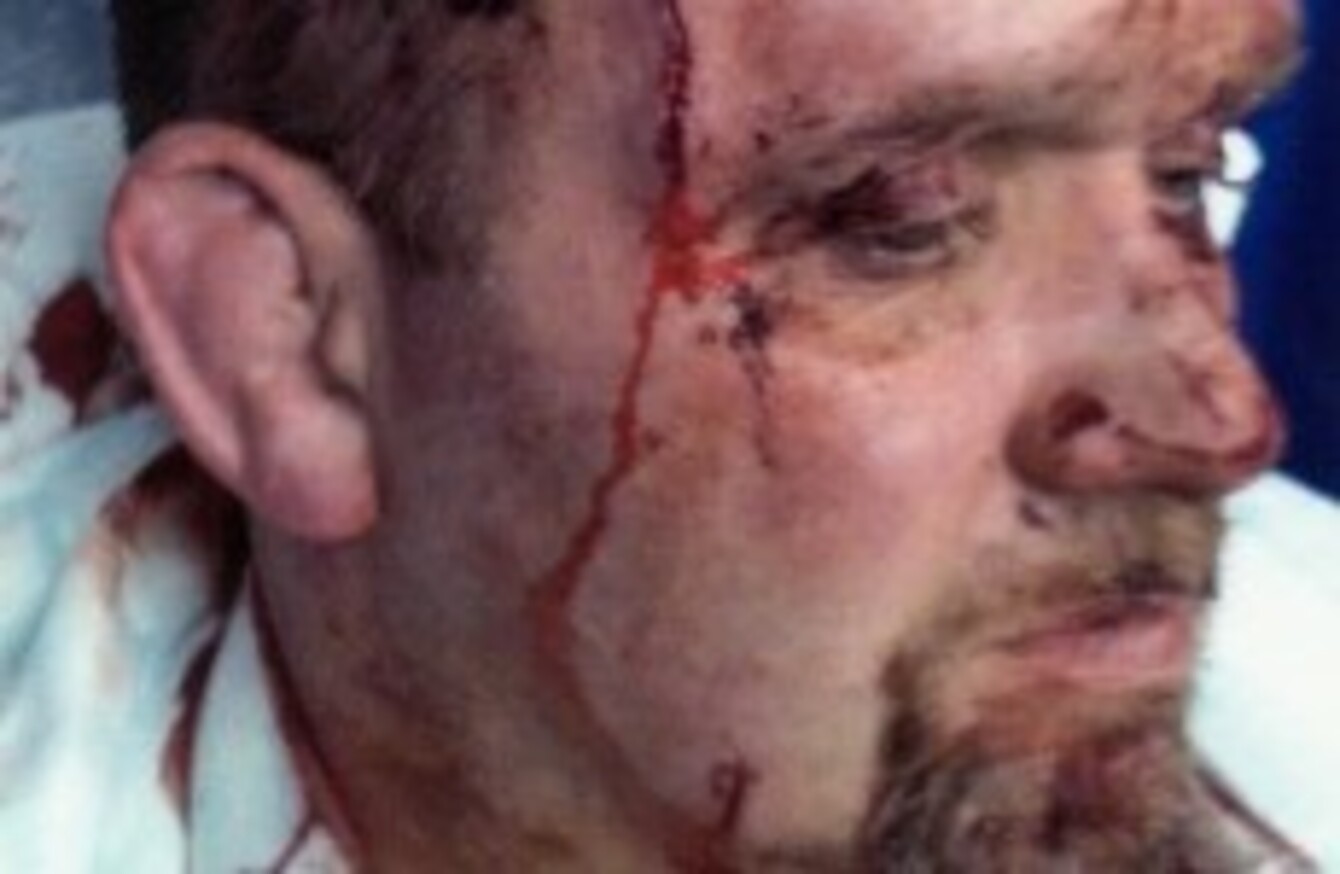 Sergeant Mark Wright after the attack.
Image: PSNI
Sergeant Mark Wright after the attack.
Image: PSNI
A WOUNDED POLICE officer in Belfast has expressed his satisfaction at the seven-year sentence imposed by the court on his attacker.
The 42-year-old convicted man was sentenced to seven years in prison on 4 October.
He was charged with wounding a member of the PSNI with intent to do grievous bodily harm and assault on police, as well as affray and possession of an offensive weapon.
The charges relate to an incident at a property in Filbin Crescent during the early hours of 5 February 2012. Police responded to a report of a domestic violence and found a male locked in a house with two small children, aged one and three years old.
The man opened the door as officers attempted to gain entry. He attacked Sergeant Mark Wright with a knife before attempting to injure another officer. He was eventually restrained, disarmed and arrested. The two children escaped uninjured.
Sergeant Wright, who sustained two knife wounds to his head during the assault, said today that he believes the sentence to be fair.
"For all of the police who attended that night this was a life and death situation," he said after the sentencing. "We knew there was a man in the house who had already assaulted a number of females and that two young children were also present in the house. Our priority was to ensure the safety of the kids. When the male appeared at the door, armed with two knives, our first priority was to disarm him and this is what we did.
While I was injured I was not the only police officer there. This was a team effort and we worked together to make sure everyone came through the incident safely.
"I am aware of the perception in some communities that police are heavy handed and I hope the comments from the Judge dispels some of this thinking," he continued.
During the sentence hearing, Judge Lynch commended police for using minimum force, noting that it was 'meritorious' and proportionate.
"I was lucky in this instance that my injuries were superficial but it has still taken time for myself and the other officers who attended that evening to process the incident and the danger we faced," concluded Wright. "I really hope that something worthwhile comes from this and that the local community will have more confidence in us and in reporting incidents to us."