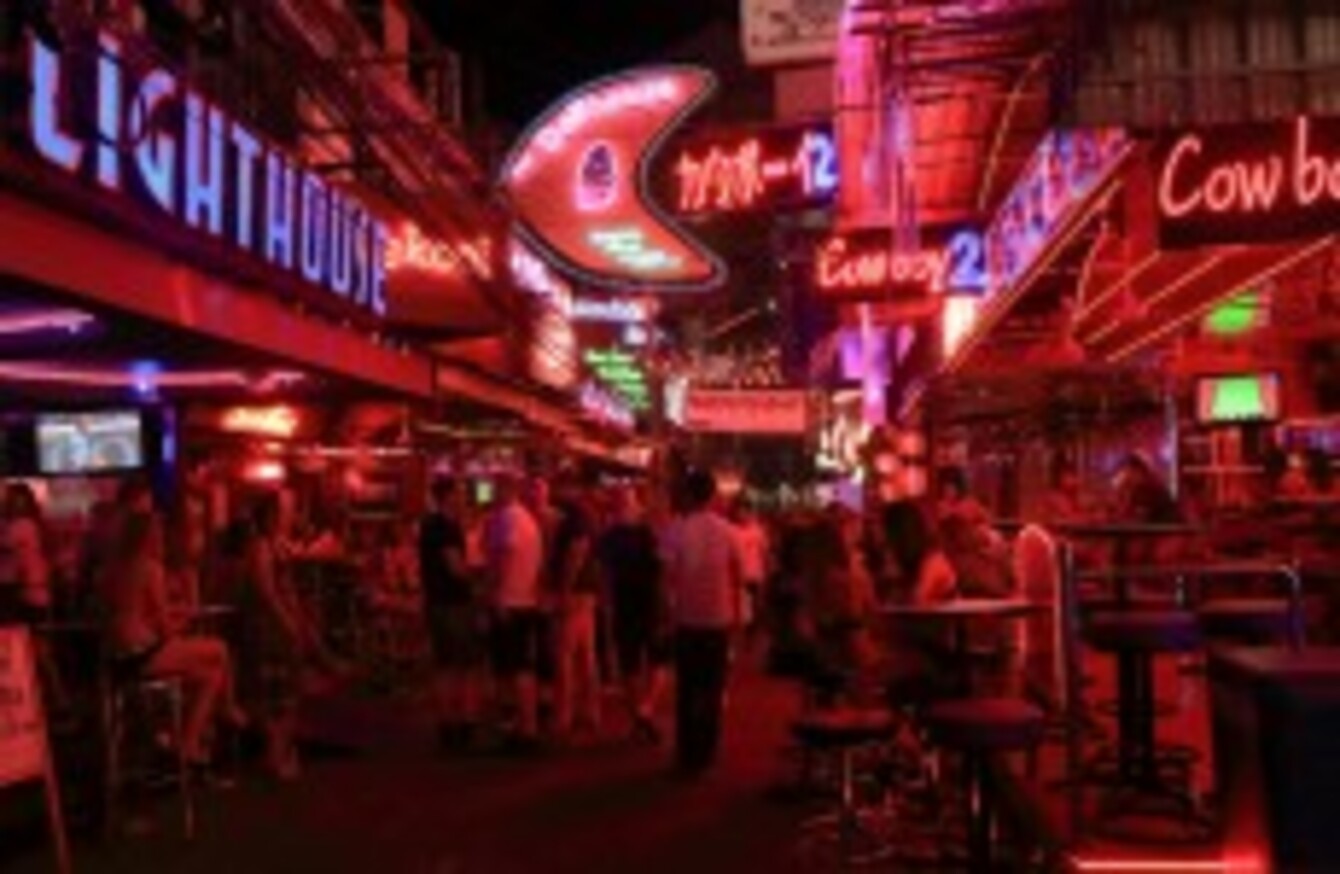 Image: Shutterstock/TK Kurikawa
Image: Shutterstock/TK Kurikawa
This article contains content of a very explicit nature. 
EVERY NIGHT THIS week as part of our Sex Week series TheJournal.ie will be running a seven-day diary submitted by readers.
The Editor asked each diarist to anonymise their entries but to be as honest as possible in terms of activities and thoughts.
The diaries have been lightly edited for style and length but are the diarist's own words.
Next up is a man in his early 30s, an Irish emigrant in Thailand…
He admits that not every week is like this, but that it was a "particularly good one" that could be replicated if one "had the time and energy". Here are his seven days: 
TUESDAY
"I'm single so some of the time, it means not waking up to morning sex but I had arranged from the previous night a hookup from Tinder and had some raunchy photos to get me through the day.
That evening I got a train about 20 minutes away where I was picked up by a girl called Toony. We stopped for some food, went back to her house and watched a bit of a movie. Halfway through the film, she performed oral sex on me and we then had sex twice before I had to get the last train back to the city.
Toony was a nice girl but these Bangkok girls sure do know how to take pictures from their best angles and use applications to change their appearances. Slight changes for a bit of weight loss and a tweak here and there but nothing major. It was also one of my worse sexual experiences (apart from the oral). I find it unusual to find a Thai girl that doesn't know what she is doing but she flopped about on top of me like a fish out of water. Needless to say Toony won't be getting a call back."
WEDNESDAY
"I play football with a team after work on a Wednesday and afterwards I arranged to meet up with my best friend. We have been friends for months – since getting to Bangkok – but she inevitably slept with me after nine months! Tonight I called over to her apartment, cooked her spaghetti bolognese and then we settled down for another movie. We started kissing about halfway through the movie. I went down on her as I know exactly what she loves and then when she was finished I masturbated on her chest.
I have really strong feelings here as we have been friends for quite some time and sleeping together for a few months now too. Friends with benefits, I suppose. Even though it wasn't full penetrative sex this time as I forgot a condom, it is always amazing. We know each others bodies down to a T.
THURSDAY
"After a failed attempt to meet a girl called Apple two weeks ago, we finally meet up again. I hadn't seen her in eight months because I broke her heart. She seemed to have gotten over the hatred and finally doesn't want to have me killed by the Thai mafia. She is an amazing girl but I was just out of a long-term relationship and didn't want to get into another just yet.
We met up in a bar close to our condos as we don't live too far apart and after a few jugs of beer, I walked her home as it was a school night. I went up to her condo for a little bit and she was showing me some of her Muay Thai that she has recently started. This turned flirty and before I knew it, we were performing oral and having sex on her couch.
"I decided to stay over and woke up again at 4am with a raging erection and ready to go so I woke her up and we went at it like rabbits – her on top, me on top, 69 – for an hour or two and then I needed to go back to my place to get ready for work."
FRIDAY
"This evening, I called back over to my best friend's house and, this time, had bought a 12 box of condoms along the way. As soon as I got in the door we were in bed, I gave her oral as it's her favourite and she has the most amazing orgasms every time. Them I got to have sex with her and give her two more orgasms in the process… greedy greedy! I came just the once and after some pizza and a long week I passed out watching a movie, shattered."
SATURDAY
"After a relatively early one for a Friday night, we both woke up on Saturday morning and had sex twice and then I left for my place again. Needed to sort out some stuff before a big group of us went out for a party night. We went out watched some Gaelic football and hurling before hitting the nightclub which was great, everybody having a great time and dancing with plenty of women.
"I was meant to go home with my best friend again but something happened with one of the other girls and they left early together. I hung around drinking, talking and dancing until about 4am before I decided to go home only to look at my phone a see a message from another girl Gig.
#Open journalism No news is bad news Support The Journal

Your contributions will help us continue to deliver the stories that are important to you

Support us now
"I hadn't seen Gig in a couple of months and she asked if I wanted to join her and her friend in another club so away I went in a tuk tuk to meet the two of them. We finished up in the nightclub about 6.30am, I think and went back to her friend's place. Three of us and a cat in the bed but sadly nothing happened."
SUNDAY
"I can't remember her friend's name but I wasn't interested in her anyway. So after a measly few hours sleep we woke up and the friend went for a shower so myself and Gig started getting jiggy in the bed.
I slipped inside her for a few minutes but then the shower stopped. She was gettin ready for work so it was only a quick one but as soon as she left the condo we started up again.
"We both gave oral and numerous sex positions and locations in the condo – the bed, looking head-on into the mirror of a vanity unit as I took her from behind, she went for a cigarette so I took her again from behind out on the balcony. Was anybody looking? I didn't care.
"I really like Gig, she had helped me out a few months previous. We get on great and she's a sweet girl. Very small, great body and amazing sex. I hope she keeps sending me messages. I then left her after about five hours of sex to head back to my condo where I had a lazy evening of watching movies and sending/receiving naked pictures of some girls."
MONDAY
"Start of the week again and after hanging around after work for an hour flirting a touching each other, myself and a colleague who sleep together on occasion (including sex in the toilets and on our desks) decide to take a quick trip back to her apartment for some shower sex before a table quiz that was to start in a few hours.
"After the table quiz we again went back to hers where she performed oral sex on me and we had sex for a few hours before sleeping and the early alarm call of 5.30am. She is one of the nicest people you will ever meet, has a drop dead gorgeous body and beautiful face but it's just fun between us as with all of the girls, I'm still not in that place just yet."