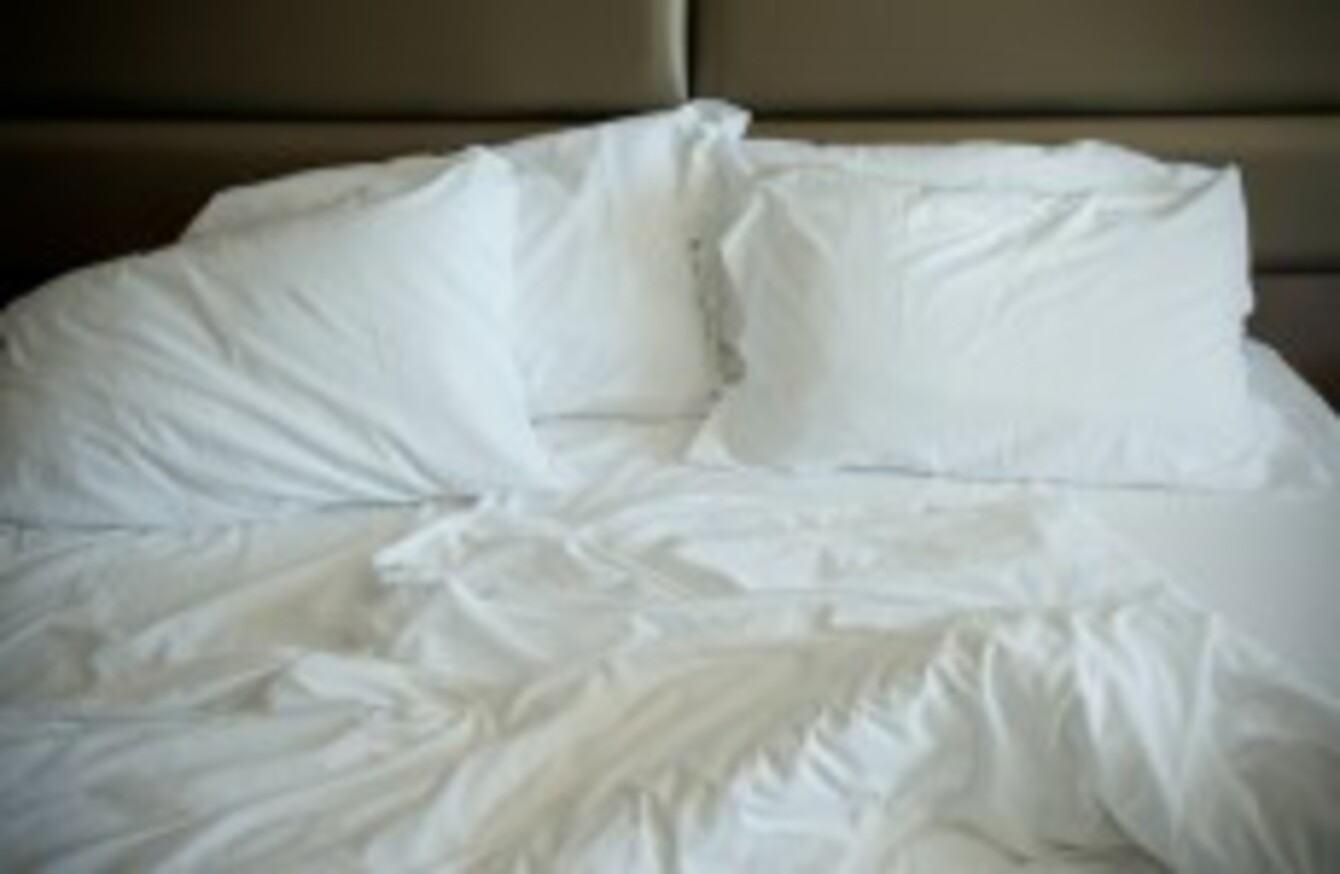 Image: Shutterstock/ruigsantos
Image: Shutterstock/ruigsantos
This article contains content of an explicit nature. 
EVERY NIGHT THIS week as part of our Sex Week TheJournal.ie will be running a seven-day diary submitted by readers.
The Editor asked each diarist to anonymise their entries but to be as honest as possible in terms of activities and thoughts.
The diaries have been lightly edited for style and length but are the diarist's own words.
Tonight, we hear from Alex who is a married father…
He and his wife are trying for another child. Before their last child, they were sexually active a number of times a week but the frequency of sex declined until the recent decision to try for another baby. He notes that while on a baby-making schedule, he does not masturbate but "usually I would whenever I felt like it". The couple's work schedule means that they often do not go to bed at the same time. Here was his week: 
WEDNESDAY
"Came home from work around 10.30pm. My wife was in bed warming herself up with some porn on the laptop. I had a quick wash and warmed myself up with some porn on my laptop. We had sex for about 15 minutes. We finished when I orgasmed and then we both went to sleep.
"This sounds really functional. But we hadn't had sex in three days and didn't want to waste good sperm. After three days, its quality is reduced. I was just in the door from a 12-hour shift and she was waiting up for me. She has an early start so neither of us were in the humour. This is what I mean by our work hours not being conducive."
THURSDAY
No action today. A few kisses – mostly pecks when we are going out or coming home and then cuddling in bed but nothing sexual. No real sexual thoughts/urges today.
FRIDAY
"Arrived home from work about 10.30pm. She was just home as well. I had a quick shower. We both got the laptops out and warmed ourselves up. We had sex for about five minutes and then we kissed and cuddled until we fell asleep.
"No sexual thoughts throughout the day except when I was driving home. I was hoping she would not want to have sex that night because I was wrecked and had a 12-hour shift the next day. According to the schedule, we were due again on Sunday night but her relation is coming to stay for a few days so that could throw the schedule out the window."
SATURDAY
"After a 12-hour shift on the drive home from work around 10.30pm I got very aroused. My wife was asleep when I got home so I looked after myself while watching porn on the laptop. Not sure what triggered the arousal – maybe has something to do with not having sex for a while then having sex frequently."
SUNDAY
The wife's relation stayed over so there was no action. No urges either had plenty to do during the day and then worked until 10pm.
MONDAY
"Had sex when I came home from work last night. My wife was already in bed waiting so I put on the porn and we got down to it for about 15 mins and we kissed and cuddled after."
TUESDAY
"Night off the schedule tonight no urges to report – the usual kisses and cuddles going to bed."
WEDNESDAY
"So it's been a week. I have to say that the whole schedule thing annoys me. Having to get yourself in the mood when just in the door and tired and not in the humour really messes with your head. I'm not complaining but it has negative effects. Some nights driving home, I'd be praying she'd be asleep so I could have a night off.
"We did this schedule before and let me tell you it was absolutely worth it but I was so glad for the break I got from sex. What I'm trying to say is a schedule robs the spontaneity and is a turn off and I would not recommend it. I'd much rather have spur-of-the-moment sex once a month than functional sex three to four times a week."