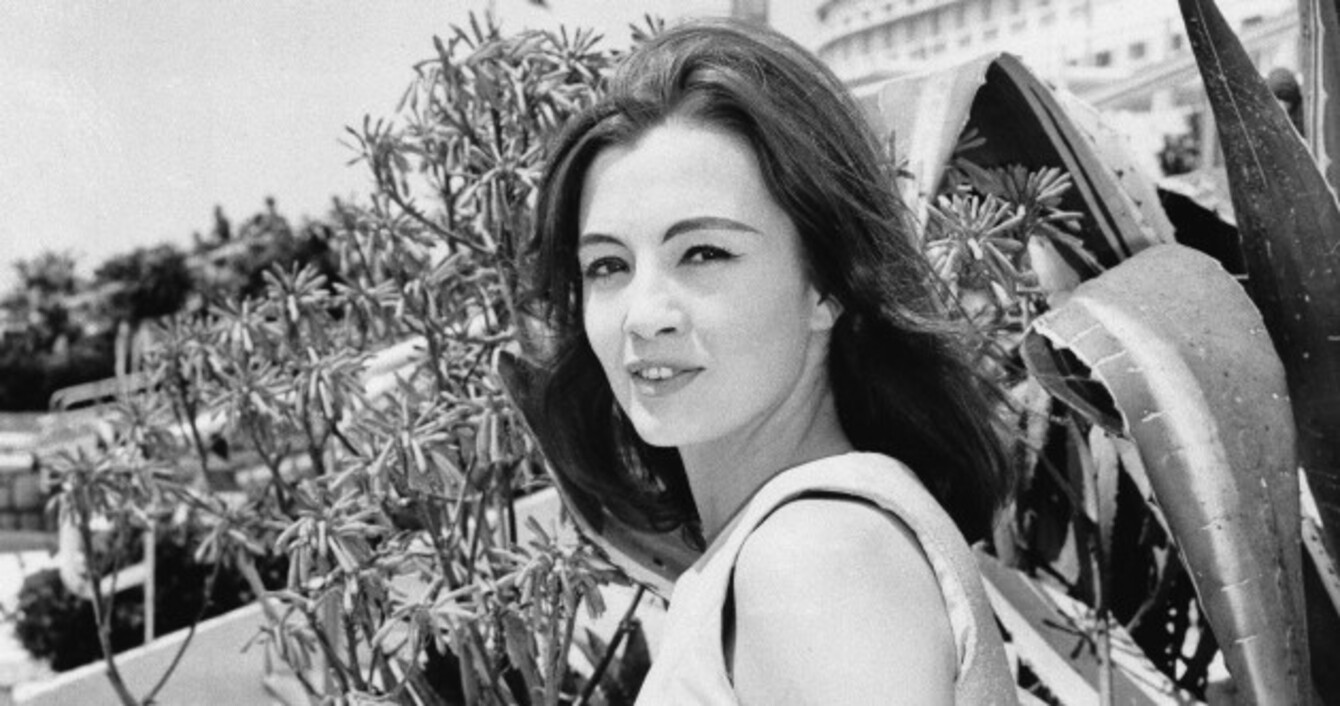 Image: AP/Press Association Images
Image: AP/Press Association Images
This piece was first published on 24 March 2013. We republish it here following the news of Mandy Rice-Davies death.
DALLIANCES WITH CALL girls, extramarital affairs and embarrassing misunderstandings with social networks are the norm of present-day political sex scandals.
They are far from sexy, mysterious or compelling.
Anthony Weiner is caught with his pants down. He resigns. Eliot Spitzer has a fondness for "high-end escorts". He resigns. We all move on, slightly more fatigued by the old-boys' club that politics continues to be despite our best protestations.
Although they've aired enough dirty linen in public, the likes of Dominique Strauss-Kahn and Silvio Berlusconi, provide no intrigue with their antics. They are just another pair of ageing politicians caught out either by modern-day surveillance, their stupidity or an erroneous perception of their own infallibility.
Fifty-one years ago, another middle-aged politician believed he could lie to an entire nation about his private relationships. And what followed was a controversy that had it all: the Cold War, a powerful Minister, a Russian spy, two young working-class girls and a photo that defined a decade.
Eventually given the title 'The Profumo Affair', the political and intelligence scandal not only captured the imagination of the public for months – no, years – it also brought down a government and gave 20th century Britain some unlikely heroines.
The main players
Secretary of State, John Profumo
(Image: S&G/S&G Barratts/EMPICS Archive)
Harold MacMillan, Prime Minister
(Image: S&G/S&G Barratts/EMPICS Archive)
Christine Keeler, model, dancer and hostess
(Image: PA/PA Archive/Press Association Images)
Mandy Rice-Davies, model, dancer and hostess
Dr Stephen Ward, osteopath and socialite
With (clockwise from top right) Christine Keeler, Paula Hamilton-Marshall and Mandy Rice-Davies.
Yevgeny Ivanov, Russian attaché and Keeler's friend/lover
(Image: Topham/Topham Picturepoint/Press Association Images)
Lord Denning, master of the rolls
(Image: AP/AP/Press Association Images)
A Timeline
On 8 July 1961, British Secretary of State for War John Profumo was introduced to 19-year-old London model and dancer Christine Keeler by Dr Stephen Ward, an osteopath and man-about-town. Ward and Keeler had met at Murray's Cabaret Club in Soho, where she worked and he socialised.
The summer's day party, which was also attended by Russian military attaché Yevgeny Ivanov, was hosted by Ward at the Cliveden mansion of Lord Astor. According to a new book on the subject, the Minister was taken with the London teen once he saw her in the swimming pool (there are reports she was completely nude). He procured her number from Ward and their affair started.
Ivanov's position in the threesome is less clear. Some called him Keeler's friend, others her lover. But it is an established fact that they slept together.
MI5′s belief that the Russian attaché was double-jobbing as a spy set off alarm bells among authorities once they got a whiff of the love triangle. Even a rumour that two men – one on the Soviet side and one in the British government – shared a lover during the Cold War was enough to spark a major scandal. But more concrete evidence was required before anything would be made public.
In stepped another lover.
The bizarre events of 1963 were precipitated by a gunshot fired by drug dealer Johnny Edgecombe just before Christmas 1962.
Keeler had ended her relationship with Edgecombe in mid-December and he was not happy about it. She had sought out Ward and Mandy Rice-Davies for support and was in their Marylebone flat when Edgecombe sought her out one afternoon. When she refused to see him, he fired several shots at the locked door.
The incident gave the newspapers of the day an opportunity to dig deeper into Keeler's affairs – in both senses of the word.
The relationship between Profumo and Keeler had ended on the advice of the head of MI5 but when she failed to turn up for Edgecombe's trial for the gunshot incident, the details of the affair became public. Newspapers asked about her Russian connections and how she was allowed to disappear from a trial.
Her links to the nation's Secretary of State for War were also uncovered.
In March 1963, when he could avoid the queries no longer, Profumo told Parliament that there was "no impropriety whatsoever" in his relationship with Keeler.
The lie didn't last long. Evidence of the affair grew as the media's interest in the story failed to abate (again, it had a minister, a spy, a pimp in Dr Ward and at the time, Keeler and Rice-Davies were referred to as 'good time girls' or call girls: not something Fleet Street was going to give up on). One-time friend Stephen Ward also challenged his denials as he fought off accusations that he lived off immoral earnings.
Just 10 weeks after his initial statement, Profumo offered his resignation, admitting with "deep remorse" that he had deceived the House of Commons.
But it didn't end there – for anyone involved.
Christine Keeler
(Image: AP/Press Association Images)
Keeler was 22 years old when she became "the reason" (source: Press Association photo caption) Profumo had to resign on 5 June 1963. As well as giving evidence in the trial of Dr Stephen Ward – a man she maintained she had a brother/sister relationship with, rather than pimp/call girl allegiance as many claimed – she was herself tried and convicted of perjury and conspiracy.
She spent nine months in Holloway prison. On being released, her life spiralled somewhat. Keeping her distance from Rice-Davies, who was garnering much attention in the subsequent months for her wry answers to legal queries during court proceedings, Keeler didn't immediately cash in on the fame.
She was divorced twice and lived a life of poverty in public housing projects.
However, there was one thing from her past that changed her life. The famous shot of her, as a young woman, straddling a chair naked was taken as a publicity shot for a planned film about the events of the early 1960s. But before the project got off the ground, one of the prints was stolen and published by the Sunday Mirror.
According to the National Portrait Gallery, which now owns the rights, the photograph has become one of the defining images of the 1960s.
A combination of pin-up and icon, suggestive both of sexual liberation and at the same time of the penalties of sexual exploitation, it occupies a morally ambiguous universe. It was taken in May 1963, when Christine Keeler came to Lewis Morley's studio over the Establishment Club in Greek Street to be photographed to promote a film on the Profumo Affair.
In 2001, Keeler published an autobiography and, more recently, she released some daring images from her personal collection for exhibition. She is now 71 years old.
John Profumo
Profumo and his wife Valerie Robson in 1959. (Image: PA/PA Wire/Press Association Images)
In 1961 and at 46 years of age, Profumo was a rising star of the Macmillan administration. Just two years later, he withdrew from all aspects of political life because of the affair.
After his resignation in June 1963, he began to work as a volunteer cleaner at Toynbee Hall, a charity in London's east end. That decision would eventually lead him down a path that would rectify his image in the eyes of all those who saw him as a ruined politician.
He remained with his wife Valerie Hobson and dedicated his life to philanthropy. According to his obituary in the Daily Telegraph, he became known, in the last 40 years of his life, as a "tireless worker for charity and as a man who bore his humiliations with enormous dignity and personal integrity".
Profumo's story is of a man who made one terrible mistake but sought his own redemption in a way which has no precedent in public life either before or since.
His dedication to the group earned him praise from Margaret Thatcher, who called him a "national hero", and he continued his friendship with the Queen Mother and Clarence House. When the film Scandal came out in 1989, they were due to be guests at a dinner for the Queen Mother and they offered not to accept the invitation, but she insisted on their attendance.
Although friends said he never got over the shame of the affair, his life panned out better than others involved in the sordid episode. He was appointed CBE in 1975.
His wife Valerie died in 1998 and he passed away 9 March 2006, aged 91. They were survived by one son, David.
Dr Stephen Ward
(Image: General/Topham Picturepoint/Press Association Images)
Dr Ward is often seen as the scape-goat to the whole sorry affair. It is understood the osteopath was cooperating with MI5 to entrap Ivanov but the Profumo connection confused matters.
When Profumo and Keeler's liaison became public, he was embroiled in a trial, accused of living off the profits of prostitution or, put more eloquently, "immoral earnings".
On the last day of the trial, knowing a guilty verdict would be returned, he overdosed on sleeping tablets and was taken to hospital where he died a few days later. As he lay in a coma, the jury delivered the expected result for the charge that he lived off earnings made by Keeler and Rice-Davies. However, he was acquitted of accusations of procuring (or being a pimp).
Lord Denning's report into the Profumo affair also pointed the finger at Ward but insisted national security had not been compromised. People queued to buy a copy of the publication when it was released. The Guardian reported most were looking for "juicy bits", such as the identity of a man who, naked except for a mask, served at Ward's dinner parties.
Harold Macmillan
Less than a month after the publication of the Denning Report, which criticised the government's handling of the affair, the prime minister resigned. He said it was because of ill health but the public and media decided on a different truth – that young Christine Keeler had brought down the long-standing Conservative government.
Mandy Rice-Davies
Mandy Rice-Davies in 1980. (Image: PA/PA Archive/Press Association Images)
For years after Ward's trial, Rice-Davies made the most of her celebrity status. A Private Eye magazine cover from July 1963 sums up her attitude:
Peter Rachman, the man referenced on the front page, was her ex-lover. He became notorious in London for exploiting tenants in the Notting Hill area.
Shortly after Ward's trial, Rice-Davies converted to Judaism and married an Israeli entrepreneur. They opened a number of nightclubs in Tel Aviv, calling them Mandy's, Mandy's Candies and Mandy's Singing Bamboo.
She also became a semi-permanent feature on the British chat-show scene and has appeared a number of times on television shows, including Absolutely Fabulous.
"Slowly but surely. I'm changing notoriety into fame," she told People magazine in 1986 on the release of her first novel.
The quotes
"I was the toothpaste." – Keeler on how Peter Rachman saw sex as being as functional as cleaning one's teeth.
"Surely there must be some way of concealing your penis." – Profumo's wife on his tight trousers.
"He would, wouldn't he?" – Rice-Davies on Lord Astor's denial that he had an affair with her.
"I was determined that no British government should be brought down by the action of two tarts." – Harold Macmillan, Prime Minister
"'Oh what have you done?' said Christine. / You've disrupted the Party machine; / To lie in the nude is not very rude, / But to lie in the House is obscene." – a popular limerick which did the rounds at the time of the scandal.
In pop culture
A composite image showing actress Joanna Whalley-Kilmer (left) portraying model Christine Keeler (right) in the film Scandal, about the controversial Profumo Affair of 1963. (Image: PA/PA Archive/Press Association Images)
Christine Keeler, left, and actress Bridget Fonda (who played Rice-Davies) pictured at Stringfellow's for the New York premier of the film on 26 April 1989. Fonda  (Image: Mario Suriani/AP/Press Association Images)
The cast perform on stage during a photocall for 'Keeler', the inside story of the Profumo affair, based on 'The Truth At Last' by Christine Keeler at Upstairs At The Gatehouse, Highgate Village, 12 February 2007. (Image: Alma Robinson/EMPICS Entertainment)
That photo, recreated. (Image: Alma Robinson/EMPICS Entertainment)