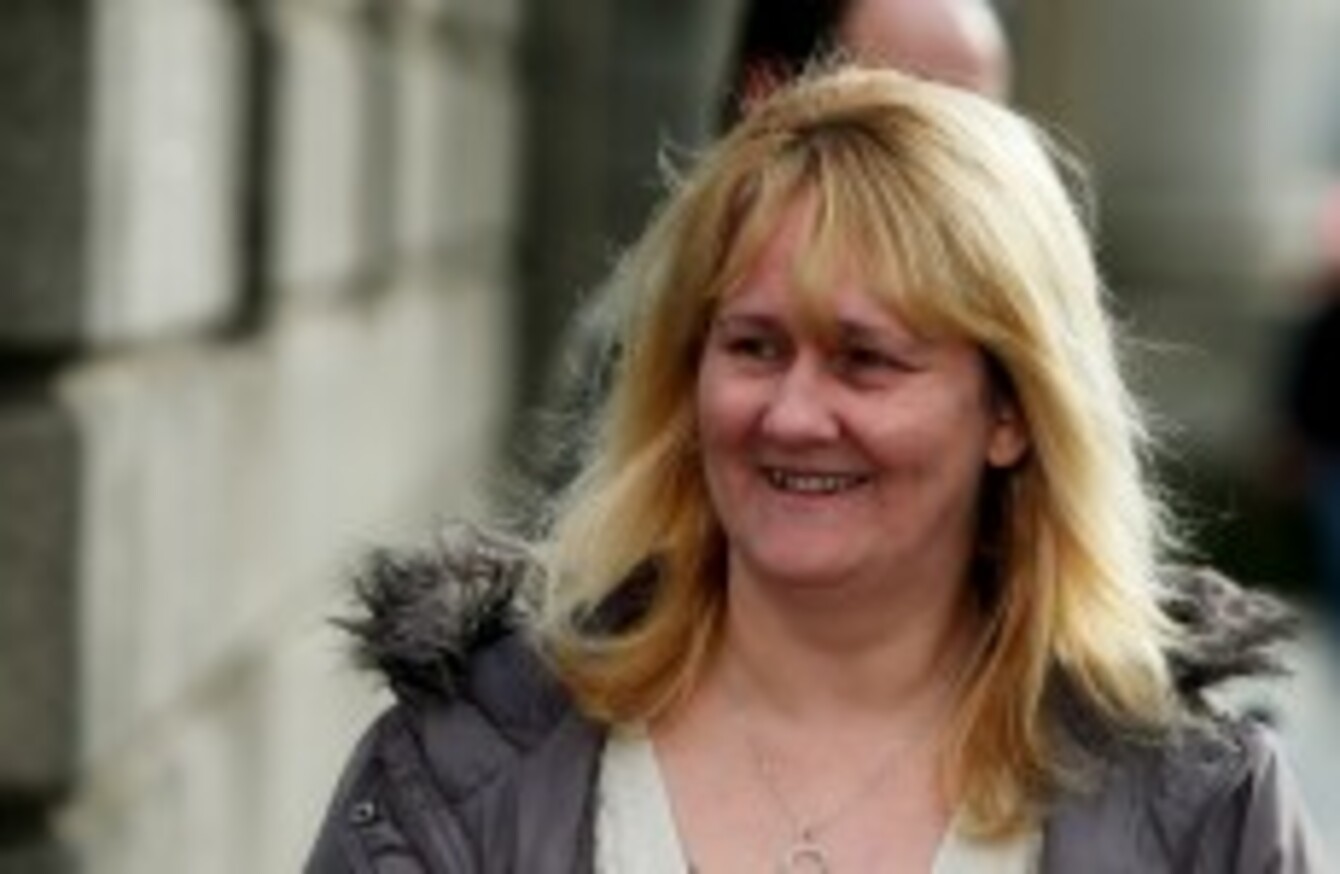 Sylvia Deehan pictured at the Four Courts
Image: Brian Lawless/PA Wire
Sylvia Deehan pictured at the Four Courts
Image: Brian Lawless/PA Wire
Updated at 11.57pm
THE HIGH COURT has dismissed a woman's damages claim against a Dublin pub for injuries sustained while trying to catch a spot prize during a 'Ladies Night' competition.
The Judge in the case said that sometimes "bad things can happen to good people" and rejected Sylvia Deehan's claim against the owners of southside venue the Lough Inn.
Deehan, from Ballybrack, had attended the event at the Loughlinstown pub on 21 January 2011.
At some point in the evening, a spot prize (described as 'a ring that goes around a certain part of a man') was thrown into the audience.
Several people, including Deehan, jumped for the prize.
However, in the excitement of the moment some people pushed against the 46-year-old. She fell and hit herself on the leg of a loudspeaker that was sitting on the floor, and was injured as a result.
Judgment
Handing down his judgment, Justice Max Barrett said it had not been proven that The Lough Inn had failed to take all reasonable steps to safeguard its patrons.
According to Barrett, "the fact that Ms. Deehan fell to the floor does not seem an improbable or unlikely event at a venue where alcohol has been taken and spirits are high".
He said it wasn't clear to the court "what additional safeguards might have been taken to render The Lough Inn safer on the evening in question".
Additionally:
…the truth is that Ms. Deehan could have fallen anywhere in the pub and the only means of effectively guarding against the risk of such a fall would have been to swaddle every available surface in the pub in protective material.
And:
…a person who freely elects to go to a pub, who freely elects to drink alcohol, who freely elects to engage in a party game and who freely elects to jump for a spot prize, can reasonably anticipate that she may fall, cannot reasonably expect that every part of the pub will be proofed so that there can be no injury occasioned if she does fall, and ought not to assume that she will be entitled to compensation when in fact she falls. Bad things can happen to good people and still no compensable event may arise.
The judgment concluded that "Ms Deehan impressed the court in her testimony as a decent woman who is entitled to, and has, the court's sympathy for the painful injuries that she suffered at The Lough Inn".
However, for the reasons stated, her action against the defendant in these proceedings must fail.
The action came before the High Court following a failed Circuit Court action by Deehan.
First posted at 10.20pm