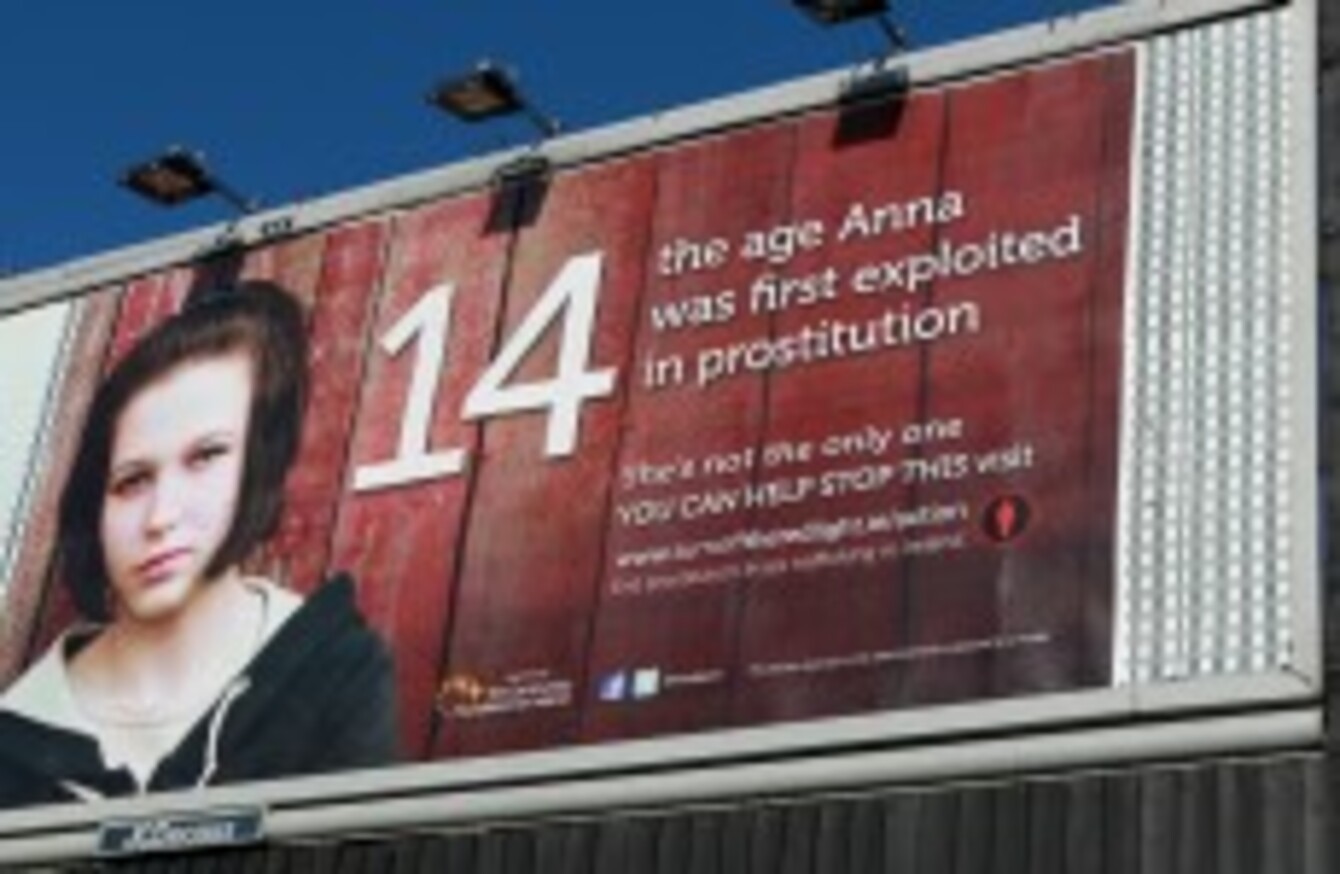 A turn off the red light campaign billboard in Dublin
Image: Sam Boal/Photocall Ireland
A turn off the red light campaign billboard in Dublin
Image: Sam Boal/Photocall Ireland
FAR MORE WOMEN are being trafficked into Ireland than official numbers would suggest, the head of the Immigrant Council has said, as anti-trafficking organisations marked EU anti-trafficking day today.
91 victims of sex trafficking were assisted by the organisation Ruhama last year, but over 1,000 women appear on escort and prostitute websites in the country every day. Ruhama works with women affected by prostitution in Ireland.
"On any given day there are around 1,000 women for sale on the internet in Ireland"  Denise Charlton, CEO of the Immigrant Council of Ireland told TheJournal.ie. "The last time we checked three weeks ago there were 1,027. They can appear as independent agents but the reality is that many are controlled by third parties."
Along with over 50 other organisations, the Immigrant Council is running the 'Turn off the Red Light' campaign, which aims to end sex trafficking to Ireland.
Under the latest EU Directive on Human Trafficking which Ireland has signed, each country is required to take measures to discourage and reduce demand. Members of the 'Turn off the Red Light' campaign are calling on the government to reduce the demand in the sex trade by introducing legislation which will criminalise the buying of sex.
"It is very hard for victims to come forward. The are often controlled and moved around. Many are too frightened to come forward and are severely exploited.
The best way to end the human rights abuses which are taking place in every county in Ireland is to target demand by making it illegal to pay for sex. We reject the notion that the traffickers, pimps and other criminals operating a sex 'trade' here will ever respect the rights of workers.