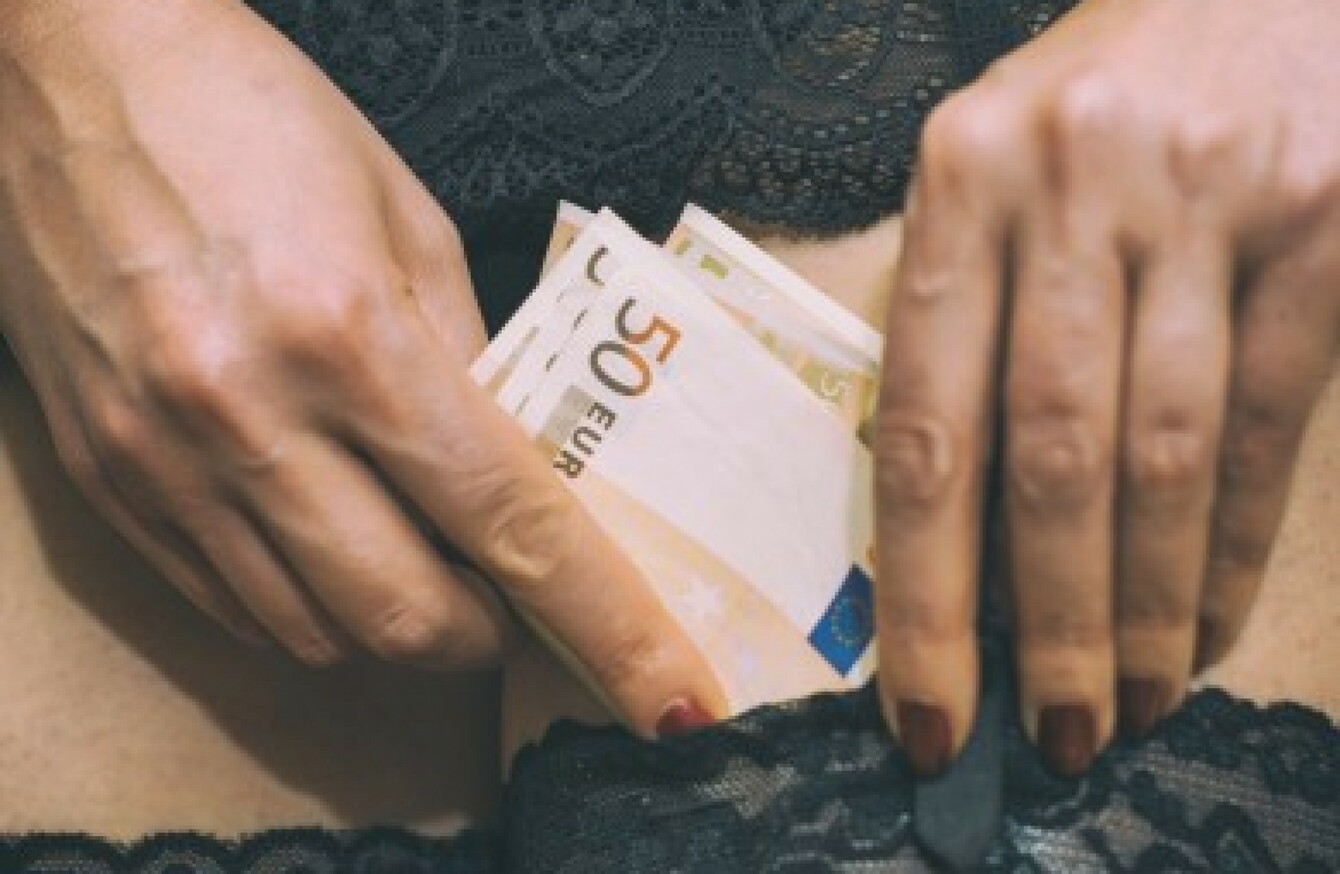 ON 27 MARCH it became illegal to buy sex in Ireland – a law which legislators and campaigners said would change the industry for the better.
But for many women who offer sexual services throughout Ireland, the new laws have forced them to operate on their own – away from the women they leaned on not just for help with day-to-day activities but for emotional support and other issues.
Today marks International Sex Workers Day and TheJournal.ie spoke with four women who are currently in the trade -two Irish and two from central Europe.
While the stories of Annett, Kathy, Lyndsay and Sinéad are different, they have one common thread – the new laws have made their jobs more dangerous and made their lives more secretive.
Sinéad has noticed a significant drop in her business since the new laws came into effect 10 weeks ago. The prospect of arrest has created a greater sense of paranoia for her clients who are now convinced that they are going to be caught.
But not only that, she now feels lonelier and more isolated – something which is having a detrimental effect on her mental health.
Before the laws came in, many women would share an apartment. They would take different shifts and would look after the place. Since the new laws came in, this has changed.
Sinéad explained: "Those that think you are sharing won't come to see you as they believe there is a higher risk of getting caught. I was sharing before the law came in but now I work alone. It is very isolating and lonely and the days are very long never talking to anyone but clients.
I feel unsafe and nervous when I am alone and this also affects the quality of my job as I do not feel comfortable and I am sure this uneasiness passes onto my clients.
"I can get quite low some days as with feelings of isolation brings feelings of depression, whereas when I have another person there we are company and safety for each other and it really helps. Two girls should be allowed to work together for this reason. Just one other person there would be a great ease."
Lyndsay is in a similar situation. She says she knows there are serious problems with human trafficking and pimps exploiting a large number of women in Ireland. She believes the new law doesn't do anything to tackle this. In her mind, the legalising of the industry would force these pimps to move away from Ireland and move to another country to make any money.
"Trying to criminalise clients is not the solution to targeting the real criminals within the sex industry. There is a fun, enjoyable side to the sex industry that people won't consider as to them it's wrong.
In Ireland, we are brought up so set in our ways and in a time to come I hope that people are more open to hear the side of view of sex workers that enjoy this industry and facts about it. I would like to see a more unbiased take on sex workers instead of bashing down our views and our lives without listening to our side of the debate.
Annett believes she is in a more dangerous profession now but business has been steady since the new laws.
She said she has noticed the change but that things "aren't the worst" for her right now.
"The business was always up-and-down, you never know what will happen on the next day. You have to do every day on 100%, I am doing the same how I used to work, among my personal criteria, safety is the first step. I know, I am not the easiest person if I work, but I have high standards.
"If he is not able to follow my instructions – I won't see him. If I don't like his voice or he is rude or he can't talk to me nice it's the same. But I can do it because of this is my job, I have to be careful all the time."
The women see all walks of life using their services. There is no "typical client". According to the women we spoke to, those who use the services range from doctors and barristers to "men that were training for triathlons and needed some escape time to a client that wanted to have some fun before he went on a 16 hour flight".
But although they try to vet the men who they see, there are those who slip through the cracks, making their jobs very unsafe.
One Central European sex worker told TheJournal.ie: "I feel unsafe in every moment in this country, there's no system for the sexual work in Ireland.
I worry because my client can be a robber and it's dangerous because I have to work alone and I cannot control a man if he take off the condom.
While there are women in Ireland who are working as independent escorts, there is a large element which is made up by human trafficking controlled by illegal pimps.
The Immigrant Council of Ireland along with prostitution support group Ruhama estimate that there are between 800-1000 women available to buy for sex nationwide at any one time. The biggest change in recent years, according to Ruhama CEO Sarah Benson, is that the women are now being brought in from Eastern European countries and sub-Saharan Africa
Both groups campaigned for the new law to be enacted.
While the days of the "underground Love/Hate style brothel" are almost over, Benson described how widespread the sex industry is, especially in the capital.
"Christchurch, Smithfield, the IFSC as well. Point at an apartment block there and you'll find a brothel. It's a very mobile and extremely profitable business for pimps. If you get thrown out of one apartment, you can be in another quite quickly," Benson said.
"There have also been cases where children have been trafficked around Ireland. When Ruhama comes into contact with these people, they are immediately referred to Tusla."
Benson added: "We have worked with minors. Some of the adult women we deal with would have been trafficked as minors."
While Kate McGrew of the Sex Workers Alliance of Ireland (SWAI) understands that there is a serious criminal element within parts of the industry, her argument is that a legal route which safeguards the women and clients is the only way forward.
In a statement to TheJournal.ie, she said: "Ireland should put a serious effort into listening to sex workers about how the law is affecting us and about what we are saying would help us to stay safer.
Criminal laws don't deter hungry humans. Prohibition hasn't worked anywhere, and has only pushed sex workers into riskier environments, away from supports. We must put proper attention towards creative real viable alternatives, so that people who would rather not do this work don't feel like they have no other option.
"The best model we see worldwide is full decriminalisation, as they have it in New Zealand. It is the harm reduction and human rights model. It gives workers the most realistic access to the justice system because we can report abuses without fear of being arrested or having our income taken away."