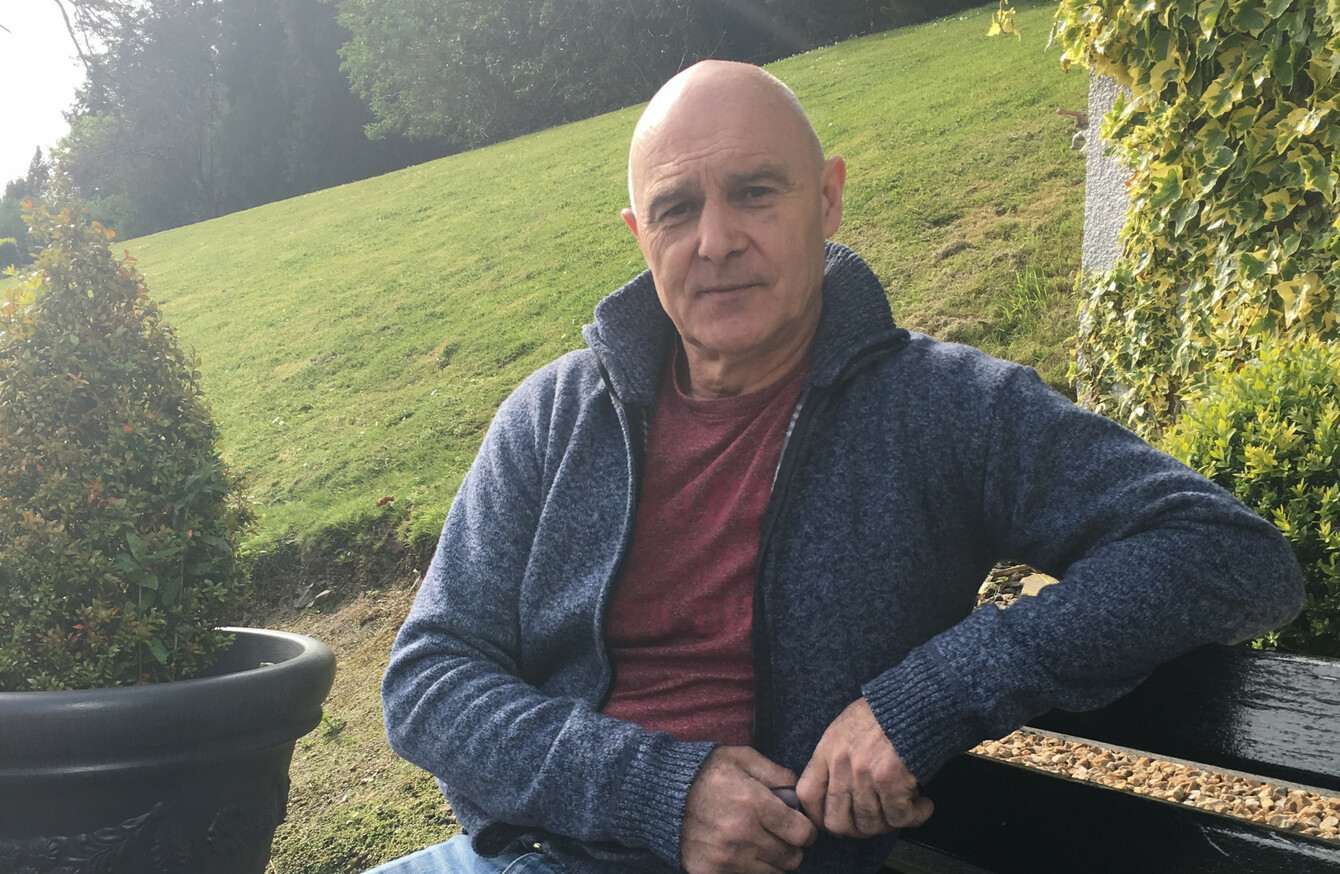 IRISH MEN AND women who were sexually abused in Irish schools when they were children are still fighting for redress, despite the European Court of Human Rights (ECHR) finding the Irish State liable for abuse suffered by Cork woman Louise O'Keeffe in 2014.
Prior to that judgement, both the High Court and Supreme Court had ruled that the State was not liable for the abuse O'Keeffe suffered. Subsequently, the State Claims Agency wrote to 135 people who had taken cases against the State, inviting them to withdraw their complaints, warning they would also fail in their attempts. 
It is now four years on from the ECHR ruling but Irish people abused as children in our schools are still fighting for redress. 
TheJournal.ie has spoken to some of the men battling for justice and heard about the abuse they suffered as children and the impact it has had on their lives. 
Thomas Hogan is one of those men. 
He remembers being tied into a buggy with rope to be brought to school when he was six years old.
He didn't want to go because he was being sexually abused by his teacher and couldn't tell his family.
I knew that I couldn't bring home a negative story about the clergy. I'd be killed. The church ruled our house.
Hogan was sexually abused by his teacher at Creagh Lane National School in Limerick. The abuse started when he was just six. He had the same teacher for two years and the abuse continued during that time.
The children never spoke about it, we just kept our heads down and our mouths shut.
"I had the name of being very bold and very wild as a child and I was tied into a buggy with a rope to be brought into school.
The story was, 'Thomas is very bold. Thomas doesn't want to go into school.' Thomas was not bold at all – Thomas was terrified.
"I had to be tied into that buggy to be brought to school but I couldn't say why I was screaming and why I didn't want to go to school.
"When I look at my kids, how could you say they're bold or they're crazy at that age? They're not. They're babies, they're children, they're perfect. No matter what they do they're perfect because there's no malice in it, they're children.
"I was brought up in Limerick with my aunt and her three daughters.
Hogan describes his grandfather, the main male figure in his life, as "a big, strong man". He was a dock labourer and struggled with alcoholism, but Hogan says his grandfather  was also extremely religious.
He was at Mass every morning, every morning he was at Mass… I knew the clergy ruled the house.
"When the priest came in, it was like 'God Almighty' came into the house.
"We were dominated by the church to the point that they could do whatever they wanted."
Abuse
Hogan was abused by ex-Christian Brother Seán Drummond, the same teacher that abused Christopher Rainbow who we spoke to a fortnight ago.
He would drag the boys up to a high desk at the top of the classroom. He had a stool inside the desk and would put the boys in between his legs.
Hogan said that, even the days you weren't called up, you knew what was happening because you had been there. They were scared every morning because they never knew when they would be picked.
"You could be called up for anything. You could be asked a question and fail on the question. He would create his opportunity.
A good day at school was when you weren't molested. When you weren't brought up to the desk.
"Even if it mightn't happen you for a month, you still left home every morning terrified.
I can't recall very much about being seven, but I can recall the fear of that and I can recall the anger of it, not being able to say or do anything about it.
In 2009, Drummond was sentenced to two years in prison for indecently assaulting 19 boys.
'I lost all interest'
"I'd go into school that morning and I knew I'd be slapped around for not having my homework done but I could accept that, that was okay.
As long as I wasn't sexually assaulted, I didn't care.
"School didn't register with me at all. I never did my homework, I lost all interest.
"The way I can describe it is, it had so much of an effect on me that when I went into school, I knew I was going in for trouble in some shape or form but the minute I got out of school, I was free.
"I would hit the swamps, hit the river. I wouldn't be home until god knows how long and I was free. I wouldn't do my homework, I never learned to read or write.
"As soon I got to sixth class, I was gone."
However, years later when Hogan's daughter was born in 1983, he decided he wanted to go back to education to do his Leaving Cert.
He was now 23 years old, it was some 16 years after the abuse, but it still had a firm hold on him.
"I went back and I sat in the classroom and I almost got sick. I sweated… I was at the point of peeing myself, I got such a fright. I ran out of the school."
He tried again. And then again.
"The other two times I tried to go back to gain some bit of education, I just couldn't bring myself to go back the second night.
The first night was horrific, it was emotional, it was upsetting. The second time and the third time, I was prepared for that but I just couldn't go through it. I couldn't stay in the classroom.
Hogan also struggled with alcohol but has been sober since 1987.
"I'm an alcoholic and I went through the whole scene but I haven't drank since my son was born. I'm 30 years sober."
'I was scared of life'
Hogan says he struggled with authority and anger for his whole life.
"Even in my working career, I've drifted from job to job – low-income and everything else – and the reason that I couldn't stay in a job was, anybody who ever had control over me or could tell me what to do, I hated them.
"I hated my aunt, I hated my grandfather. I hated them because they were in control of me and they could put me to school.
But it was never actually what was causing the anger, I could never deal with being sexually assaulted. I hated everybody because I could focus on that.
"I couldn't stand anybody having control over me – yet I never wanted to take control either.
"I was offered an apprenticeship when I was younger as a saw doctor and I never went with that, I could have travelled with that but sure I wasn't confident enough in myself to go travelling or take a job in another country.
The trade was there, the ability was there but the confidence wasn't there. The confidence is everything.
"I was scared of life. I lived my life around the damage that was done."
Vocads 
About a year before Drummond was convicted and sentenced to jail, a garda asked Hogan to call over to the station but he recalls saying to him: 'Do we have to go here?'
"At the time [the garda called] I was sorry it ever happened, I was sorry it ever came out. The shame of it – but now I'm glad."
Hogan has since joined Vocads, Victims Of Child Abuse in Day Schools, and says it 'saved him'.
"It was only from meeting these lads in later years, I could actually say I was sexually assaulted. It was only lately then I could get a handle on my problems and where they came from.
Meeting the other men in Vocads, that's what has saved me. That's what allowed me to handle my situation. I think I've come through the other side.
"It was only the forming of this group, of us getting together after so many years, that I could talk about it, that I could tell people I couldn't read or write, that I begin to analyse it for what happened because before we had it suppressed. We had it psychologically buried, it was sort of frozen as far as we were concerned.
I cannot read or write. At this stage of my life, I'm not ashamed of that anymore. I know that I'm not an ignorant person. I know I'm not a stupid person. I'm a very forgiving, compassionate and caring person.
"It had an impact on all our lives, it created the lives that we lived."
Describing seeing Drummond in court in 2009, Hogan says "it was horrifying".
'Missed opportunities'
Vocads is fighting for redress from the State but survivors of abuse have a long history of battling with the Irish State.
In the high-profile case of Cork woman Louise O'Keefe, both the High Court and Supreme Court ruled that the State was not responsible for abuse she suffered in primary school, but the European Court of Human Rights (ECHR) overruled their judgements.
Following that ruling, the State said it would make settlement offers of up to €84,000 to people bringing cases similar to O'Keeffe's.
However, the government argues that the ECHR decision applies only to people who were abused after an initial complaint was made against a teacher and no action was taken.
This has been widely criticised with survivors saying it essentially means that the second child abused by a teacher is entitled to a settlement but the first isn't. O'Keefe described it as "discrimination of the highest order".
Asked what redress would mean to him, Hogan said: "It's sort of holding whose responsible to account and knowing we've achieved it."
He added, "If they had come out at the time Drummond was convicted and said 'okay guys, at the time we didn't do our job and we're sorry', that would have nearly been enough.
"I can nearly say to you that that may have been enough for me but for the abuse that we've got from the government so far from then to this … it's not enough. We need to hold them to task.
"Somebody said to me before, 'It's all about the money isn't it? … It's about lost opportunity, it's about things I can't leave my kids, it's about having to suffer menial jobs all my life.
"It's not going to change anything for me, it's not going to take away the anger but it's recognition for the damage that was done and who was responsible."