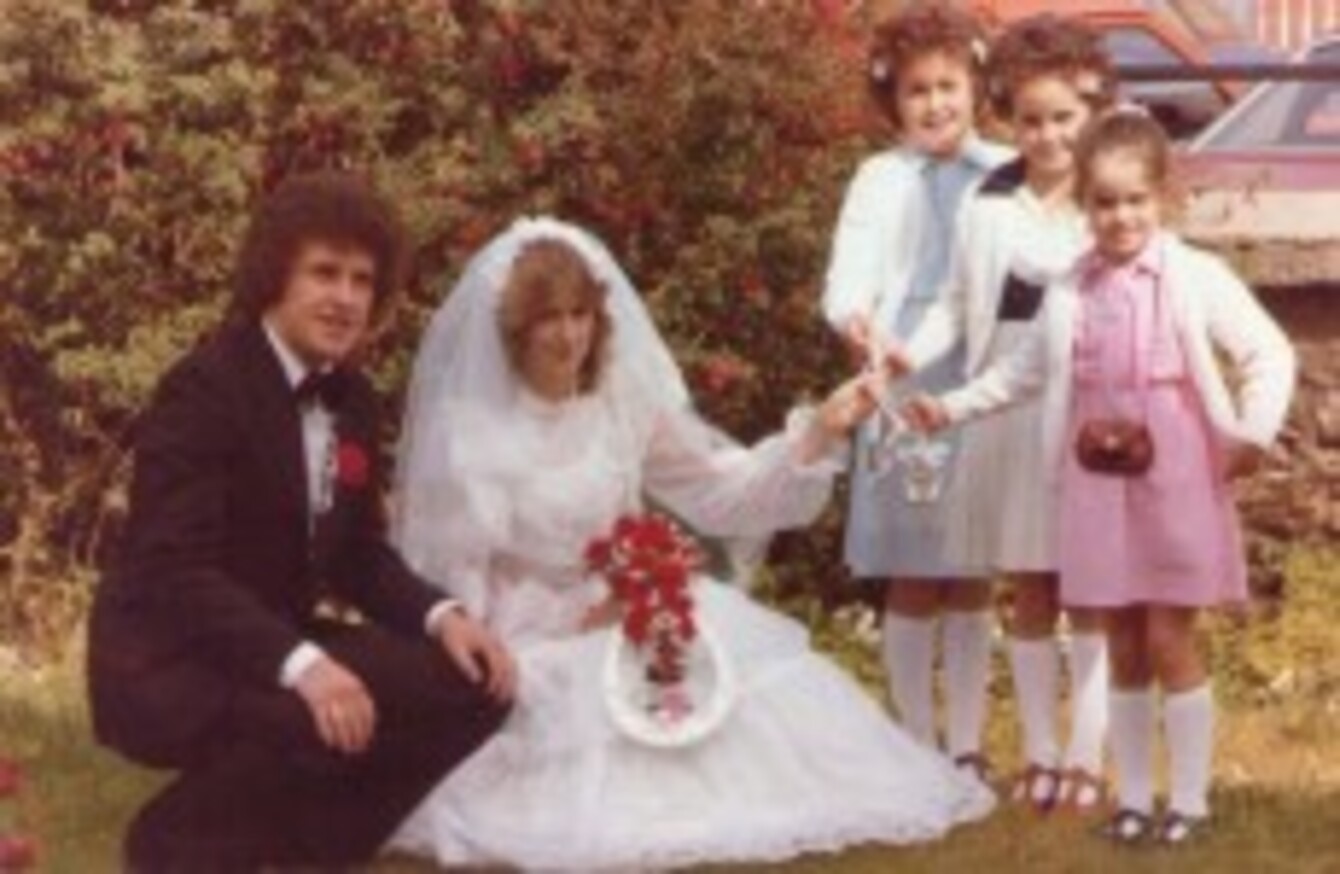 The parents of TheScore.ie writer Steven O'Rourke on their wedding day.
The parents of TheScore.ie writer Steven O'Rourke on their wedding day.
IT'S CHRISTMAS, WHICH for lots of us means spending lots of time with our families, digging up old stories and forensically analysing them down to the last misremembered detail.
One of the stories that never gets old is how your parents got together. Was it romantic? Sweet? Awkward? So filthy that they've ever really explained to you what happened for fear of permanently scarring you?
We thought we'd throw this open to you all to contribute your stories – but being the kindly folk that we are here at TheJournal.ie, some of us have bravely shared the dirt about our own parents.
Some of them are sweet, some of them are random, and some make no sense at all as the bedrock of a long-lasting relationship, frankly.
It's the little things…
My parents met in a dance hall at 15. Mam was there with her best friend and she said there was never any booze at these things – all you could buy was Club Milks and fizzy orange. My dad came and asked her to dance and she said she was well impressed with him because he bought her AND her friend Club Milks and fizzy orange. They got married five years later and have been together ever since :)
My mum said she fancied my dad's cousin, who she hung out with. She got to know my dad through him as they used to hang out in Scotts pub in Dun Laoghaire. One night it was pretty packed, and my dad stood on her toe. She said there was something about him, as he said to her 'pardon me, I'm very sorry'. They went out for five years before getting married as my granny wouldn't let her get engaged at 21.

On a side note, don't get the impression my dad is overly romantic. The way he asked her to marry him: Over a pint he said, "So, we've been going out about five years now. I think we'll get married and get a house." (drinks pint) Mum: "Okay"
The romantic ones
My parents met at a dance in at the Finner Camp army barracks just outside Ballyshannon. Dad was a solider and posted there because of the Troubles and mam was from just over the border in Fermanagh. She says there was another girl with her eye on him when they first met but that he only had eyes for her.
Mam and Dad worked in the same building in CIE. She knew about him cos his wife had died and he was left with three kids all under 11, and she felt really sorry for him.  She used to see him on her bus home from work. One day, he came over to her on the bus and said 'Are you going my way?'. The way she tells it, that was the moment she knew.
#Open journalism No news is bad news Support The Journal

Your contributions will help us continue to deliver the stories that are important to you

Support us now
The more random ones
My parents met on a town planning/urban design course and actually I have no further details other than that, except that my dad got my mam a teddy of Dougal off the Magic Roundabout as an engagement present. (???)
I don't remember the exact details of how/when they met, but I know my dad wooed my mum in the early days by taking her to dances all the time. To help with the mental picture, she had a mini 'fro back then and the old man had Buddy Holly-style black-rimmed glasses. I know about the dances because to this day my mum (who's still married to the bloke after 30-odd years) complains that as soon as they tied the knot he hung up his dance shoes and hasn't put them back on since.
The slightly disturbing one
My parents met at a disco after my mam got in a row with another girl who was eyeing up my dad.  That woman married my uncle (my dad's brother). Awkward.  (I just found this out today and am braced for the family appearance on Jeremy Kyle.)
Ok, that's us. Over to you. How did your parents get together? Dish.