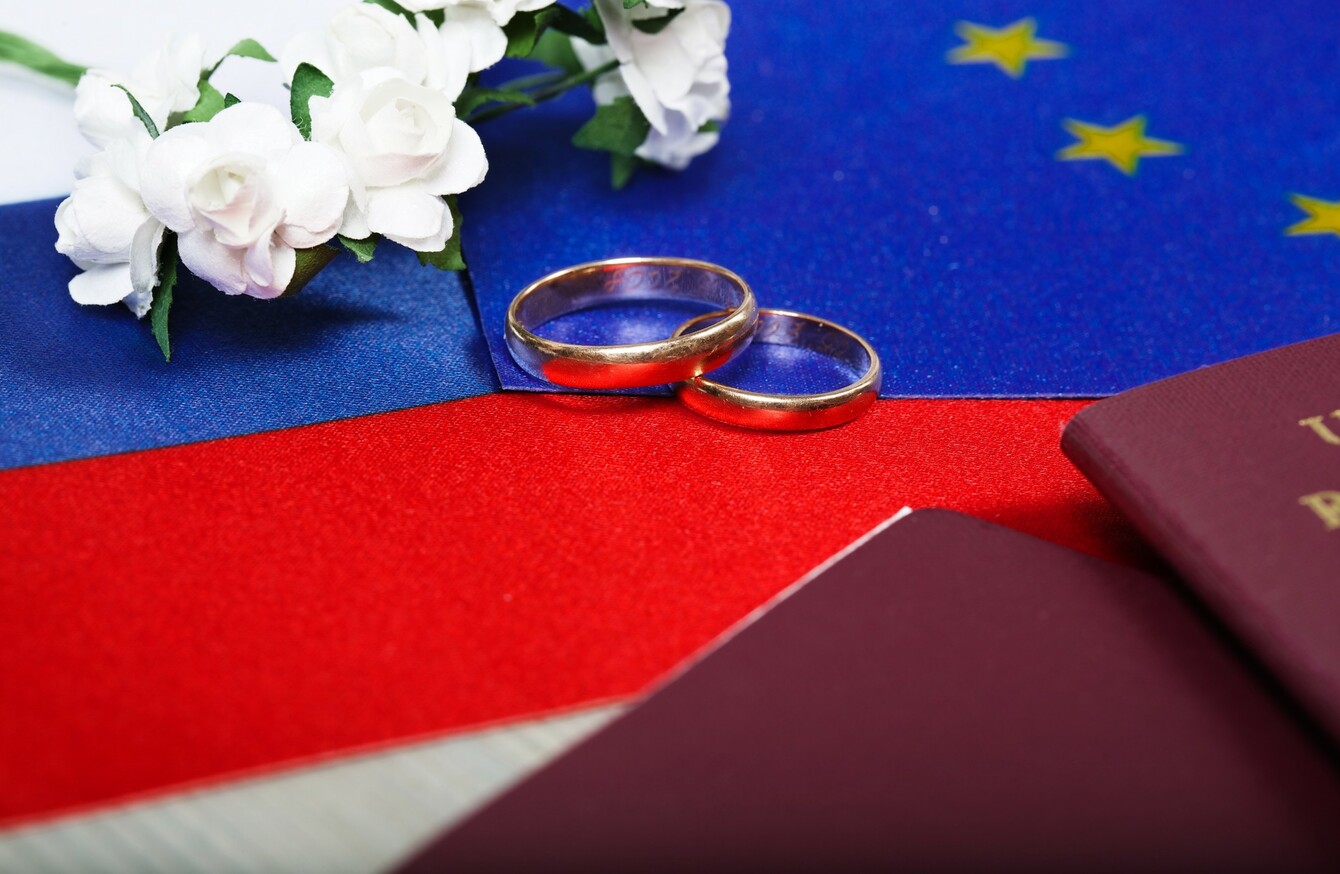 Image: Shutterstock
Image: Shutterstock
SHAM MARRIAGES ARE widespread in Ireland, with hundreds of non-EU, mainly Asian men paying to marry vulnerable eastern European women to secure EU residency, according to a report.
Many of the women involved have been trafficked to Ireland, the Immigrant Council of Ireland (ICI) study found.
Last November, Gardaí arrested 11 members of an international gang based in Dublin after an operation last November targeting gangs profiting from sham marriages.
The gang charged men from Asian countries, including Pakistan, India and Mauritius, between €10,000 and €20,000 each to marry women from eastern Europe and Portugal.
The landmark report, compiled over two years, concludes sham marriages are an emerging form of exploitation of female victims by organised criminal groups in Ireland.
It documented hundreds of cases where women travelled from Latvia to Ireland and soon after married men from Bangladesh, India and Pakistan.
"At present, those exploited in sham marriage situations are not defined as victims of human trafficking," said Brian Killoran, chief executive of the ICI.
"However, this research project came about because service-providers and consular services were noticing increased instances of vulnerable women being exploited, abused and trapped with deception in marriages involving EU and non-EU nationals.
In many such incidents, there were strong indicators of trafficking.
These include a highly organised system of targeting, recruiting and exploiting vulnerable young women. There is also evidence of deception and control; movement across borders; appalling experiences of physical and psychological abuse; and incidents of rape, sexual abuse and enforced domestic servitude.
Over 100
Nusha Yonkova, anti-trafficking manager with the Immigrant Council, told TheJournal.ie that the victims were typically vulnerable girls with little English, many hialing from extremely impoverished eastern European backgrounds.
The report found, in all cases examined, the female victims had a connection with their recruiter, who was a family member, friend or friend of the family in the origin country.
The numbers of sham marriages rose in the period covered by the report. In 2014, 101 sham marriages took place, 90 in 2013 and 87 in 2012.
In 2009, there were 357 such marriages involving Latvian women in Ireland, according to the report. The Latvian embassy has expressed concern.
The report said the system for identifying if women were trafficked was "flawed".
Operation Vantage
A year ago, the Garda National Immigration Bureau launched Operation Vantage to investigate illegal immigration, and identify "sham marriages" – that is, a marriage involving foreign national that is solely for the purpose of securing safe immigration.
To date, gardaí have arrested 63 people who have either been prosecuted, are before the courts or have been removed from the State. Gardaí estimate sham marriages have been reduced by 75% by Operation Vantage.
#Open journalism No news is bad news Support The Journal

Your contributions will help us continue to deliver the stories that are important to you

Support us now
Last year, the total number of asylum applications more than doubled compared to 2014, up by 127%, according to the Office of the Refugee Applications Commissioner.
Gardaí say they saw a spike in lost passports from certain nationalities in the first seven months of last year – 714 from persons of Pakistani nationality alone compared to 236 for the entire year 2014.
Applications for EU Treaty Rights and residency also nearly doubled in 2015, from 3,230 applications in 2014 to 5,996 in 2015. Again, this was mainly down to a large increase from certain Asian countries, Gardaí said.
Applications from Pakistani nationals increased from 683 applicants in 2014 to 1,920 in 2015. Applications from Afghani nationals increased from 68 applicants in 2014 to 881 applicants in 2015.
In the first seven months of last year, a total of 784 marriages took place between non-Irish EU nationals, and non-EU nationals.
Over a third (36%) involved Pakistani nationals, followed by Indian nationals at 12% and Bangladeshi nationals at 8%.