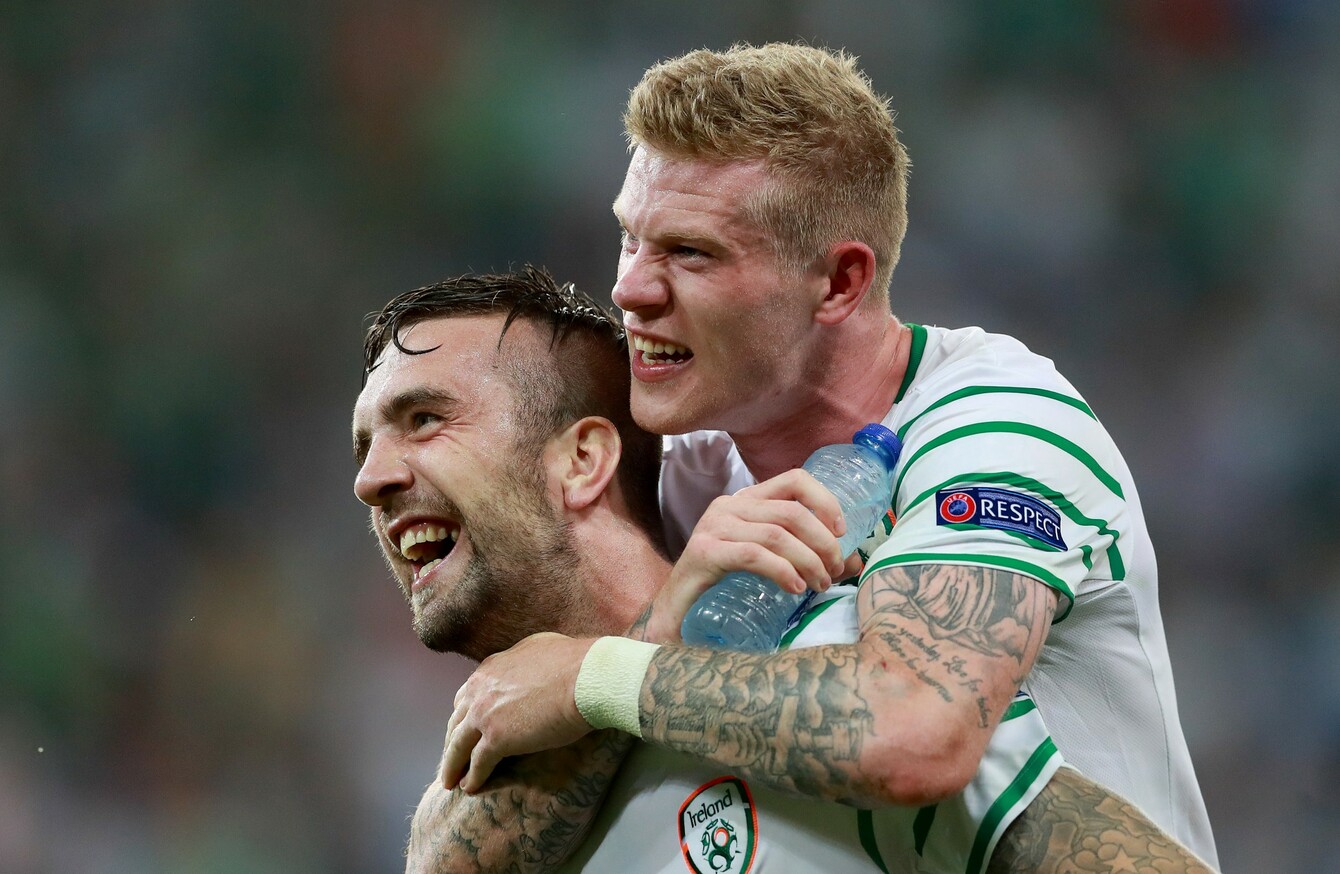 Image: James Crombie/INPHO
Image: James Crombie/INPHO
THE PARENTS OF defender Shane Duffy, who started for Ireland in last night's victory against Italy, gave a moving interview this afternoon on Today With Sean O'Rourke.
"It was all flooding back to me last night," said Shane's dad Brian. "We found out an hour and a half before the game started that he was playing, so emotions were running high last night and even today as well the more I think back on it."
Brian and Siobhán Duffy, who are currently in France to support Ireland at the Euros, recalled the incident six years ago when their son almost died during a training game between the Republic of Ireland development squad and the Ireland amateur side in May 2010.
"I still can't believe it," said Brian. "It's really really difficult for me to take it in. After what he's come back from the injury with Trapattoni, doctors coming in and saying we could lose him when he went in for surgery, to then watching him go up the steps of the plane."
The freak accident occurred when the goalkeeper kneed Duffy in the chest, rupturing an artery to the liver, which led to 2/3 of his blood spilling inside his stomach. Professor John O'Byrne, who was there with his son to watch the match, came running onto the pitch and it was he and Alan Byrne, the Irish team doctor, who made the lifesaving decision to bring him to the hospital immediately.
Although Shane doesn't remember the incident and "doesn't like hearing about it", the incident never wavered in his determination to pursue a career in football.
"For me yes, but for Shane no. I often talk to him about it and say this could be your career could have been finished, but it was never ever in doubt. That's the sort of character he is."
Viewers
For those who weren't in the crowds with Brian and Sinead Duffy, but watched the match on RTÉ 1, you have contributed to RTÉ's viewership figures of 1.23 million for last night's clash, making both the match and the post-match analysis the highest-rated television programmes to date.
Audience figures peaked in the final minutes of the game (most probably due to the 84″ goal) and in the post match analysis, which drew in 1.47 million viewers.