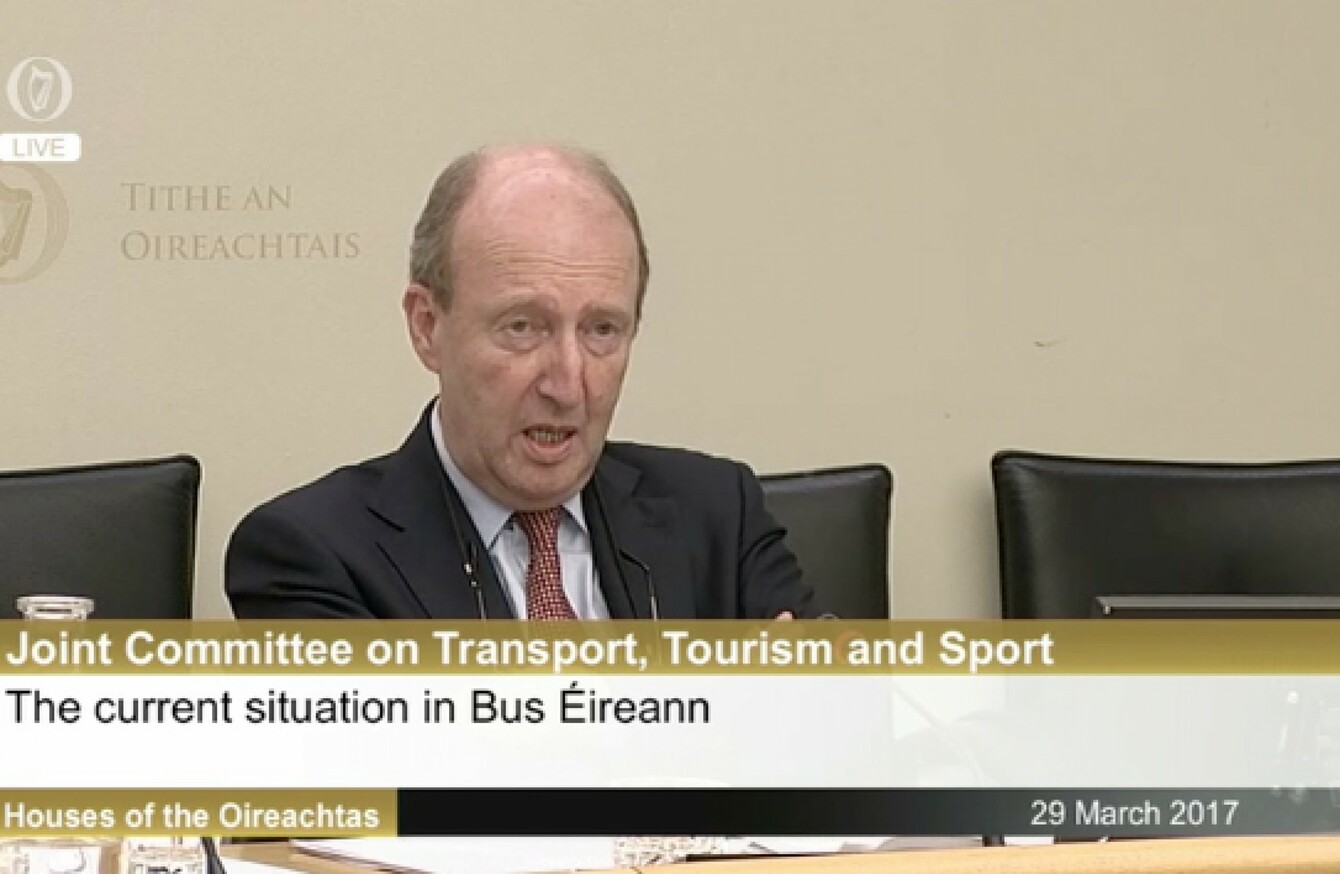 Image: Oireachtas TV
Image: Oireachtas TV
ON THE SIXTH day of the Bus Éireann strike, with protests at the gates of Leinster House, Minister for Transport Shane Ross again made it clear that under no circumstances would he intervene in the dispute.
Ross was again urged by deputies to get involved at an Oireachtas transport committee hearing, but retorted that he had done what he could to support Bus Éireann and that he had no "ministerial magic wand" that could be used to resolve the dispute.
He refused to speculate on when Bus Éireann was facing insolvency, but said that his department was not seeking to enter a "race to the bottom" for workers.
In his opening statement, the Minister said that he was happy to talk to all parties involved in the future of the transport network – the unions and the company alike – but not during an industrial relations dispute or when a strike is being threatened.
Ross said: "It is a source of deep disappointment that this meeting takes place on a day when yet again members of the public face disruption and delay to their travel plans.
Let me be clear. I want to see a successful and thriving Bus Éireann – a Bus Éireann that continues to be at the heart of public transport provision in rural Ireland and regional cities.
There are those on the Committee who believe that a Ministerial magic wand can resolve an industrial relations dispute. I've willingly intervened in those areas that are appropriate for me to intervene in… I will not be involved in discussions about how the company organises itself.
He said that he trusted in the expertise of the Workplace Relations Commission and the Labour Court to solve the dispute, and said that the two parties in the strike should come together and trust in the process.
"Infamous party piece"
When the chairman of the committee told members that there was only an hour for questions and to keep things on topic, it was requested in turn by members that the minister did not "talk the clock down" when answering his questions.
TDs then proceeded to rebuke Ross for his inaction on the strike on numerous occasions.
Sinn Féin TD Imelda Munster said Ross was regurgitating his "infamous party piece" of not getting involved while Fine Gael's Peter Fitzpatrick said it was "simply not enough to say you can't get involved".
Ross told Fitzpatrick that he couldn't get involved in the process as it would be interpreted that he was coming to talks with taxpayer money. He added:
I'm not a mediator. I have no skills in that area at all. I can't do that [get involved].
"What is the Labour Court for?" Ross said. "What do you think I could add in any way except throwing taxpayer money at this problem?"
He also rejected claims that the public wanted him to get involved in the dispute.
Ross also faced fierce questioning from Fianna Fáil's Robert Troy who said that the only thing that the Minister had committed to doing was the re-opening of Stepaside Garda Station.
#Open journalism No news is bad news Support The Journal

Your contributions will help us continue to deliver the stories that are important to you

Support us now
Troy asked Ross if the problems at Bus Éireann were confined to its Expressway service, or if it was part of a wider agenda to push down wages and conditions for the workers. Ross responded:
There is absolutely no agenda by my department to bring down wages for any kind of ideological reason if that is what the deputy is suggesting.
Any plan to save Bus Éireann, Ross said, could not be signed off on until the industrial relations dispute was resolved.
The Minister added that it would be "utterly irresponsible" to speculate on the potential insolvency of the company, under questioning from Troy.
He also rejected claims that the current dispute at Bus Éireann was part of wider plans to outsource, or privatise, transport services.
Privatisation is not on my agenda, or the government's agenda.
Ross added that he was "determined that the dispute will be resolved by two mature, responsible parties" and that he had full faith in the WRC and the Labour Court to bridge the gap between the unions and Bus Éireann.
The Bus Éireann strike continues, with no end in sight ahead of its seventh day tomorrow.