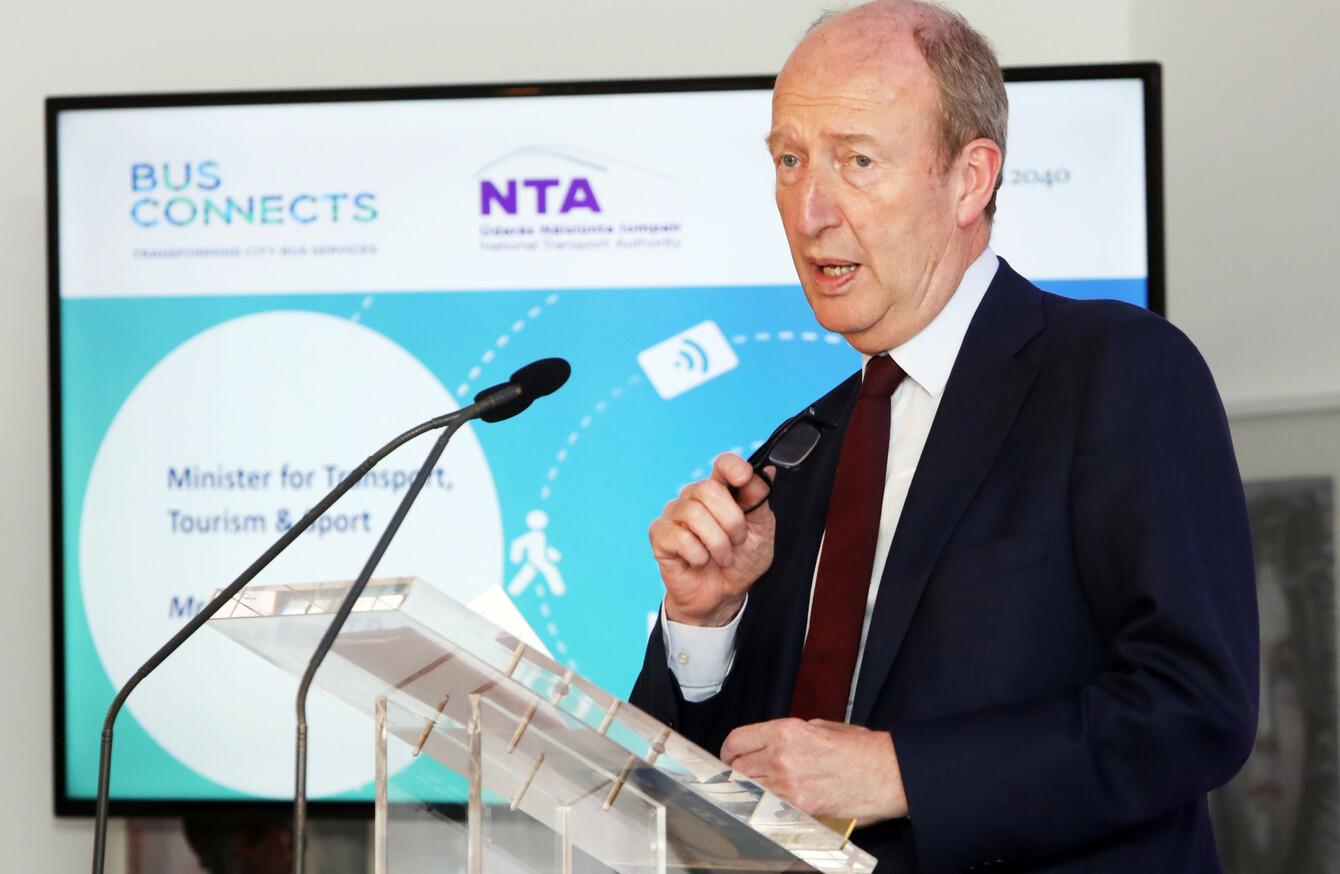 Shane Ross praised BusConnects at its initial press conference.
Image: Leah Farrell/Rollingnews.ie
Shane Ross praised BusConnects at its initial press conference.
Image: Leah Farrell/Rollingnews.ie
MINISTER FOR TRANSPORT Shane Ross had a letter sent on his behalf asking for information to give to his constituents that would reassure them over the new BusConnects plan – over three weeks after he was at a press conference announcing the plan.
Speaking at that launch, Ross said that the new route design is a "radical change" but a "necessary part of the jigsaw" in solving congestion in the city centre.
He also said the new plans have the potential to "make Dublin's public transport system in general, and its bus system in particular, work much better for the people who use it".
The letter to the National Transport Authority on 23 July 2018, however, asked for information that could be given to residents of Stepaside, Belarmine and Kilgobbin. 
This letter – released to TheJournal.ie under the Freedom of Information Act – reads: "In recent days our office has received many queries in relation to the planned termination of the existing 44 and 47 Dublin bus routes as part of the Dublin bus route design.
"A document circulated by NBRU claims that the 47 in particular will be discontinued with no equivalent replacement service. 
At your earliest convenience, we would greatly appreciate the opportunity to clarify to members of the Stepaside, Belarmine and Kilgobbin communities that they will continue to have access to a frequent bus service.
It is clear that there is in fact an intent to continue serving the area but it would be very helpful to have an official line of detail with which to explain the issues.
Fianna Fáil transport spokesperson Robert Troy told TheJournal.ie that this shows how "out of touch" Ross is with his transport portfolio.
"It's remarkable to think he would launch this plan without a thorough knowledge of it," Troy said. "He was critical of my party who brought forward very legitimate concerns, in relation to routes being culled.
"In true Shane Ross form, what he says in public and in private in his own constituency are two different things. He's all at sea."
Green Party TD Catherine Martin – who is in the same constituency as Ross – told TheJournal.ie that Ross should have sought this detail much sooner.
"It is surprising, if not bizarre, that three weeks after the Minister for Transport launched and praised the BusConnects plan, he then belatedly seeks details of the proposed plan's impact on his own Dáil constituency," she said.
This is something that should have been done well in advance of warmly welcoming the plan, but not only for his own constituents because as Minister for Transport he should have sought this detail for all Dublin Bus commuters as it is a holistic, joined-up approach that is required.
'I don't micromanage the issues' 
The plan's designers say that BusConnects will cut commuting times but some locals have voiced concerns over plans to cut current routes and the requirement that the size some people's front gardens may be reduced as a result. 
Ross has previously argued in favour of the BusConnects plan but sought to distance himself from the proposals at a community meeting in his constituency several weeks ago.
The Irish Times reported that Ross was speaking at the AGM of the Nutgrove Loreto Community Association and that he told those present that he had nothing to with the Bus Connects project. 
Speaking on Newstalk Breakfast, public transport planner Jarrett Walker, who helped design the BusConnects project, said the Department of Transport was kept updated during the design process.
#Open journalism No news is bad news Support The Journal

Your contributions will help us continue to deliver the stories that are important to you

Support us now
He said that Ross "was certainly there next to us when we announced it" but may not have been briefed on an ongoing basis.
"I think it's understandable that he delegated that to the NTA staff who are the experts in that and we designed the plan around the table with NTA and Dublin Bus and staff from the councils," he said.
Addressing the criticism he faced, Minister Ross told RTÉ's Today with Sean O'Rourke that reports of the meeting are accurate but that he was attempting to tell his constituents that he is not responsible for the detail of the BusConnects plan.
"Their recollection is broadly true but specifically maybe not in accordance with mine. When I got up to speak at the meeting there was an enormous map of the BusConnects plan on the table there. So it was obviously a matter for discussion," Ross said.
What I wanted to make absolutely clear was that, yes, I do make government policy on BusConnects, bus and transport, of course I do that. But don't ask me questions about the detail of this map in front of me, because I don't micromanage the issues.
This led to accusations that the Minister for Transport was "asleep at the wheel".
With reporting from Rónán Duffy